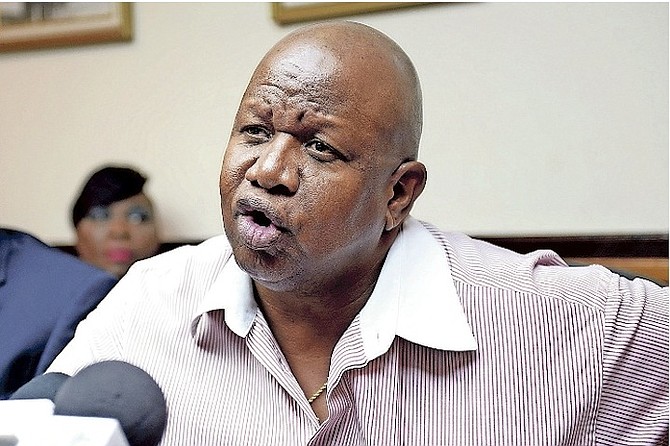 By SANCHESKA DORSETT
Tribune Staff Reporter
sdorsett@tribunemedia.net
PRESIDENT of the Bahamas Electrical Workers Union Paul Maynard said yesterday "there will be hell to pay," if his union members remain on suspension during an investigation into missing funds at Bahamas Power and Light, while managers at the power company "go unscathed".
In an interview with The Tribune, Mr Maynard said he will not stand by and let his members be railroaded when those at a higher rank, whom he claims are the only ones who have access to the funds in question, remain at work.
He also demanded that BPL hire a forensic accountant from outside the power company because "rats cannot investigate rats".
The Tribune reported on Tuesday that four BPL employees were suspended and one person was terminated pending an investigation into the alleged theft of nearly $1m at the power company.
According to a source close to the matter, the employees were accused of "orchestrating an elaborate scheme" over the course of one year, that allegedly involved fake companies and forged cheques. The Tribune also understands that at least one bank employee was also allegedly involved in the plot and is being investigated.
According to the source, BPL conducted an internal audit but forensic accountants may be brought in to "ensure" transparency.
"BPL uses external vendors frequently," the source told The Tribune. "What we understand is that the employees are accused of sending in invoices from fake companies, getting a cheque for the amount and then using someone in the bank to cash the cheques.
"This is an elaborate scheme that has been going on for almost a year, that we know of," the source said.
Meanwhile, when contacted yesterday, Mr Maynard said he is "very concerned" for his union members.
"It is not fair that you have only the line staff suspended and the managers still working. That cannot happen, there is no way I am allowing this to happen. I am not listening to anything they have to say, everyone needs to be cleared out. If the managers still working my staff should still be working as well.
"I also asked the company to bring in a forensic accountant because you cannot have the rats investigating rats. They need to bring in people from the outside. There will be hell to pay in this country if my membership is railroaded.
"Everyone should go, or everyone should stay. This (alleged) crime is too sophisticated for my membership to do, they do not have access to the stuff to do the crime. Trust me, this will not happen like this."
Attorney Wayne Munroe, who is representing one of the employees, told The Tribune on Monday that he feels the government is under pressure to live up to promises of accountability and prosecution of those found stealing public funds. He warned that "public pressure can ruin people's lives that money cannot compensate for."
"My client is on paid leave and as far as I know she has not been terminated," Mr Munroe told The Tribune.
"I have been hearing so many different stories. They are saying payments went out to vendors and no work was done, but they are also saying the funds were missing. Well that isn't missing funds, you know where the money is, that is fraud. We need to be careful, the last time the government changed they charged a woman at Bahamas Electricity Corporation, put her through court and she was acquitted and they had to pay her.
"It is all about optics. You have public pressure and something has to be done. We have to be careful that when there is public pressure, we do not do things to ruin people's lives that money cannot compensate for."
Senior Assistant Commissioner of Police Stephen Dean confirmed that several persons have been questioned in relation to missing funds, but said on Sunday that no one was in police custody and no one has been charged. He said the investigation is still "open and active".
Last week police arrested several employees of the Bahamas Agricultural and Industrial Corporation, including Executive Chairman Dion Smith in connection with an alleged theft by employment investigation.
Those questioned have all been released and no one has been charged in that matter. Mr Munroe also represents Mr Smith, former Nassau Village MP.