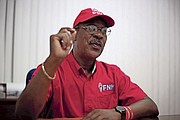 By RICARDO WELLS
Tribune Staff Reporter
rwells@tribunemedia.net
FREE National Movement Chairman Sidney Collie yesterday requested "patience" as the new administration looks to advance on plans to hold a referendum on several legislative moves, including term limits for the prime minister, as well as the establishment of an independent Electoral Commission and Constituencies Commission.
Stressing the "groundwork" that will have to go into drafting related legislation and public education, Mr Collie, who is a member of the party's transition team, said the FNM must ensure that "everything is in order" prior to going to the public for an official vote.
Meanwhile, a well-placed source in the FNM indicated that a referendum would likely not take place for at least two years.
The Minnis administration on Wednesday laid out its plans for its next five years of governance, insisting that it will seek the "consent of the electorate in a referendum, constitute an independent Electoral Commission and Boundaries Commission, introduce term limits for prime ministers and introduce a system of recall for non-performing members of Parliament."
In its Speech from The Throne, which was read by Governor General Dame Marguerite Pindling, the FNM indicated that it would look to create an Office of Ombudsman to provide a direct source of relief, where people have legitimate grievances due to the actions or inactions of government or any agency of the government.
Following the presentation Wednesday, Attorney General Carl Bethel told members of the press that it would be difficult for the administration to predict a timeframe for a vote due to the large amount of constitutional and fiscal matters it had to deal with prior to any potential referendum.
Contacted Thursday for clarification on the FNM's plans, Mr Collie doubled-down on that suggestion, insisting that several agendas would have to be "identified, organised and submitted" before the government could even turn its attention to any potential referendum.
"A referendum, any plans associated with that is going to come way down the road," he stated.
"Constitutionally, there are a number of things that we have to do before we get to that point. I know there is a lot of focus on a referendum and what it could mean, but the process will take some time to get it right and we are going to need patience and focus on all sides."
According to Mr Collie, the party plans to analyse all legislation associated with the potential amendments.
He said the FNM will not "tread" into any amendments without proper consultation and public education.
"I will preach for time, because that is what it is going to take. Ordinary bills take time, when you are talking about amending the Constitution or going to a referendum, that takes even more time."
"The public has to be educated on the issues and they must have an understanding and connection to what is being asked of them. It cannot feel like a battle of wills, moreso, it should come down to a feeling of need. We want to consult. We want to draft good legislation. We want to educate the country and get a serious level of feedback before we go to the public."
The former Christie administration held two unsuccessful referenda in its last term: a constitutional one on gender equality and an "opinion poll" on the regulation of the web shop industry and the establishment of a national lottery.
Both of these votes were soundly rejected by the electorate, however voter turnout was low.
In 2002, the Ingraham administration also held a constitutional referendum that was overwhelmingly rejected. That administration lost the 2002 general election that was held months later.