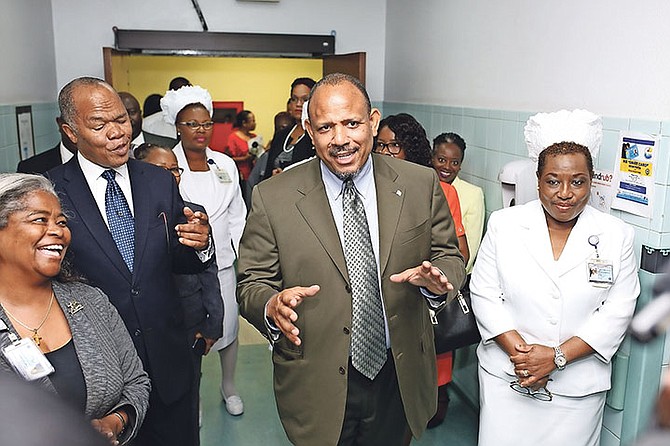 By NICO SCAVELLA
Tribune Staff Reporter
nscavella@tribunemedia.net
A "back-up" air conditioning system has been installed at the Princess Margaret Hospital to replace the hospital's faulty unit in the short-term, Health Minister Dr Duane Sands confirmed yesterday.
Another unit has been ordered to ultimately replace that malfunctioning system, Dr Sands also said. This, the Elizabeth MP said, along with the installation of the backup system, should provide a "permanent fix for what has been a vexing problem."
Last week, elective surgeries at PMH were postponed due to a malfunctioning air-conditioning system, according to hospital administrator Mary Lightbourne-Walker.
At the time, Ms Lightbourne-Walker confirmed that the Critical Care Block (CCB), which houses the adult and neonatal intensive care unit and operating theatres, was "uncomfortably warm" as a result.
The CCB also contains the PMH laboratory, administrative offices, food court and reception area, accident and emergency, imaging services, and the ambulatory department.
"I'm advised that we now have on site a backup air conditioning system that has replaced the capacity for the on site built in air conditioning system, and we have ordered a replacement for the existing air conditioning system which has malfunctioned," Dr Sands said during a press conference at the hospital.
"Hopefully we will put this behind us and move on to other challenges but the managing director and the hospital administrator have committed that this is not just a partial or temporary fix but a permanent fix for what has been a vexing problem."
When asked by a reporter if he was concerned about the delayed surgeries, Dr Sands said: "Clearly. The hospital now finds itself full. There are people who are in our emergency room waiting to be admitted to the hospital.
"...The Critical Care Block and the operating theatre not being up to full capacity has implications and consequences that are very, very serious."
However, he added: "The operating rooms are now functioning. The surgical teams, the nursing teams, the operating room staff are committed to getting the job done, and our role now is to allow them to function. We have gone to great lengths, and I've been assured that the short term solution that will allow us to put in place the permanent solution is not only in place but it is working.
"We cannot change the past, but our approach to solving problems is that we're going to turn over whatever obstacle is in the way to get it done."
The air conditioning system had previously been a repeat source of contention at the $100m CCB, with The Tribune having reported on delayed surgeries in September and December last year.
In September, the hospital explained that four of six compressors were hit by surges after a power outage. However, no explanation was given in December.