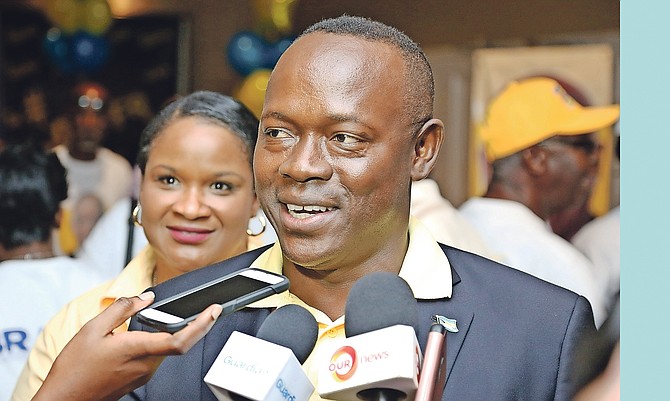 By SANCHESKA DORSETT
Tribune Staff Reporter
Sdorsett@tribunemedia.net
FLIGHTS from the United States to Exuma International Airport have been suspended, according to Member of Parliament for Exuma Chester Cooper who said the issue is costing the island's economy "hundreds of millions of dollars."
Speaking in the House of Assembly on Thursday, Mr Cooper said the flights were suspended because the airport's fire engine was out of service. He pleaded with the government to rectify the issue "as soon as possible."
"The airport is closed to US flights and I have spoken with the honourable minister responsible and I understand that some effort is being made to rectify the problem but I want to emphasise the economic impact of this closure will be in hundreds of millions of dollars and will adversely impact our tourism product," he said.
"So I trust that a resolution to the issue will be complete in the very near term."
In response, Tourism and Aviation Minister Dionisio D'Aguilar said the problem at the airport was caused by years of neglect.
"I am fully aware of the problem," Mr D'Aguilar said in Parliament.
"When I worked in the other place, Superwash, our motto was 'we prevent we don't react' and this problem is a result of reactive maintenance. So we are scrambling around trying to fix something that is old and neglected and should have been fixed many moons ago. So it will be done as quickly as possible, we are trying to repair a part. I am praying and hoping we fix it in the shortest possible time so we can bring the fire engine back."
A concerned citizen wrote to The Tribune expressing worried that toruists are stuck in the US unable to the get to their planned Exuma vacations.
"It's being reported by many visitors that they are stuck in Miami and the American Airlines authorities are telling passengers the airport is closed, yet Canadian and domestic flights are coming and going without issue," the person wrote. 
"Some are saying it is because of US FAA requirements and not a Bahamas issue, though it has become our issue with passengers now stranded in Miami and other airports instead of enjoying themselves in Exuma."