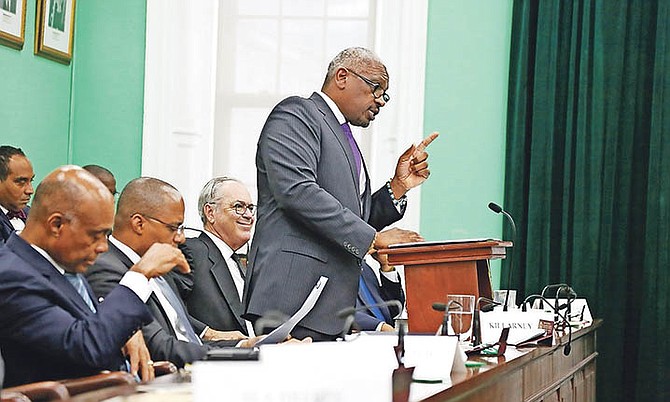 By KHRISNA RUSSELL
Deputy Chief Reporter
krussell@tribunemedia.net
PRIME Minister Dr Hubert Minnis yesterday announced his administration's intention to amend the Immigration Act to allow all Bahamian women the right to automatically transfer citizenship to their children regardless of where they are born.
And while stressing his administration will "not back down" regarding its December 31 deadline for illegal immigrants to leave the country, Dr Minnis also revealed a retired judge will head an independent commission which will be created to approve citizenship applications. Dame Joan Sawyer, The Tribune understands, is being considered to head this commission.
Just last year in the June 8 gender equality referendum, the electorate was asked whether they would support Bahamian women being afforded the same right as their male counterparts in being able to confer citizenship to children regardless of the county they were born.
However, this issue - the first of four questions in the vote - was overwhelmingly rejected. Of 83, 271 total votes cast for this question, 32,249 people voted 'yes' while 51,022 voted 'no'.
"We know that there were four referendum (questions) that were brought to this country that have failed," Dr Minnis told Parliament yesterday
"My government will make changes to the Immigration Act to ensure that all children born to Bahamian women, single or married, out of the Bahamas are automatically (conferred citizenship)."
Presently, those born in another country to a married Bahamian father are able to automatically receive Bahamian status, but not if the father is non-Bahamian and the mother is Bahamian. Instead, these children would have to apply to receive Bahamian citizenship.
This issue was also a component of the failed 2002 constitutional referendum.
The prime minister went on to blast critics of the government's recently announced plan of aggressive pursuit and repatriation of undocumented migrants in the country after December 31.
Dr Minnis said it was disturbing that some who claimed to be concerned about human rights and the rule of law seemed to want to suspend laws pertaining certain immigration matters.
He said: "This government will continue from now until the end of the year to interdict and repatriate individuals here illegally. This means individuals from all countries be it black or white regardless. We will continue to enforce the rule of law. In our repatriation efforts, we will be humane and just.
"It is disturbing that some who claim to be concerned about human rights and the rule of law, seem to want to suspend the rule of law when it pertains to certain immigration matters," Dr Minnis said.
"But let me say here that this government will not back down. All illegals are urged to leave voluntarily before because after December 31 we will aggressively pursue all illegals. We must be a nation of laws, not of personal fancies and extreme positions.
"I agree with those activists who have spoken and written of the need for the Bahamas to act in accordance with our Constitution, and the demands of human dignity and social justice, in the grant of residency and citizenship for eligible individuals," the prime minister also said.
He continued: "To help advance this goal, my government will create an independent commission to approve applications for citizenship, in accord with the Constitution of the Bahamas.
"Mr Speaker I can say that this commission will be headed by a renowned prominent and distinguished retired justice of the court.
"Except for cases of national security, we will remove the approval of applications for citizenship from the Cabinet. We will continue to make the people's government more transparent, more accountable and freer from corruption."
The prime minister's comments came as parliamentarians brought remarks regarding an amendment to the Constitution for the creation of an independent Office of the Director of Public Prosecution.
The amendment was passed in the House of Assembly yesterday and must now go on to the Senate for debate and passage.