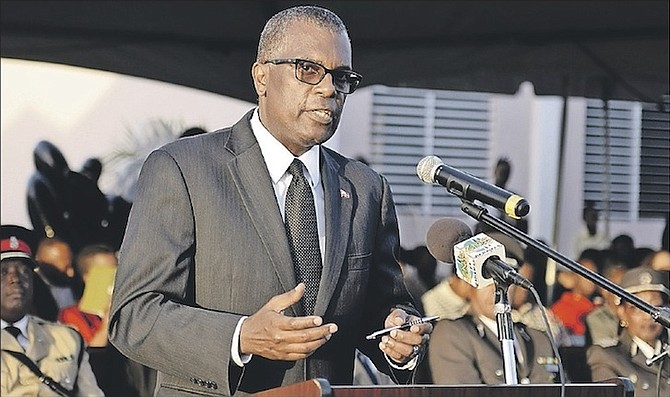 By RASHAD ROLLE
Tribune Staff Reporter
rrolle@tribunemedia.net
THE Minnis Administration's plan to amend the Bahamas Nationality Act to grant children of Bahamian women born outside the Bahamas automatic citizenship "almost certainly" runs "ultra vires of the Constitution," Progressive Liberal Party Chairman Fred Mitchell said Friday.
"The Constitution says who is automatically a citizen," the former Foreign Affairs and Immigration Minister said. "But one has to see the details. In any event, under the PLP we had announced that by policy that category of the children of Bahamian women with foreign spouses would be granted citizenship upon application. So I am not sure given the rejection of an amendment to the Constitution that the government is in a lawful position to reverse that. I don't think statue law can alter that."
He noted that section 6(2) of the Bahamas National Act currently gives the minister power to grant citizenship to any child upon application.
The Act says: "The Minister may at his discretion cause the minor child of a citizen of The Bahamas to be registered as a citizen of The Bahamas upon application made in the prescribed manner by the parent or guardian of such child. The Minister may at his discretion, in such special circumstances as he may think fit, cause any minor to be registered as a citizen of The Bahamas."
Mr Mitchell's comments follow Prime Minister Dr Hubert Minnis' immigration-related announcements in the House of Assembly Thursday.
The prospect of granting children of Bahamian women automatic citizenship was put to the country in last year's constitutional referendum. The first of the four questions, it was overwhelmingly rejected, with 32,249 people voting "yes" and 51,022 people voting "no".
Mr Mitchell also said the administration's plan to establish a commission independent of Cabinet that has the power to grant citizenship could also be unconstitutional.
A major pledge of the Minnis Administration's approach to immigration has been to create an independent commission to approve applications for citizenship.
The administration believes this could quicken the approvals process and remove politics, ensuring politicians don't have the power to grant citizenship unless national security concerns are pertinent.
Mr Mitchell said while he'll await the specifics of the administration's plan, it's not clear the Constitution would allow an administration to do this.
"This is the one that would appear to be impermissible by the Constitution under the principle delegate cannot delegate," he said. "If I'm correct, while the Constitution gives the power to describe how citizenship might be acquired, I do not think that it contemplates devolving that power from the government. Right now the Act says the 'minister' and so I think that is as far as the devolution can go."