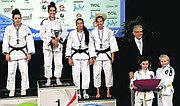 BAHAMIAN judo national champion Cynthia Rahming continues her trek toward the Olympics in Tokyo 2020 by winning a bronze medal at the Quebec Open.
"She went 4 and 1 on the day in a field of over 20 tough black belts. This win is a significant win for Bahamian judo as Cynthia is currently preparing for the Tokyo Grand Slam which is marquee tournament which will be held in December," said a press release.
Cynthia expressed gratitude to God and her coaches and training partners. "I am fortunate that I have so many people that have believed in me. From the Olympic Committee to our national federation. Although judo is an individual sport there are many people that contribute to an athlete's success."
Cynthia was coached by Olympic medallist and US Olympic coach Jimmy Pedro Jr, who used the tournament as an event to evaluate Cynthia's progress. High Performance Director D'Arcy Rahming Jr had this to say about Cynthia's progress: "We are delighted at Cynthia's achievement. She has done the work and is inspiring many of our younger athletes to train even harder and follow in her footsteps."
Persons interested in judo may contact the Bahamas Judo Federation at Cariftajudo@gmail.com or visit the national headquarters at Holy Family Catholic Church Parish Activity Centre on Robinson Rd.