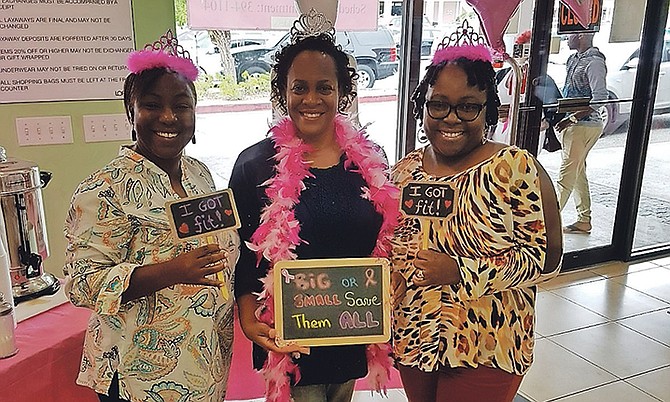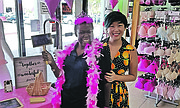 By JEFFARAH GIBSON
Tribune Features Writer
jgibson@tribunemedia.net
EIGHT out of every 10 women reading this article are wearing the wrong size bra.
Studies in the US have shown most women do not know their bra size and usually wear an ill-fitting one not suited for their bodies.
During a recent Brat Fit Event hosted by Lorene's, a leading local intimate apparel retailer, fitters discovered that this surprising US statistic also applies here in the Bahamas. Some 200 women participated in the exercise at the Harbour Bay store which also served to help raise funds for the Cancer Society of the Bahamas.
Before they were professionally fitted, the women were asked several questions.
"They filled out a questionnaire and we asked them things like, 'Does your bra strap fall off?', 'Do your straps dig into your shoulders'," said Margo Farrington, a manager at Lorene's corporate office.
"What we found out was that eight out of 10 women who participated were wearing the wrong size.
Ms Farrington explained the issue is so widespread, both locally and in other countries, because it has to do with a woman's perception of her body.
"The thing is women have a perception about what size they are. They think they are a certain size when they are really not. But women should not only just get fitted one time, but once a year. Our bodies are constantly changing due to hormones, weight loss, weight gain and number of different factors," she said.
Wearing the wrong bra size is certainly not a matter of life or death. However, the level of discomfort that comes along with it and the unattractive silhouette - the result of wearing improper undergarments - cannot be denied.
"You want to wear a bra that fits. When a woman does, it gives her a really good shape. She looks good in her clothes because it pulls her together," said Ms Farrington.
"And if the right bra with the right fit makes a woman look good in her clothes, the wrong bra will just look wrong.
"Some women look like they have an extra breast because of spillage or a bulge. This happens when the bra is too small or tight. Then, if the breasts look like they are drooping, you can tell they are wearing the wrong bra. Breasts should sit nice."
Other tell-tale signs that women are wearing the wrong bra is if the bra is uncomfortable, straps slip off, the bra or underwire rides up, or it leaves marks.
"We have a lot of women that don't like bras with underwire because they feel like they hurt too much. But the truth is if they are wearing the right size bra they will not hurt at all," she said.
But there is one type of bra that presents difficulty even when properly fitted - the strapless bra. Many women complain about not being able to find the right one. Given the weather in the Bahamas is mostly sunny and hot, women often wear tops, blouses and dresses that are strapless. And the last thing you want is to be wearing a cute top and have unattractive bra straps peeking out.
"Strapless bras are hard. A lot of them don't go up as high as we need them to and many of them are not the higher cup sizes. We have three new strapless bras that go up to larger cups and they fit," said Ms Farrington.
Aware of the high number of women who do not know their proper bra size, Lorene's set out to give Bahamians a push while also supporting the Cancer Society of the Bahamas. Lorene's donated $2 from every fitting to the organisation.
"This is the fourth year that we have hosted the event locally and we always get a great response," said Ms Farrington, "But this time we did it in October for Breast Cancer Awareness Month. One of the brands that we feature in our store, called Wacoal, does a huge bra fit event every year and donates to the Susan G Komen Foundation."
Ms Farrington said the event provided great pay-off for a good cause and for the women who were finally able to find their right bra size.
"One lady even jumped up with enthusiasm," said Ms Farrington.
Anyone who wishes to be fit for a bra can contact Lorene's or visit its Harbour Bay location.