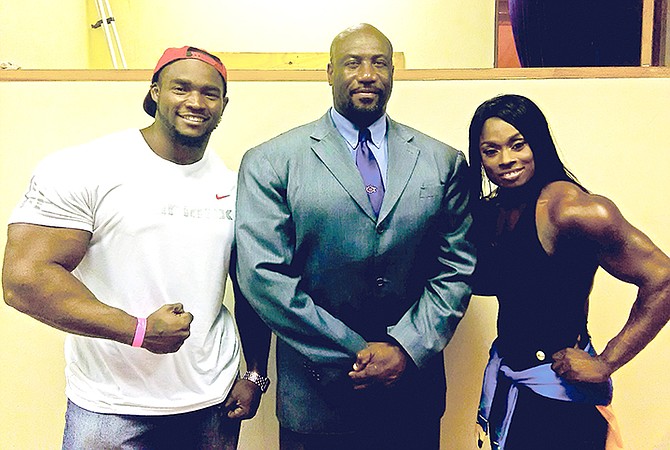 By BRENT STUBBS
Senior Sports Reporter
bstubbs@tribunemedia.net
UNDER the tutelage of Bahamas Bodybuilding and Fitness Federation president Joel Stubbs, Jameil Hamilton said he knew it was only a matter of time before he joined his coach as a professional bodybuilder.
Hamilton, 28, earned his pro card by winning the men's bodybuilding overall and the men's bodybuilding over 100kg at the Ben Weider Legacy Cup in Aruba August 4-6.
In an interview with The Tribune on Saturday during the BBFF's inaugural Faye Rolle Classic at Loyola Hall, Gladstone Road, Hamilton said it was definitely a dream come true for him.
"I've been in the sport for four years so for me to accomplish this feat in such a short time is just remarkable," he said. "I'm looking forward to doing bigger and better things in the pro league."
After spending the first two years going through the process of getting to know the sport, Hamilton said he decided to go under the tutelage of Stubbs and he was able to make a tremendous turnaround.
"Joel Stubbs saw me and he told me that he can get me to the next level," Hamilton recalled. "He took me under his wing and guided me in my diet and nutrition with the workout sessions and I got it done."
Hamilton said he was confident going into the Ben Weider Classic, which was held a week prior to the BBFF's Nationals. The tournament had over 80 competitors entered, but Hamilton said he didn't let the numbers get to him. "I went there with the goal in mind to win and I got the job done," said Hamilton, an employee of the Bahamas Power and Light Company where it was business as normal when he returned home as a pro.
Now that he has gotten his card, Hamilton said his next goal is to get ready for his pro debut in April in Tampa, Florida. "I have about 10 months to try and pack on some size," said Hamilton, who is six-feet, 270 pounds but wants to increase his size to 290-300. "If I can get up to that size, I know I can compete at the pro level."
Hamilton, who joined training partner Lakeisha Miller, who earned her pro card at the Ben Weider Legacy Cup in Toronto, Canada two weeks ago, encouraged other Bahamian bodybuilders to never give up on their dream.
"You have to want it bad enough and do what it takes to get it," he said. "I worked hard because I wanted it and I had the right support base with Joel Stubbs as my coach."
Stubbs became the third Bahamian to earn his pro card in 2003 when the Central American and Caribbean Championships was held here.
"I've had the opportunity to work with him over the course of a year and-a-half, but I saw the potential in him from where he started competing," Stubbs said.
"He had the potential to obtain a pro card. Now that he got it and he pretty much got it easy, leads to the fact that we can now go to the pro league and display what the sport calls for - great symmetry, great condition, great mass, good poise and everything must be in harmony."
Based on the package that Hamilton possesses, Stubbs said he's trying to get his protégé ready for the Tampa Classic where he can get the support from the Bahamian public to come out and support him.
"I think in the next two years, he should be ready to grace the Mr Olympia, the biggest stage in bodybuilding," Stubbs projected. "So I feel confident he will do it. He's working, he's very disciplined and very humble. "So I think it's just a matter of time, slowly putting all of the pieces together for him to be successful and getting to the level where he needs to be to be competitive in this sport."
Once known for having the biggest back in the sport, Stubbs said he doesn't envision himself getting back on stage but instead, he will continue to devote his time to grooming the next crop of bodybuilders to follow in his footsteps.
"I promised that during the last year of my tenure as president in 2018 that I would get myself in shape to at least do a guest posing," said the Bahamasair pilot.
"Even that may not be possible now. I don't think the body can take it. I'm still training here and there as I take my focus in a different direction in the sport. That has kept me busy, but if I can get in some training, I might be able to grace the stage as a guest poser."
Stubbs' four-year reign as president will come to an end in April, but he said if the athletes want him and his team back, they will welcome it, but if they are ejected, he will continue to train athletes like Hamilton and Miller for their pro campaign.
Miller, coming off her success in Canada, put on a posing demonstration at the Faye Rolle Classic. Stubbs said she put on quite a show.
"This is a new division for her. She always competes in women's figure, but I told her the Caribbean judges seemed to think that she was too big for the division," he said.
"Her size and shape was very good for the pro league, so I told her to go to women's physique because I know she will get her pro card quicker that way and she did one show and she got it."
Over the last decade, Miller has been making some strides in the sport but , after taking a brief break, she returned to competition and under Stubbs worked her way back to the top.
"She's finally done it and now she can go back to women's figure in the pro league," he pointed out. "So we will continue to push her body as we work her to get ready for the pro level.
"I think she's going to be a great pro bodybuilder because she has the potential, the size and the maturity level. It's just a matter of getting her into the right show to make the Bahamas proud again," Stubbs told Tribune Sports.