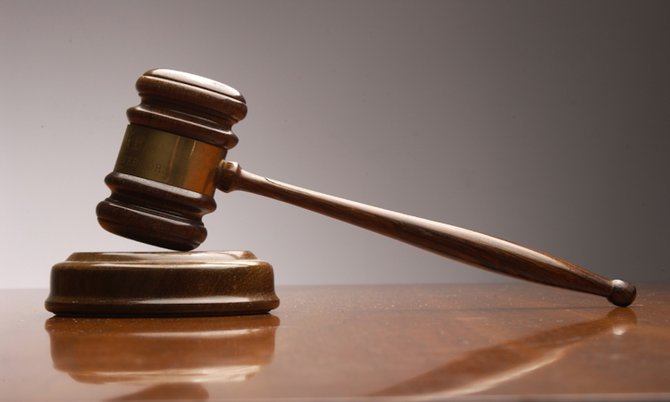 By DENISE MAYCOCK
Tribune Freeport Reporter
dmaycock@tribunemedia.net
A WAR of words erupted in the Supreme Court in Grand Bahama on Wednesday between witness Allan Alcime and a defence attorney after the former was accused of being a liar and making up a story about being at the scene of the deadly shooting and home invasion of a husband and wife in Deadman's Reef in 2015.
Alcime insisted he was with the three accused men on September 12, 2015, when they allegedly held up the couple with guns at their home.
Barry and Sheena Johnson were found shot to death at their triplex apartment on the morning of September 13, 2015. Five men were arrested and charged with the murders and armed robbery.
Three of the men are on trial - Paul Belizaire, Devaughn Hall, and Kevin Dames. Alcime and Virgil Hall accepted plea deals to testify as witnesses for the Crown and were convicted of the armed robbery. Both are serving time in prison.
Alcime has testified he and three of the co-accused (Virgil Hall, Belizaire, and Devaughn Hall) were dropped off by Kevin Dames to a location in Deadman's Reef on the night of the murders. He alleged Devaughn told them a week before the killings that he knew where $2m and some cocaine were. He claimed Devaughn shot the couple after they did not find any money.
Under cross-examination on Wednesday, lawyer Geoffrey Farquharson accused Alcime of being a liar and suggested he was never at the scene on the night of the shooting.
"You made up the story… you were not on the crime scene," said Mr Farquharson.
Alcime insisted he was there and he was the one in the video surveillance footage wearing camouflage pants, with a black long-sleeved shirt and a black hat.
Mr Farquharson requested the video be shown. In the black and white video, he pointed out the person whom Alcime said was him, was not wearing a black shirt and black hat, but rather it appeared to be a white shirt and white hat in the video.
But Alcime insisted it was him in the video.
"I was there," the witness said.
Alcime said he was the one in the video holding a shotgun, which was later found by police in his backyard, wrapped in a black long sleeve shirt.
Mr Farquharson suggested to Alcime it was someone else and the police had shown the video and that's how he knew what the suspect was wearing the night of the shooting.
Alcime denied police showed him the video when he was arrested.
"You made a deal to tell them you was the person… so you could get off for murder," Mr Farquharson said.
He then suggested to Alcime that he is a "brazen liar," referring to letters Alcime had written to the Supreme Court justice after his arraignment for the murders.
"You wrote that you (were) arrested for something you had no knowledge of and to give you bail?"
"Yes sir," replied Alcime.
Mr Farquharson asked: "And now you telling us you were on the scene of the crime?"
Alcime did not answer.
"So you lied to the judge just like you lied to the jury," suggested Mr Farquharson.
Alcime shot back angrily: "I was there. I got to be, have to be insane to say I do something if I ain't do it."
Mr Farquharson further accused the witness of lying in his letter to the judge that he was never convicted of a crime prior to 2015.
He questioned Alcime about a number of criminal offences for which he was charged and convicted, including causing harm in April 13, 2010, and that he was charged with stealing a Honda motorcycle in May 2011.
Alcime said causing harm was not a serious offence and that he did not steal the motorcycle but had received it from someone.
The trial continues before Justice Estelle Gray-Evans.