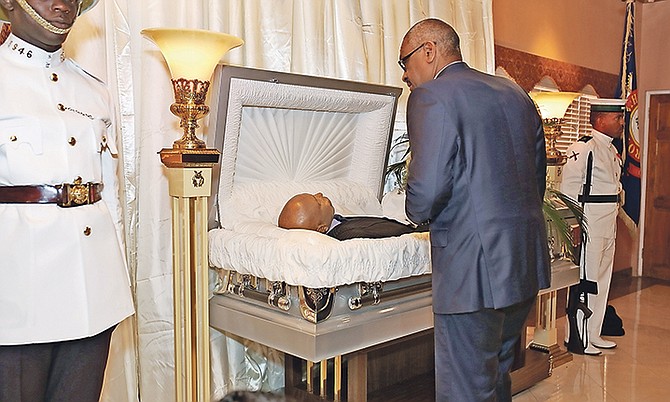 By MORGAN ADDERLEY
MEMBERS of Parliament paused proceedings in the House of Assembly yesterday to pay respects to former Free National Movement (FNM) MP Calvin James Johnson, who died last month.
Johnson was elected MP for the former Fort Fincastle constituency in 1992. He died on October 30 at the age of 64. The House was suspended for one hour yesterday to allow MPs to view the body of their former fellow parliamentarian.
Upon reconvening, Speaker of the House Halson Moultrie called for a moment of silence in honour of Johnson. After this, Mr Moultrie invited MPs to present tributes to celebrate Johnson's legacy.
MP for South Beach Jeff Lloyd remembered Johnson as a politician, a consul general, and "one of the great and outstanding parishioners of St Francis Xavier Cathedral."
Mr Lloyd said: "I have known Mr Johnson for nearly 30 years. Particularly following my return from the United States of America, when I became more intimately involved in the ministry of the Catholic Church, particularly and especially St Francis Xavier, where he also was a member.
"In 2000 Mr Speaker, I became a permanent deacon in the Roman Catholic Church, and one of my more energised and energetic supporters and encouragers was Mr Johnson… Mr Johnson was always encouraging, always enabling, in that sometimes very difficult and problematic ministry, facilitating the lives of those to whom I had preached and sought to serve.
"When I contemplated becoming affiliated with front line politics, [Johnson was] one of the souls that I sought because again of our relationship in the church and his own sense of faith and the journey of own his life as…a politician. I sought his counsel and advice. Again, in his usual manner, he was sober, honest…and encouraging.
"Two weeks before his passing, he and I met on Bay Street, and I guess sensing the challenge of being a minister in government, especially responsible for a large ministry, such as the Ministry of Education, he left me with these words: 'stick with it.' Stick with it.
"And so I rise today on behalf of our grieving community at St Francis, where tomorrow his mortal remains will be first funeralised and interred and on behalf of…the men's group [in St Francis], we wish to extend to his family our deepest sympathies."
Reece Chipman, MP for Centreville, also paid respects to Johnson. Mr Chipman spoke on behalf of the people of Centreville as well as "the people of Ft Fincastle, and East Street, and Farm Road, all of whom had an opportunity to be represented" by the former parliamentarian.
Mr Chipman said: "[I began my] relationship with Mr Johnson in 1992 when I campaigned with him. He was running against a giant [former MP Alfred T Maycock] and we were very, very excited about that moment that we realised that the young people of Centreville had decided that they wanted change.
"And 1992 was that year that Mr Johnson would have entered these walls of Parliament. And so that was the beginning of our relationship. I then campaigned in 2007 where he was an integral part of my campaign in St Thomas More. And his advice and encouragement…was very important to the success of the Free National Movement in 2007.
"Once again in 2017…I met with [Johnson] and we talked and he offered great advice and encouragement. But most importantly, what I'd like to say to the House of Assembly is how important and the legacy Mr Johnson would have left in Centreville and Ft Fincastle and that legacy goes on.
"And so I just wanted to ensure that on behalf of the people of the wonderful constituency of the area of Farm Road and Ft Fincastle and even some of Bains and Grants Town, he played an integral role not only in campaigning but also in the lives of many of the young people in that area," Mr Chipman said.
Picewell Forbes, MP for South Andros and Mangrove Cay, also fondly remembered Johnson. Mr Forbes said Johnson "really gave much hope to young persons in the community, in Mason's Edition and McCullough Corner."
He added: "Many evenings you could see him sitting on the wall… Today the boys on the corner…are all saddened by his passing.
"He was a decent man, an exemplar, had a very positive disposition and also a very caring individual… [Johnson] also had a chance to serve in the diplomatic corps, as an ambassador, consul general of the Bahamas, he did really well."
Mr Forbes reiterated how Johnson gave hope to "the disenfranchised young men and women Over-the-Hill" and fondly recalled him "sitting on the wall under the breadfruit tree with his suit on."
Johnson will have a state recognised funeral, which will be held today at 10am at St Francis Xavier Cathedral, West Hill Street.
More like this story