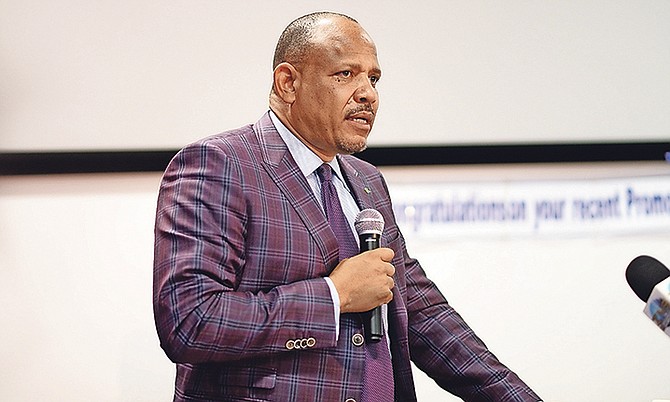 By RICARDO WELLS
Tribune Staff Reporter
rwells@tribunemedia.net
BAHAMIANS need to lift the veil of secrecy surrounding crimes against women and children, Minister of Health Dr Duane Sands urged yesterday, as he noted linkages of such acts to violence in school and the wider community.
Dr Sands spoke at a symposium on preventing violent crimes hosted by the Crisis Centre.
According to organisers of the event, the prevention and eradication of violent crime in the Bahamas is predicated on the establishment of functioning links between essential services and experts.
The one-day forum, held yesterday at the Paul Farquharson Conference Centre, brought together key stakeholders across the allied health, law enforcement, education and legal disciplines to clarify the best way to unify resources and efforts.
Speaking during the morning session, Dr Sands categorised the Bahamas as a world leader in "ways that are destructive to the fabric of our social and economic well-being."
Referencing both local and international crime and violence statistics, Dr Sands suggested that in the Bahamas violence is often perpetuated by cultural and generational trends that are known to be bad, but accepted nonetheless.
The Elizabeth MP called for the secrecy to end and the seriousness of violence against women, rape, incest, physical and sexual abuse to finally be acknowledged. Dr Sands said only then a true effort can be made to address all the core issues.
He stated: "In May, I mentioned that while we are world leaders in tourism, finance and sports, we also lead in ways that are destructive to the fabric of our social and economic well-being. I recalled how the Bahamas was one of the leaders in penetrating trauma due to gunshots and stabbings. I also stated that the probability of dying from these types of injuries far exceeds the risk of death from cancer or HIV/AIDS in the Bahamas."
Dr Sands added: "Culturally, in the Bahamas violence is perpetuated as being 'forceful/fearless' and in some instances celebrated as a form of discipline 'keeping your house in order'. Also, many of my Bahamian brothers and sisters are of the view that domestic violence is a private matter and not a crime. However, this so called 'private matter' is spilling over into our schools where our children, especially the boys, are acting out in the form of bullying and gang violence.
"Our primary and junior high girls are displaying uncharacteristic 'womanly' and violent behaviour because of years of sexual molestation… sometimes from their fathers, uncles or other relatives. In the work place, women are withdrawn and non-participatory and our men are overly aggressive and argumentative.
"We continue to under-report, accept or even encourage inappropriate language, unwanted touching and even overt sexual harassment – because 'that's how we go,'" he asserted.
Dr Sands, highlighting portions of a 2013 Department of Statistics report, mentioned that some 1,200 women are abused annually.

Referring to a recent Department of Social Services' report, Dr Sands also indicated that 500 – 600 children suffer abuse annually.

He added: "Sadly, as startling as these statistics may be, they do not represent an accurate account of instances of violence and domestic violence, as many of these incidents of violence are not reported and of those reported, the information is not shared. This brings me to the importance of the theme of this symposium: 'Connecting the dots: working together to prevent violence.'"
Nevertheless, Dr Sands stressed that many of the avenues to ease the blight of violence, both physical and sexual, already exist, only now needing the right focus and directive to be viewed as effective.
To that end, he said the country needed to place more emphasis on conflict resolution and better communication skills; crafting policies and procedures that investigate and document occurrences of violence; developing medical and psychological programmes that assist and support victims of violence and drafting legislation that provides protection to victims of violence.
Additionally, he called for more education on violence and its effect on victims and their families; and national "understanding and claiming" of the real events and factors that either lead to violence or create a fertile and warm environment to facilitate violence.
Dr Sands said: "All agencies, public and private, must continue to make a greater effort to work in collaboration. The first point of report; whether it is a healthcare facility, social services, the police, school or the Crisis Centre; must connect and continually communicate with all the relevant agencies thereby providing a holistic approach to the efforts of combating the scourge of violence in our society."
He continued: "Hence, the work of the Crisis Centre to provide free counselling and services to men, women and children who are experiencing any form of abuse must be intricately tied to our partners in health care, social services and law enforcement.
"We must speak with one voice, move as one body, act as one force and stand in solidarity as we campaign for the eradication of violence in our society and advocate for the protection of victims of violence."
He said the Minnis administration and the Ministry of Health are committed to ensuring these measures.
Thursday's symposium also included remarks by Under-Secretary in the Ministry of National Security Eugene Poitier in place of National Security Minister Marvin Dames.
Mr Poitier said the Ministry of National Security has been working toward creating a multi-agency and multi-disciplinary crime fighting initiatives to address our crime challenges and bring a greater focus to the causes or risk factors versus the symptoms.
He added the ministry is also expected to introduce shortly a holistic social initiative – national in scope – free from silos that cut across ministerial boundaries and seek to address those risk factors that are leading our young people to crime.
Other presenters at the forum included clinical psychologist, Dr Tracey King; Urban Renewal Chairman Hulan Hanna; attorney Cleopatra Christie; Donna Nicolls; Dr Robin Roberts; educational psychologist Novia Carter; and clinical and educational psychologist, Dr Valerie Knowles.