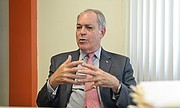 By AVA TURNQUEST
Tribune Chief Reporter
aturnquest@tribunemedia.net
WHILE there has not yet been an official notice circulated by the Cabinet, Immigration Minister Brent Symonette yesterday insisted that the school permit policy has been effectively rescinded.
Mr Symonette told The Tribune that school officials across the Bahamas have been told not to deny access to children that do not have the special permit.
"Any person that has been denied access to register because they do not have a school permit should contact my office directly," he said.
"We've spoken to all the schools, no one is to be denied access to school."
The existing policy mandates that every foreign person enrolled in schools, including children born in The Bahamas to immigrants, must have a student permit.
As a result, Education officials have acknowledged there are children who have been unable to register for school since this aspect of the November 2014 immigration policy took effect for the Fall 2015 school semester.
Last month, officials also acknowledged the policy's impact on access to education contravenes both Bahamian and International law.
On a radio talk show in September, Education Minister Jeff Lloyd stressed that the impact of the country's immigration policy on public services had the potential of creating "fatal" consequences, and a serious threat to the country's national security.
He pointed to a "decided drop" in school enrolment over the last three years as a guest on Guardian radio talk show Real Talk Live with host Carlton Smith.
Notwithstanding the the critical need to resolve the complex issue of citizenship surrounding persons born in the Bahamas to non-nationals, and illegal immigration challenges, Mr Lloyd said it was unfortunate that some persons were tying the country's immigration laws to children's access to education.