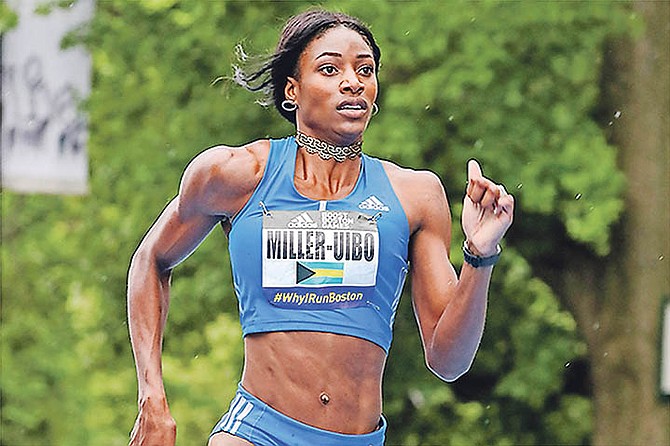 THE Bahamas Association of Athletics Coaches announced that Olympic champion Shaunae Miller-Uibo has agreed to sponsor this year's Coaches Association Bay Street Mile set for Saturday, November 25.
"I am eternally grateful to all of the coaches of BAAC for all that they have done in building the foundation for me and most other senior athletes to succeed on the world stage," she said.
Miller-Uibo feels honoured to be in a position to assist and to give back to the coaches community, by not just sponsoring the event but also appearing and socialising with the athletes, volunteers and all the persons that turn out for the fastest road race in the country.
"We are pleased to announce that Mrs Miller-Uibo has convinced several of the other professionals, such as Stevie Gardiner, Jeffrey Gibson and a few of the Golden Knights, have agreed to come out to mingle with the participants during The Social that is to follow the race," the association said in a press release.
"We are pleased to announce that Bahamasair has come on board and stepped in to "power" the event by flying in Mrs Miller-Uibo, Mr Gardiner and Mr. Gibson. They have also agreed to assist the family island participants and coaches by offering them discounted rates.
"This is extremely helpful as we anticipate athletes and their coaches to be coming in from Grand Bahama, Abaco, Eleuthera and Andros. Bahamasair will also be offering prizes to the overall top finishing male and female, so we are extremely pleased to have them as a partner."
The race is slated to begin at 6am from the world famous Straw Market (Downtown) and finish at the Bahamas Football Association's Beach Soccer Stadium, located just west of the Sir Sidney Poitier Bridge. It is open to athletes/participants ranging from the category of under-9 all the way up to 50 plus. The race is being organised by the Coaches Association, which commended coach David Ferguson and his team for their efforts to plan this event.
"Ferguson has been very instrumental with getting this race to the road and it is out of his love for distance running and in particular this event. His unfailing passion and arduous effort has been the driving force in making this event a reality," said a press release.
Official t-shirts will be given to all participants and 1st, 2nd and 3rd place trophies will be awarded for all male and female divisions.
"The Coaches Association is very appreciative for the assistance we will be getting from BACO, who has agreed to officiate the race and the RBPF, as they will provide protection for the participants along the route.
"We encourage all track and field teams, schools, businesses, churches and any other organisations to come out and be a part of the greatest Bay Street Mile of all time," the association said.
Entry packages can be collected by contacting coach David Ferguson at 424-9480, Mrs Leketah Charlton at 468-5592 or Mrs Dawn Johnson at 359-2590.