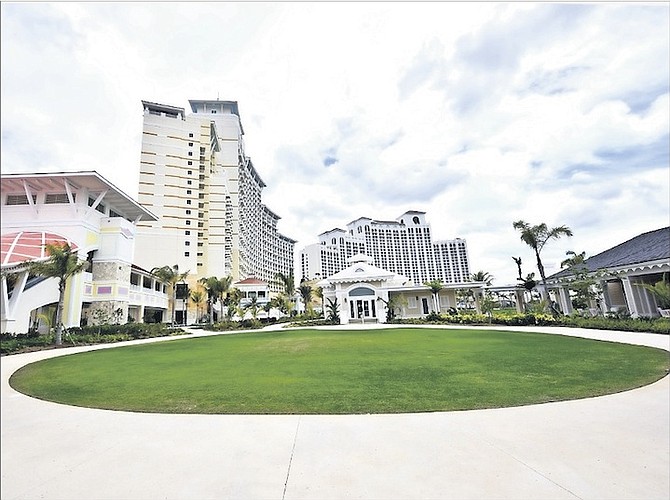 By KHRISNA RUSSELL
Deputy Chief Reporter
krussell@tribunemedia.net
ATTORNEY General Carl Bethel suggested yesterday there are not many things left to be done before the sale of Baha Mar to purchaser Chow Tai Fook Enterprises (CTFE) is complete.
Mr Bethel explained the sale's finalisation was dependent on the liquidation being cleared away among "some" other things.
Meanwhile, Works Minister Desmond Bannister rejected speculation the resort is still operating on a temporary certificate of occupancy (TCO) because of alleged structural issues.
Mr Bannister told The Tribune yesterday these reports – published in a local tabloid – were not true, adding there was "absolutely" nothing concerning the structure that was a cause for concern.
"There are only some things that need to be done," Mr Bethel said when he was contacted by The Tribune yesterday.
"They have to complete their own land transfers and some has to be completed with the government. There is still a legal process that has to be completed elsewhere.
"It's a matter of the liquidation being cleared away but the hotel properties and all transfers in terms of the heads of terms and heads of agreements are complete.
"These are all in the hands of the lawyers," Mr Bethel said.
When he was contacted by this newspaper, Mr Bannister said as it stands, there have been about three or four TCOs issued, but for small stores at the hotel.
"They have all of their certificates of occupancy and I think maybe three or four temporary ones for certain little stores, for example you may have a store in there like a John Bull or something like that and the finishes may not have been ready or whatever, but nothing to endanger people or to cause any problems," the minister said.
"Those stores may have gotten a temporary TCO but I have in my office, I got my office to bring all the certificates of occupancy and they were all granted to Baha Mar so they are fully compliant."
Asked if there was anything structurally alarming, Mr Bannister said: "Absolutely not."
The SLS at Baha Mar officially opened on Friday night despite the incompletion of its top two floors and only 50 percent of the hotel's 300-rooms filled.
At the event, Prime Minister Dr Hubert Minnis dodged questions over whether the sale of the resort to purchaser CTFE was complete.
"The hotel is open. Are you not happy?" the prime minister responded when he was asked by The Tribune to comment on the status of the deal. "You are happy, right? I am happy. Good."
Speaking on the sidelines of the elaborate opening, SLS General Manager Richard Alexander said while only 150 of the rooms at the hotel were occupied, this was expected to increase to at least 60 per cent over the Christmas season.
He said: "So we have 300 very stylish bedrooms. Most of them face the ocean. We have five restaurants right across the resort. I should mention Cleo Eastern Mediterranean Restaurant. We have Katsuya, which many people have already found and find it delicious, serving Japanese Asian food and we have many more to come. But I think the beauty of this resort is there is something for everyone no matter where you come from, what nationality you are there is always something to excite you and entertain you."
Asked to state the number of rooms filled, Mr Alexander said: "Tonight [Friday], we have 50 percent occupancy tonight and we are on day three. That's quite an achievement and I really want to shout out all the people who work here that make it happen.
"We will dip after this opening, but then Thanksgiving is looking really good and Christmas is looking really amazing. We'll see at least 60 percent occupancy over Christmas."
He also said: "All of the rooms are open except for the top two floors but they just need some final detailing and they'll be ready by Christmas."
Back in June, Tribune Business reported the resort's original developer Sarkis Izmirlian urged the Minnis administration to impose "a moratorium" on the completion of Baha Mar's sale and warned he was considering legal action against the Christie administration's "state sponsored discrimination."
Last month, Attorney General Carl Bethel confirmed the government received a letter from Mr Izmirlian in response to questions from The Tribune over whether the government would investigate the issuance of a casino licence to CTFE.
The letter, said to be dated October 17, and sent to the Office of the Attorney General purportedly called on the Minnis administration to look into the previous government's April 5, 2017 issuance of the licence, a source told The Tribune.