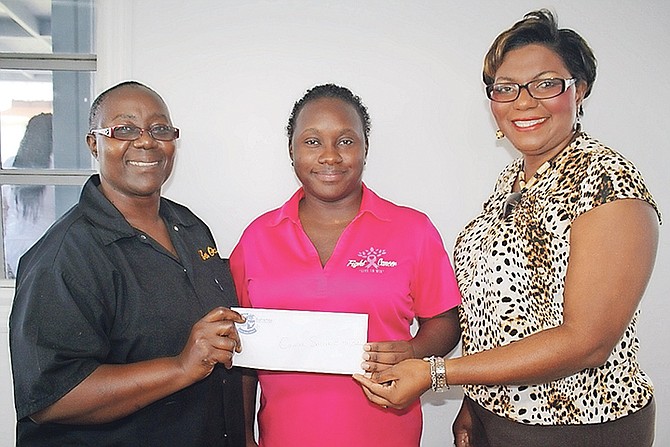 Despite having just opened at the end of October, BTVI's new cafeteria operators have already begun making a difference. Aside from wowing the BTVI community with their diverse and tasty menu items, the new cafeteria team has stepped up its role in the community with a donation to the Cancer Society of the Bahamas.
Immediately after opening on October 23, cafeteria operators Mary Laurenceau and her daughter, Christine Laurenceau, began selling pink lemonade in support of breast cancer awareness, with 100 per cent of the proceeds going towards the cause.
The mother-daughter duo is familiar with the effects cancer can have, having lost relatives to the disease. In 2007, their family started the Gerard Paul Alexander Brown (GDAB) Foundation - named after a late uncle - to provide housing for Family Islanders coming to Nassau to seek treatment.
"Because we know what cancer does to someone, we feel urged to do what we can so that one day a cure is found," said Christine.
Having hosted its Annual Pink Awareness Bake Sale, BTVI said it is pleased to know that its new cafeteria operators are supportive of the fight against breast cancer.