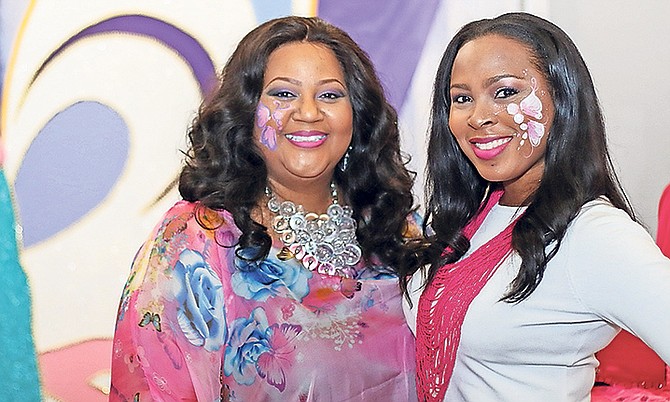 By ALESHA CADET
Tribune Features Reporter
acadet@tribunemedia.net
Some of the best Bahamian singers and entertainers recently took the stage at the Bahamas Harvest Church West to celebrate Jody Knowles and raise money for her cancer treatments.
The mother-of-three has been diagnosed with stage 3 breast cancer and is facing a double mastectomy and hysterectomy next month.
But she is determined to fight the disease so that she can there for her loving family for many years to come.
To help cover the costs of her medical treatments, Jody, along with family and friends, hosted a successful breast cancer benefit concert on November 5 - an event which gave both Jody and those in attendance a sense of hope.
Held under the theme "Metamorphosis", the concert boasted a star-studded lineup that included names like Sherwin Gardiner, Nigel Lewis, Monty G, Ricardo Clarke, Denczil Rolle and Friends, Sammi Starr, the Harvest Generation praise team and dancers, Nehemiah Hield, Kim Welcome, Judah Tha Lion, Dana Knowles, and others.
Overwhelmed by the support and love displayed throughout the night, Jody described the experience as an "electrifying, praise-filled evening of music, dance, mime and drama".
"When the final count came in from the ushers I was told the auditorium was filled to capacity with close to 750 people. The hugs, kisses and well wishes of those that experienced the evening brought me hope personally and my hope was fulfilled when all of the people spoke to me and said that it was an unforgettable concert," she told Tribune Health.
Jody said it is impossible to name a favourite moment, as each and every performer brought their unique style to the stage and helped make the evening an unforgettable one. She said it was the power of God that helped unify hearts and ensure excellence during the concert.
She explained that "Metamorphosis" was planned with the intention for the audience to come away with hope. And even amidst chemotherapy treatments every Friday, it was important for Jody to be involved with the planning.
With the support and assistance from persons like Kevin Harris, Dana Knowles, Pastors Mario and Erika Moxey, Staniel Russell, Andre Culmer, Gina Rolle, Renee Davis, Vanessa Clarke, Ranel Pierre, Oswald Bowe, Nahaja Black, Sonia Hinsey, Verenique Cunningham, Phillandra Smith and Tishka Scott, the planning process was a smooth one for Jody.
"Their invaluable support in time, energy, sleepless nights, numerous calls and meetings on the phone and in person gave me the peace of mind that it was going to be great and it will always be cherished by me. If I can bottle the words expressed after the concert I would need an ocean to contain them. The joy, laughter at the beginning as people entered and saw the paintings far surpassed expectations as they exited dancing and saying, 'What a night'. Some even called it the event of the year," said Jody.
Although the "Metamorphosis" concert met her expectations financially, for Jody, more funds are needed to aid not one, but two surgeries this December.
"I would like the readers to keep me in prayer as I walk out this journey as many survivors have done before. I have completed 16 rounds of chemotherapy and face a double mastectomy and hysterectomy. Persons donated even though they weren't able to attend the concert, and for those who indicated and gave anonymously I want to extend an extra special thanks to them for that added relief to the present financial burden. There is still an opportunity to support via gofundme.com/jodyknowles or First Caribbean Bank Account number 201696056," said Jody.
She encouraged women living with cancer to always have a positive outlook on life, as it is easier to fight the disease when one's focus is on surviving. She emphasised that cancer does not only affect the person living with the disease, but also family, close friends and one's church family.
"I don't have the energy that use to be my norm, which is so needed as my oldest son is on the autistic spectrum. I have a strange device in my chest, so hugging and kissing my children has to become a calculated, choreographed movement. My short-term memory is questionable, and yes, my wig gets twisted on my head throughout the day, or simply comes off while I get a quick scratch or wipe the gathered water away, which brings some laughter to my colleagues. The cravings I experience for certain foods are not triggered by pregnancy, but a result of a chemotherapy session, that sometimes begins as early as 5am, but will ultimately result in the birth of a survivor," said Jody.