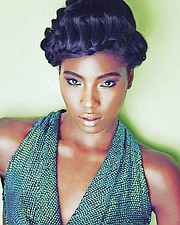 By FELICITY INGRAHAM
As the temperatures cool down and end-of-year festivities begin, it's a great time to concentrate on making your hair look absolutely fabulous. One way to do this is by adding more oil to your tresses and giving them much needed moisture and preventing the frizz that Bahamian humidity tends to cause.
It's the weather for more oil treatments and it allows for more liberal use of products. In the summer, too much oil not only weighs down the hair, but can cause skin breakouts. In the winter, however, at-home hair treatments are the way to go.
Hair care brand ORS, maker of the popular Olive Oil products, has been consistently sending trained trichologists to the Bahamas for free sessions this year. Carl Richmond and other professionals diagnosed local customers with issues like dry scalp and alopecia, and recommended specific ORS products for them.
ORS sales representative for the Bahamas Denisha Rolle wants to remind the public that the brand is one of the first to heavily promote natural oils for the hair into the global market and has remained a leader ever since.
ORS has expanded to include new products such as its Black Olive Oil family and its ORS Hair & Scalp Wellness Oils line, which includes virgin olive oil, tea tree oil, saw palmetto oil, Indian amla oil, shea butter and coconut oil. Ms Rolle said the company that has led the way in oil hair care has continued to invest in the necessary research to ensure that their products are effective.
"The hair tends to get more brittle and dry during the cooler months; you need to control frizz and add moisture," she said, "And ORS is specially designed to deal with all hair issues and help you to have healthy hair."
For those with natural hair, ORS Olive Oil Incredibly Rich Moisturising Hair Lotion and its accompanying shampoo and conditioner have always been a go-to. But ORS is so much more than that, she said.
Naturalistas should look out for the new ORS Olive Oil for Naturals, which uses ancient Ethiopian ghee butter as its active ingredient. The Monoi Oil line, which boasts of a generous helping of Tahitian coconut oil, Curls Unleashed and Shealicious are all ORS products that are topping the sales charts because of their effectiveness in providing the much-needed oil retention for bouncy, beautiful, moisturised hair, said Ms Rolle.
Meanwhile, the ORS Hair Repair line is designed with fixes for extremely damaged hair, and the scalp scrub mixed with a bit of baking soda is still a popular remedy for thickening the temples and nape area, she added.
"As for our shampoos, they are sulfate free, so they don't strip the hair of colour and damage the hair. It helps to keep the scalp clean and the strands strong."
Ladies with relaxed hair have been relying on ORS Olive Oil for decades, Ms Rolle said, and the brand has now introduced a range of colours called Olive Oil Hues that work well on natural or relaxed hair.
ORS is wrapping up a successful year of promotions and giveaways with a Christmas campaign that will be announced soon via its ORS Bahamas page (cdmorsbah) on Facebook and its cdmorsbahamas page on Instagram.