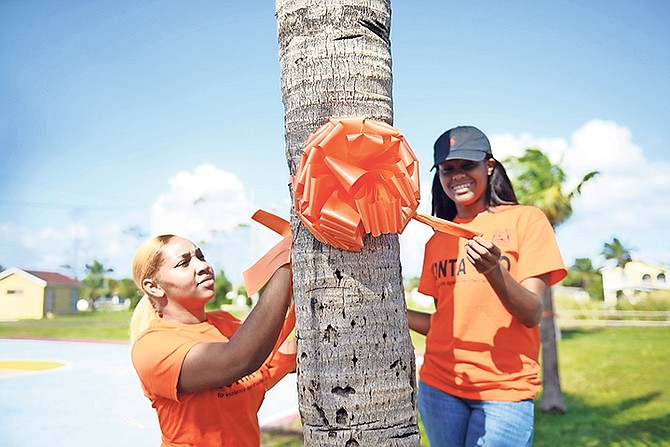 By FELICITY INGRAHAM
MINISTER of Social Services & Urban Development Lanisha Rolle announced her intention to lead a national campaign to end gun and gang violence.
Mrs Rolle made the commitment as she addressed the Zonta Club, which is leading a charge to "paint the town orange" to speak out against acts of violence this week.
Members of Zonta tied orange ribbons and bows in the Pinewood Gardens and Cable Beach communities yesterday as part of the United Nations' 16 days of activism against gender-based violence. The group's "Say No To Violence Against Women and Girls" campaign is worldwide and in the Bahamas, members used the opportunity to speak to motorists and residents about the issue of violence in the country.  
Declaring her desire to see the nation "change the culture of acceptance of acts of violence," Mrs Rolle said: "As minister, I intend to lead efforts to implement and execute a transformative agenda of programmes focused on the elimination all forms of violence."
She called for Bahamians to not only "say no" to violence, but to also "show no" to those who continue to show no regard for the rights and lives of others. 
"History has already demonstrated that it is simply not enough to say no - we must show no. When we show no, we demonstrate a commitment and resolve to stand up against violence of every kind."
"We must challenge ourselves to take deliberate steps to transform the thinking of society."
The Department of Gender and Family Affairs, the Domestic Violence Unit, Counseling and the Child Protection Unit of her ministry will work with churches, NGOs, other government ministries and corporate Bahamas to execute an effective national campaign to stomp out the scourge of violence, she said.   
The ministry will be "promoting advocacy initiatives and giving oversight on the detection and prevention of violence in the country," Mrs Rolle told Zontians as she addressed Zion Baptist Church on Sunday.
She called for an end to the acceptance of violent behavior in the homes where the first life lessons are learnt, noting that there exists a "culture of violence in too many Bahamian homes."
As Zonta painted the town orange yesterday, members asked the public to participate in the "Walk in My Shoes" event this Saturday at Arawak Cay from 10am - 6pm. Bring lightly-worn used or new shoes to the event from noon to 5pm as a part of the drive, and shoes will be donated to various charities. Each shoe will represent a life lost to violence. 
A previously reported University of The Bahamas study showed that 58.1 per cent of male students and 32 per cent of female students felt that it is "okay for men to hit their women" and in some cases, "the women were to blame," Mrs Rolle noted. 
Children must be taught right from wrong from a tender age, she said, and must have good examples of acceptable behavior in their homes. Once a sensitivity to the subject is established from primary straight through to high school, she feels that the country stands a better chance of turning around troubling statistics. 
"We must show that there is no excuse for violence. We must report violators promptly to authorities; and when that authority does not respond timely or appropriately, we must report their conduct to another authority until our cry for help is heard."
"We must show no to this unhealthy trend of thought and begin promoting an organised exchange of information to sensitise persons to the dangers of accepting and condoning violent behavior," Mrs Rolle said.
Mrs Rolle recalled some recent tragedies in the nation's capital, including the shooting of "a baby at home in Bain Town," 8 year-old Eugene Woodside who was doing homework when he was shot and killed, and the recent shooting of a parent in a school yard at St Francis Xavier Primary School.
It is imperative therefore, she said, for people to speak up and speak out and "say no" any time they see acts of violence starting from the home and extending to schools, communities, and the country.
"Showing no means turning up to court to give evidence against violent perpetrators; telling others about the violent and unremorseful proclivities of a former partner; and sympathise and support those who find themselves as victims of violence."
Insensitivity also exists against victims, she said, noting that sometimes people comment that an individual would only stay in an abusive relationship if they want to.  
In response, she shared the comments of two victims who made these remarks at a recent event: "Don't tell me how easy it is to leave an abusive relationship if you have never been in one" and "But for the grace of God go I."
Mrs Rolle advised: "We must be prepared to provide more temporary safe houses for victims of violence where necessary, provide counselling, and we must also take an holistic approach by providing rehabilitative services to assist offenders.
"Violence against women and girls cannot be tolerated and so we will say no and show no," she declared.
"My ministry plans to play an instrumental role in promoting the legislation to protect persons from all forms of violence against any gender and any member of the family."
Reverend T G Morrison gave the sermon, calling for Bahamians to remember that "we declare this a Christian country" and that if citizens live by Christian values, violence would be curbed.
Zonta is also inviting the public to a town hall meeting to discuss violence against women and girls on Tuesday, November 28 at 6.30pm at Jones Communications.