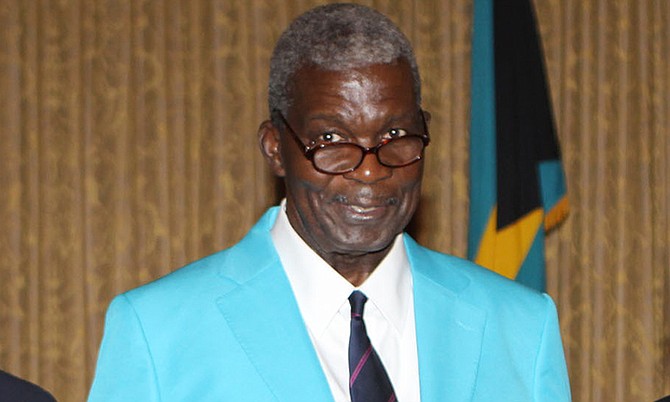 By KHRISNA RUSSELL
Deputy Chief Reporter
krussell@tribumedia.net
TWO days before Sir Arlington Butler's funeral, his children announced their decision to relinquish any direct involvement in planning of the arrangements to their stepmother.
In the interest of propriety and the Butler family's dignity, Sir Arlington's children said yesterday they were allowing his widow Lady Hazel Butler to solely plan his funeral, claiming there were repeated attempts, which failed, to engage her and resolve several pertinent issues. These included a funeral date, place of interment among other things. The decision to step back came two days ago, they said in a press statement.
Yesterday, Lady Butler's attorney Romona Farquharson-Seymour said because of the tensions since Sir Arlington's death, his widow needs personal police protection and is considering not attending the funeral because she is so "broken" over the ordeal.
"As a result, I rushed here to the Police Staff Association to request personal assistance from police," Mrs Farquharson-Seymour told reporters yesterday. "I note that it's a state [recognised] funeral, however my client will need, we believe, personal police to be with her from Thursday evening through Friday for the funeral." 
Meanwhile, Sir Arlington's family said it hoped their decision would allow relatives to move past the "unnecessary" court action launched by Lady Butler, saying at the appropriate time all the facts will be made public.
Pointing to regrettable persistent "erroneous" reports and "misinformation" in the public domain, the statement said there are simply family matters not for public consumption.
House Speaker Halson Moultrie told Parliament yesterday a state recognised funeral was slated for 11am tomorrow at Christ Church Cathedral. Sir Arlington will also lie in state today.
"We, the children of the late Sir Arlington Griffith Butler, KCMG, wish to inform the public that after careful consideration, and on the advice of our legal counsel, senior family members, our father's dearest friends and colleagues, we have decided as of two days ago to relinquish any direct involvement in his funeral arrangements planning," the children said in a press statement yesterday.
"Regrettably, there have been persistent erroneous reports and misinformation in the media regarding what is essentially a private family matter. As we were taught by our father and mother, there are simply matters of which a family does not engage in for public consumption.
"In the interest of propriety and our family's dignity, we will allow our father's widow to solely plan his funeral arrangements, inasmuch as repeated attempts to engage her have failed to resolve several pertinent issues - eg date, place of internment et al - in a timely manner.
"We trust that this gesture of sacrifice of his clearly stated wishes, and our responsibilities as his children will now allow us to move past the unnecessary and unfortunate legal process initiated by our father's widow."
They continued: "Hopefully, this will cause for our father to receive the national commemoration of his extraordinary life, and for his mortal remains to be laid to rest in a dignified Anglican church ceremony, which he loved and believed in so firmly.
"At an appropriate time following a proper period of bereavement, and in the proper legal environment, a complete presentation of all the facts in this matter will become publicly known."
"We apologise for such short notice for family and friends who had wished to travel from or are travelling abroad at this busy time of the year, and we know that if you are unable to attend in person, you will be with us in spirit and thoughts at this time of our loss."
Last week, Lady Butler resorted to legal action to prevent her from being removed from her marital home by two of her stepchildren, as well as to have a say over her husband's funeral.
Her attorney filed an injunction before Justice Cheryl Grant-Thompson last week against the alleged "eviction" attempt, as well as an application for a declaration that Lady Butler be permitted to lead the funeral arrangements.
A writ of summons, as well as an ex parte summons supplemented by an affidavit was filed in that regard, according to Mrs Farquharson-Seymour.
Mrs Farquharson-Seymour said last week the "emergency application" was made in response to a letter served upon Lady Butler on November 13, just days after Sir Arlington died, by his two sons, who said they are the personal representatives and executors of his estate according to their father's will.
A copy of the November 13 letter, obtained by The Tribune, shows how Sir Arlington's sons instructed their stepmother to "cease and desist with all activities" concerning his "business, financial matters and/or properties," inclusive of "any transactions on any bank accounts, collection of rent or representation of his interest to any parties."
According to the letter, they also requested all of his "personal belongings, legal papers, conveyances, mortgages, etc…, mail, book manuscripts, medical records, monies and any business - apartment keys, extra keys held by others to home, receipt books, names of tenants, past or current bills, etc… - and/or financial information, bank account numbers, cheques etc in her possession be handed over immediately."
Further, to facilitate these requests and a "smooth transition," the letter said the two sons will need "full and unimpeded access" to Sir Arlington's bedroom as of November 13. It also said Lady Butler is "welcome to be present at any time of our entry and during our search."
Additionally, the letter stated Lady Butler was free to begin removing her "personal effects" from the residence in east New Providence, but only under the supervision of one of the two sons "or a representative we designate for such."
Towards the end of the letter, it stated Sir Arlington's two daughters would be given a copy of the house keys on the date of the letter's issuance, and that the children will begin to receive "relatives, friends and other well-wishers" as of the day after and the days following, "at which time we request [Lady Butler] not be present."
One of Sir Arlington's sons, Arlington Gabao Butler, later released a statement denying the heirs of the politician's estate had issued any ultimatum to anyone to vacate their father's home or not be involved in the planning of his funeral.
Sir Arlington married Lady Butler in 2015 after his first wife, Lady Sheila Butler, died in 2013 following a long illness.
He died on Thursday, November 9, after being admitted to Princess Margaret Hospital just over a week before after battling a long illness.
Sir Arlington, 79, was the first speaker of the House of Assembly in an independent Bahamas. During his lengthy career as a statesman, he was government minister and diplomat.