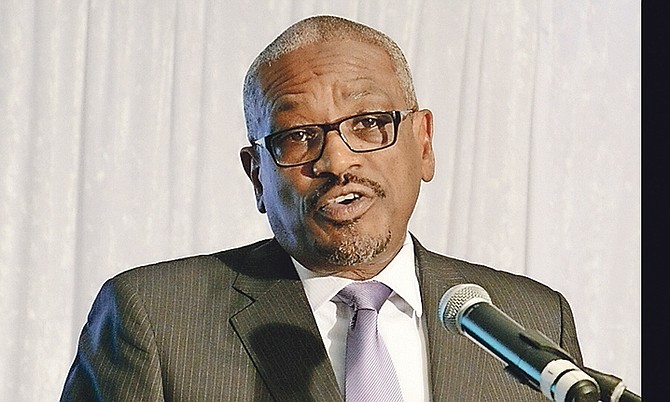 By AVA TURNQUEST
Tribune Chief Reporter
aturnquest@tribunemedia.net
PRIME Minister Dr Hubert Minnis yesterday said crime and the fear of crime is down, telling reporters his administration has now turned its focus to the country's economy.
"I'm still focusing on crime," he told reporters outside the House of Assembly yesterday.
Dr Minnis, pictured, visited Parliament to view the body of former Speaker of the House Sir Arlington Butler.
"But my observation, as I move through the community, crime is down, the fear of crime is down, and now our great focus is the economy and the ease of doing business."
He continued: "And that's why I'm going to Cabinet now so that we can approve investments to create jobs for Bahamians - that's my number one priority.
When asked if he focused on recent criticisms of his administration, Dr Minnis said: "I am focused on Bahamians' lives, the quality of lives being improved, that's my number one focus."
The prime minister's assessment follows similar statements from National Security Minister Marvin Dames last week amid a reprieve in shooting deaths for nearly a month.
The last reported homicide was on October 26, when a woman's partially decomposed body was found in bushes in Abaco.
Police opened a murder investigation and a man has been arraigned in connection with her death.
According to The Tribune's records, there have been 117 murders for the year. This marks a 43 percent increase in the number of homicides recorded by October 26, 2016 when there were 82 killings, according to our records.
Notwithstanding the lull in murders, a shooting in the parking lot of a primary school last week drew national attention.
A parent collecting his child, a fourth grader, from school was shot in the hand by assailants in the parking lot of St Francis Joseph Catholic Primary School on November 16.
Despite the incident, school officials said students, administrators and staff were in no immediate danger. The school was placed on lockdown shortly after the incident, but opened as normal the following day.
Parents canvassed by The Tribune the next day, said they regretted the shooting on school grounds, but most said the incident was not surprising given the "open season" state of the country.
Last week, Mr Dames said: "It all depends on where you are measuring from, but I can say certainly in the last few weeks a month or so that we've been seeing some very encouraging results.
"Have we arrived, we're far from it, but it certainly begins to set the stage for 2018."