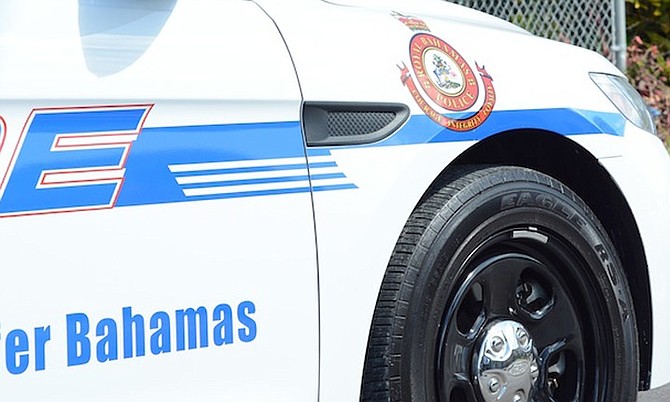 By NICO SCAVELLA
Tribune Staff Reporter
nscavella@tribunemedia.net
AN ELDERLY man was found stabbed to death in his Ambergris Street home on Friday morning, according to police.
Police Press Liaison Superintendent Shanta Knowles said the discovery was made shortly after 9am by family members at the home off Faith Avenue South.
Family members, present at the scene, identified the deceased as 76-year-old Leon Sweeting. They all said they were "shocked" at Mr Sweeting's death, who they said was a "supportive" man who would help anyone in need, family and strangers alike.
Mr Williams' son, Glen Sweeting, as well as his niece, Tracey Major-White, said his death was all the more shocking in that Glen had travelled to New Providence from Miami as part of a surprise Thanksgiving visit for his father.
According to Mrs Major-White, because it was a surprise. they held off on informing Mr Sweeting about the Thanksgiving dinner until the last minute, but Mr Sweeting, an early-riser by nature, declined the invite because it was too late.
"…He was like 'man it so late ya'll bring my food tomorrow'," Mrs Major-White said. "Not knowing that he wasn't gone be here tomorrow."
According to police, shortly after 9am officers received reports that a lifeless body was found in a home at Ambergris Street off Faith Avenue. Officers responded and confirmed that a man was in his home, apparently deceased.
Emergency Medical Services personnel were subsequently called and confirmed he was dead.
"Basic information so far tells us that shortly after 9am neighbours in this area noticed that one of their neighbours was not sitting in his yard as he usually does," Supt Knowles told the press at the scene. "They became concerned, they knocked at his door, and after they did not get a response, they called family members who gained entry into this house and made this discovery."
Supt Knowles said the victim had apparent stab wounds about his body that was likely caused by a "sharp instrument". She said based on preliminary investigations, there were no signs of forced entry into the home.
Before the press briefing, Glen Sweeting told reporters he was the one who made the initial discovery.
"I came here this morning to just shoot the breeze, because he didn't make it, he didn't come with us to have Thanksgiving (dinner) at my sister's house last night," he said.
"He was never planning to come to my sister's house, because it was like short notice that I was here, more like a surprise a little bit. And he had other plans. And he wasn't feeling great anyway because one of his friends passed away the day before, so that was the little short conversation we had yesterday around 11:30, till about 12.
"And then I left there to run errands and then after that I was planning to come here today just to catch up. And you know, just chill for a while with him."
He said when he arrived at his father's home, and he looked through a window, he saw blood and immediately called the police.
He added: "I haven't seen the body. I refused to go. Because once I saw the blood, I don't want to imagine how bad it was. And again I pretty much at that point figured it was some type of crime taking place and so I didn't want to do anything to inhibit the investigation, because we need to find out who did this. But, yeah I was shocked.
"…I was just telling someone, had my dad just passed away, he has grown kids, everyone is okay in terms of there's no need for him like he has to still be a dad and still take care of us. And so if he had passed away peacefully, I'm at peace with that. But to be taken? That's why right now I can just say I'm numb. Like, I'm numb."
Mrs Major-White, when interviewed, described her uncle as an "extremely generous" and "soft spoken" person who was "always there for you anytime you call for him".
"Quiet man, lived a simple life you know?" she said. "Now that he's retired he hung out under the tree with his friends, family members, he wasn't a bother to anyone ever. You need anything, strangers, family, anything, he's there for you, always.
"I am so lost because like I said he is such a gentle person, very giving, very calm, soft spoken, he don't bother anyone," she added. Recounting her conversations with Mr Sweeting, Mrs Major-White said her uncle was a person who "calls all the time" to check on his family.
"'Everything good with the kids?' Yeah. 'They need anything?' No man, we good Uncle Leon," she said. "He was close with everybody. Even if he don't talk to you every day, he was close with you. You need him for anything, you could call on him. At his birthday, we had a birthday at my mom's house for him, I mean he was so humble. He was like 'ya'll aint had to do all of this'. He had a great time, all of his friends were there. I have it all on video. He cries a lot like me.
"…He's just a gentle person, very generous and just an all around good guy. I am shocked right now. I am shocked. Because I came mainly…they didn't give details on what happened, so I came to see what happened, and when I saw the (police) tape up I just lost it, you know, because I know he gone."