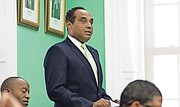 By RASHAD ROLLE
Tribune Staff Reporter
rrolle@tribunemedia.net
WITH no plans to shuffle his Cabinet, Prime Minister Dr Hubert Minnis on Saturday dismissed "fake news" that he has reduced the portfolio of Environment Minister Romauld Ferreira.
A document purporting to be from the Cabinet Office was circulated widely on social media over the weekend, claiming Mr Ferreira is no longer responsible for relations with "national and international organisation[s] on matters relating to the environment, the Bahamas Science and Technology Commission (BEST), reefs and blue holes, international convention[s], treaties, protocols and agreements relating to the environment, the Plant Protection Act, wild animal and bird protection and natural history specimens."
The fake document said the matters have all been transferred to the Office of the Prime Minister.
When asked about this, Dr Minnis said: "Fake news have said so many things about me, those things don't bother me. I've told my entire Cabinet just to remain focused, just stay on the highway, you know where the goal, you know what to achieve, just head toward the goalpost. Don't worry about the sideways and don't worry about the exit terminals, stay focused."
He added: "[People] have sent so many documents around… fake news. I know nothing about the document."
Asked if he has considered shuffling his Cabinet, he said: "No, no, no, no – I think we're a young Cabinet and each and every member [is] doing very, very good and I think when I do my national address next year you will see what we have achieved, what our accomplishments are and what we intend to do. One thing I'm looking forward to is the launch of the inner-city tax-free zone programme; that will definitely be launched in the next budget. You'll see something you've never seen before."
Since the May 10 general election, opponents of the administration have targeted Mr Ferreira in an apparent effort to cause embarrassment to the Minnis administration.
In September, Mr Ferreira dismissed speculation from the Progressive Liberal Party that he had taken a leave of absence from Cabinet due to personal issues.
Yesterday, Mr Ferreira said about the reports: "I feel honoured to be targeted."
Last Thursday, Mr Ferreira and a government delegation were in Montreal, Canada attending the Montreal Protocol Conference on climate change.