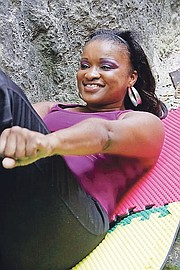 By ALESHA CADET
Tribune Features Reporter
acadet@tribunemedia.net
DEVOTED and dedicated to a career that empowers persons to reach their fitness and nutrition goals, Charmaine Hepburn started Stay Fit For Life for persons of all ages.
The outdoor group fitness and weight loss programme is designed to help persons achieve fitness goals through fitness instruction, nutritional information and motivation to keep on track. Usually taking place at the Yellow Elder Park or in the Independence Shopping Plaza at 5am on Mondays, Tuesdays, Thursdays and Fridays, the fitness event is now also conveniently available at various other locations.
"I was in fitness for 20 plus years, and as I get a little older I realised how important it is. Many benefits can be obtained from fitness. Fitness can make illness decrease, promote better mental capacity, better functionality, better physical health, and a longer life span," Charmaine told Tribune Health.
Very family-oriented in her personal life, Charmaine said it was her grandmother who motivated and led her to start the company Stay Fit For Life.
"She was born with an irregular heartbeat. She walked every day from East Street to Over the Hill. At the age of 90 she was still strong and functioning," said Charmaine of her grandmother.
She said there have been many memorable moments in her fitness career, but the most outstanding would have to be working with the elderly at the geriatric hospital.
"Since I just got a certification in the aging adult (fitness), my goal is to educate individuals on the importance of physical activity and healthier food choices. As for the longevity of the company, I will try to keep it up for life, as the feedback is positive in every way," she said.
"I pace individual workouts and no one feels rushed or having to keep up with others. Our new year goal is to add in a class for ages over 50, and educate people on how dementia, Alzheimer's, and other aging diseases can be prevented through physical activity and healthier lifestyle choices," said Charmaine.