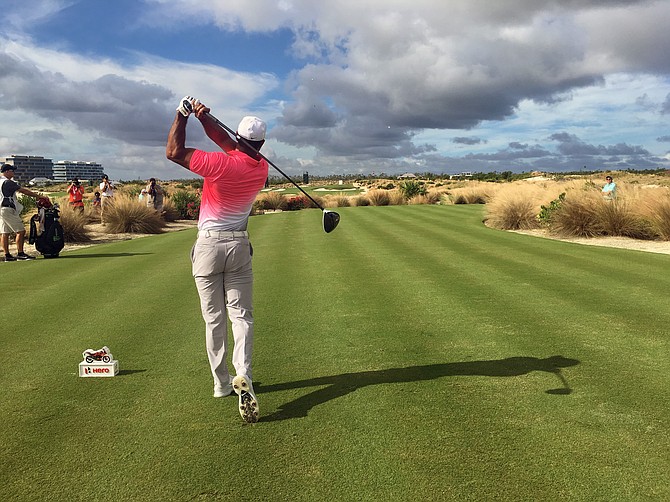 By RENALDO DORSETT
Tribune Sports Reporter
rdorsett@tribunemedia.net
The 2017 Hero World Challenge tees off today with several compelling storylines to follow including the defending champion's bid to repeat, the return of an icon and a beach themed wedding for one first-time participant.
The invitation-only event hosted at the Albany resort will feature an elite field of top-ranked golfers competing for a $3.5 million prize purse. World No. 3 Hideki Matsuyama of Japan will aim to defend his title.
"It is one of my goals is to be invited to this tournament, and obviously to be able to win last year, it's a great event and I'm glad I'm here," he said.
"Last year I won this tournament, I really started playing really well, but my last win was in August and since then I haven't been playing too well. Hopefully, I can turn that around this week and play well."
Dustin Johnson, who has held the No. 1 position in the Official World Golf Ranking since winning the Genesis Open in February, headlines a field that also includes three of 2017's major championship winners. They are US Open winner Brooks Koepka, The Open Championship winner Jordan Spieth and PGA Championship winner Justin Thomas, who also won the PGA TOUR's 2017 FedExCup title following the conclusion of the TOUR Championship on September 24.
"This week's a pretty easy week for everybody. I think it's an easy week for Tiger [Woods] as it is for anybody else versus other weeks; not as many people, the golf course doesn't beat you up, as challenging. But you can start to see it's actually, I think, pretty important, these kind of end-of-the-year tournaments to kind of set a precedent for next year," Speith said.
Woods makes another much-anticipated return to the course following his rehabilitation from back surgery.
"My driver feels good, I feel like I'm hitting it well. You know, we were talking about it yesterday while we were out there playing that it's kind of hard to hit the irons the right number because a lot of balls are sitting down. The fairways are a little bit longer than normal because of the rain and obviously the hurricane certainly affected the density of it," Woods said. "It's been a very long time and I'm really looking forward to getting out there and playing with Justin [Thomas] and having a good time."
Tommy Fleetwood enters the event with two international victories this season at the Abu Dhabi HSBC Championship and the HNA Open de France. In addition to qualifying for the event, an added bonus to the weekend's activities is his plans to marry his fiancé Clare Craig.
"So we talked about when we knew that I could get into the tournament before like the final deadline had been in, we sort of said -- me and Clare said that if we got into the tournament, it would be a great place to get married. So I'm actually getting married on Tuesday here, so missing the tournament wasn't really an option," he said "[We're getting married] On the beach. Actually, I think she's deciding that today. She was looking at like two or three different options again. Again, so that's not really my choice but I will be there. Wherever she tells me to be, I will be there."
It will be Fleetwood's first year competing at the event.
"I hadn't really thought about it at all. I hadn't considered it because I didn't really know I was in line for it. So yeah, it's just great," he said, "Great to get into the event, it's a great way to end the year. For me it's the last tournament I'll play this year. But yeah, it's always kind of a nice little thing to have in mind as a goal just watching that World Ranking knowing that I could end up in the event and get to Albany. Great to be here."
The Tiger Woods Foundation is the event's primary charitable beneficiary, along with the Tavistock Foundation and Bahamas Youth Foundation.
Live television coverage of the Hero World Challenge will be provided by Golf Channel during all four rounds and by NBC during the third and fourth rounds. Good-any-day grounds tickets and a limited number of premium hospitality packages for the Hero World Challenge are available for purchase at HeroWorldChallenge.com .
Day One Tee TImes
11:10 AM Hideki Matsuyama – Sendai, Japan
Francesco Molinari – Turin, Italy
11:21 AM Charley Hoffman – Rancho Santa Fe, CA
Kevin Chappell – Fresno, CA
11:32 AM Patrick Reed – Houston, TX
Daniel Berger – Jupiter, FL
11:43 AM Justin Rose – London, England
Tommy Fleetwood – Southport, England
11:54 AM Henrik Stenson – Gothenburg, Sweden
Alex Noren – Stockholm, Sweden
12:05 PM Justin Thomas – Louisville, KY
Tiger Woods – Jupiter, FL
12:16 PM Dustin Johnson – Jupiter, FL
Brooks Koepka – West Palm Beach, FL
12:27 PM Kevin Kisner – Aiken, SC
Rickie Fowler – Murrieta, CA
12:38 PM Matt Kuchar – Sea Island, GA
Jordan Spieth – Dallas, TX
More like this story