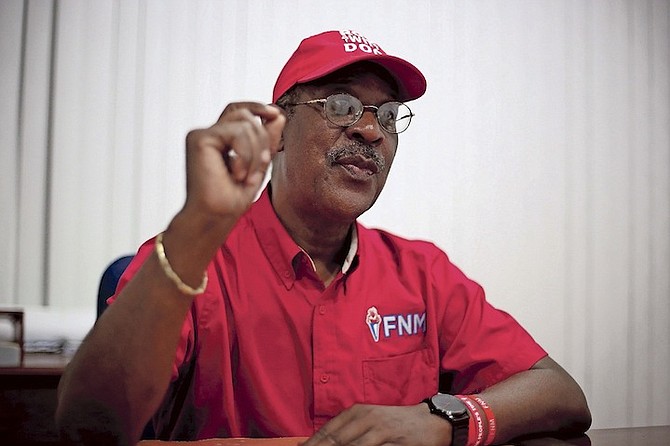 By AVA TURNQUEST
Tribune Chief Reporter
aturnquest@tribunemedia.net
THE FNM may face a three-way battle for the party's leadership when members vote for a new chairman in an internal election later this month.
ALIV Chairman Carl Culmer and former Senator Heather Hunt are expected to be the front runners in the fight.
According to sources close to the matter, Mr Culmer has been backed by party leader Prime Minister Dr Hubert Minnis while Mrs Hunt holds the support of others in the organisation.
It is understood there could be a third contender FNM Deputy Chairman Brad McPhee who has also indicated an interest in vying for the position.
Mr Culmer confirmed his nomination with The Tribune; however, Mrs Hunt declined to comment and Mr McPhee did not return a call made to him yesterday.
Mr Culmer currently holds the position of deputy treasurer with the party.
For his part, he told The Tribune that if elected, he would focus on elevating political party discourse and ensuring the party stayed on message and committed to its campaign pledges.
"I'd like to see where we step up our game nationally," Mr Culmer said.
"We need to get away from the (PLP Chairman) Bradley Roberts type of politics, that belittles people rather than talk about the issues. Under my leadership, the FNM will continue in that vein. We're the party for the people and you'll see more things to make sure we not only look at Bahamian voters but the ways that we can go and prepare younger folks to be community leaders, through education opportunities."
Mr Culmer said: "The FNM has a plan that we put forward during the campaign, I was very much involved in that campaign. [As FNM chairman] I'll be working along with the government and my job would be political, making sure that we keep the Bahamian people. We can't go back under the PLP."
Outgoing Chairman Sidney Collie's resignation becomes effective on October 19, at which time the party will hold an election to fill the post.
Mr Collie was appointed Bahamas ambassador to the United States in Washington, and will also serve as the permanent representative to the Organisation of American States (OAS) and nonresident ambassador to Mexico, Colombia, and Brazil.
Mr Collie, a former ambassador to CARICOM, told The Tribune he was looking forward to serving again at such a high level after more than four decades in public service.
He declined comment on the nominees for FNM chairman, stating only that "the field is wide open."
Nominations for the post will close on October 12 at 5pm.