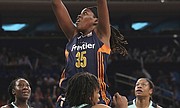 By RENALDO DORSETT
Tribune Sports Reporter
rdorsett@tribunemedia.net
HER last offseason post propelled Jonquel Jones into becoming the WNBA's Most Improved Player, an All-Star and an All-WNBA Second Team selection, leaving fans and pundits eager to see what this offseason will bring.
Jones' offseason commitments will take her to China this summer as she joins the roster of the Shanxi Flame in the Women's Chinese Basketball Association (WCBA).
The WCBA is the top-tier professional women's basketball league in China and is the women's counterpart to the Chinese Basketball Association.
Shanxi Flame became notable internationally when the Minnesota Lynx perennial All-Star Maya Moore joined the club for the 2012-2013 season. The Flame followed by winning three consecutive WCBA championships.
Jones was selected No. 5 overall by Woori Bank in last July's Draft following the completion of the WNBA season.
She ended her time in the Korean Basketball League with one of her best games of the season and a championship title for her club. She posted 27 points, 25 rebounds and three blocks in an 83-72 win for Woori Bank over the Samsung Life Blue Minx to complete a three-game sweep and claim the 2017 title, the fifth consecutive for the club. Jones was particularly dominant in the finals where she averaged 15.3 points and 23 rebounds per game.
On the season she averaged 15.8 points, 14.3 rebounds and 2.8 blocks - all team leads - in 24 minutes per game for Woori Bank in 38 games. She also shot 55 percent from the field, 39 percent from three. They finished the year 36-2 and undefeated on the road.
At the league's award ceremony, Jones earned the Foreign Most Valuable Player Award, Defensive Player of the Year award and was named "Best Five" in the league.
Her performance led WNBA general manager's to vote Jones as the players most likely to have a breakout season in the WNBA.
Jones finished the year averaging 15.5 points and 11.9 rebounds per game - a dramatic increase from her rookie season when she averaged 6.8 points and 3.7 rebounds per game.
She also set a new WNBA single-season record with 403 rebounds for the season and added 20 double-doubles.
Many of Jones' Connecticut Sun teammates have already announced their offseason commitments as well.
Jones will be joined in China by teammate Lynetta Kizer, who will be spending the offseason with Shandong Sports Lottery.
For the second consecutive season, Alyssa Thomas will return to South Korea as a member of the Samsung Life Blue and Shekinna Stricklen, will return to the Korean League for the third time with Jones old club, Woori Bank.