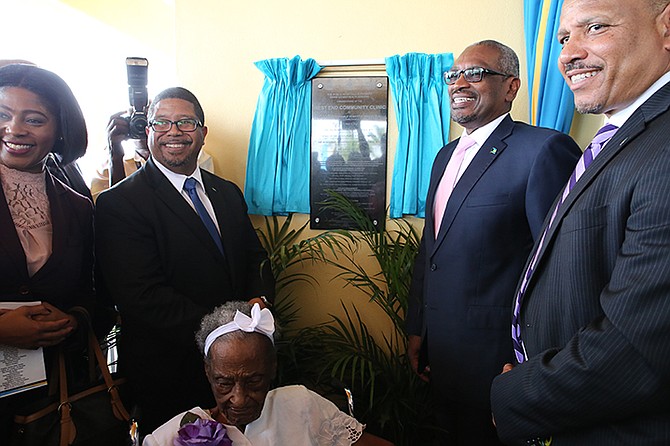 By DENISE MAYCOCK
Tribune Freeport Reporter
dmaycock@tribunemedia.net
THE opening of a newly renovated $2-million West End Community Clinic was "a red-letter day" for the residents of West End, who for the first time will now have access to trauma and 24-hour ambulance/EMS services in their community.
Prime Minister Dr Hubert Minnis and Minister of Health Dr Duane Sands attended the official commissioning ceremony and blessing of the community clinic on Friday.
There was an unveiling of the plaque by Dr Minnis, and Aleisha Thompson, the oldest resident of West End, cut the ribbon to open the modern state-of-the-art health facility.
The project was started under the Christie administration and was scheduled to open in April or May 2017, but it did not happen before the general election.


Pakesia Parker Edgecombe, MP for West Grand Bahama and Bimini, commended former PLP MP of West Grand Bahama and Bimini Obie Wilchcombe for seeing the need to upgrade the clinic.
She said: "I am certain it will make a difference in the delivery of healthcare in this community."
Mrs Edgecombe, who was one of many born at the West End clinic, recognized veteran health care providers Dr Romeo Fernandez and Nurse Anna Hall who served for many years at the small clinic.
A public clinic was first established on Grand Bahama in West End in 1959. The renovated facility now comprises 6,348 sq ft, doubling the existing capacity.
Dr Sands revealed that the project cost the government $2,233,899.48. He said the centre would offer primary, dental, trauma, and emergency medical services in West Grand Bahama.
"It has been said that some will reap and some will sow, and…it did indeed start with the previous administration; they started it, and we finished it," he said.

The facility includes a trauma area, examining and treatment rooms, upgraded dental suites, a fully outfitted staff training room, on-call and 24-hour emergency medical services, and refurbished two-bedroom residences for nurses and health professionals.
Dr Sands added that a newly acquired portable digital x-ray machine would allow emergency medical patients off-site access to radiology service.
He stressed that a critical feature of the renovated clinic is the provision of an ambulance that will provide 24-hour EMS coverage. "It marks the first time that a state of the art ambulance with trained emergency medical technicians will be stationed here," he told residents.
"What this means is that we will be able to improve response time for emergency calls for residents of WGB. This health facility will meet health care needs of the communities of West Grand Bahama," he said.
Prime Minister Minnis said that today's opening is a red-letter day for West End. "The people have patiently waited for this day," he said.

He stated that healthcare development, education, national security, and social safety are essential elements of national development that benefit individuals directly while enhancing the quality of life for all Bahamians and the future development of the nation.

Dr Minnis noted that government is committed to implementing innovative technology that will significantly change the delivery of healthcare across the country.
He stated that telehealth technology would be a game changer in public health care.
"In 2007, I was privileged as Minister of Health to launch first telemedicine pilot project in the country, linking the public health clinic in Marsh Harbour, Abaco, and the Princess Margaret Hospital emergency room," he recalled.

"We are on the cusp of a revolution where telehealth technology is poised to enhance the delivery of primary care services, national emergency medical services, and radiology services to Bahamians and residents throughout our archipelago," Dr Minnis said.
The PM revealed that patients and clinicians in the family medicine programme in Grand Bahama made history as part of a short-term study on the representation of telehealth within the primary care environment.

He reported that patients were able to upload results of daily self-test blood pressure, glucose, and cholesterol in real time.
"The test was administrated by each patient in homes using devices the patient is familiar with, without requiring a visit to the clinic or doctor's office. The results were evaluated and recorded by health care professionals,"
Prime Minister Minnis said the telehealth device allowed doctors to contact patients via a video chat.
"My government is focused on the prevention and treatment of noncommunicable diseases like diabetes and hypertension. We must do more to combat these diseases which rob us of general health and too many lives," he said.