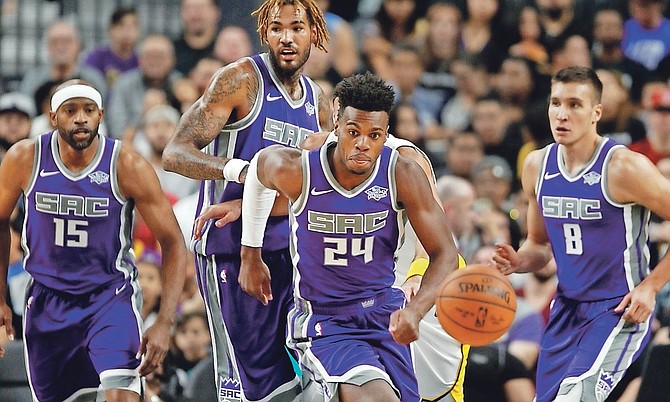 By RENALDO DORSETT
Tribune Sports Reporter
rdorsett@tribunemedia.net
BUDDY Hield has struggled to find his shooting stroke thus far in the NBA preseason.
Through four games, Hield is averaging 9.5 points on 39 percent shooting from the field and 23 per cent from the three-point line. In addition he has grabbed 3.8 rebounds and dished two assists per game.
In the Kings' latest outing, Hield finished with just seven points (3-11 FG, 1-3 3 from three), five rebounds and two assists across 25 minutes in Monday's 97-83 preseason loss to the Trail Blazers.
He shot just 5-for-22 from the field over his last two exhibitions.
In the preseason debut, Hield had 12 points in the Kings' 106-100 win over the San Antonio Spurs. He shot 6-10 from the field, added four rebounds, two assists and a steal in 25 minutes. In game two, Hield scored 12 points in game two in a 113-93 loss to the Spurs just days later. He shot 3-6 from the field and 1-3 from three in 24 minutes.
Kings' head Coach Dave Joerger said the four-game stretch provided an early analysis of the work the players put into the offseason and training camp.
"We have had opportunities to get guys a lot of minutes so I feel guys should feel like they had a real chance to find a rhythm instead of playing two nights of 8-12 minutes, I think every player in America will take the 24 minutes a night," he said. "It's good to play against other people other than the guys you've been playing against in practice."
Rookie guard Frank Mason III leads the team in scoring average, at 11.7 points per game in his three contests.
Hield, seven-year veteran Garrett Temple, 20-year veteran Vince Carter and newcomer Bogdan Bogdanovic are all listed at the shooting guard spot. Minutes at the position are also expected to be shared between second-year wing Malachi Richardson, rookie Justin Jackson and veteran combo guard George Hill.
The Kings have just two preseason games remaining, a matchup with the Los Angeles Clippers on October 12 and the preseason concludes on October 13 against the defending champion Golden State Warriors.
The Kings open the regular season on Wednesday, October 18, against the Houston Rockets.