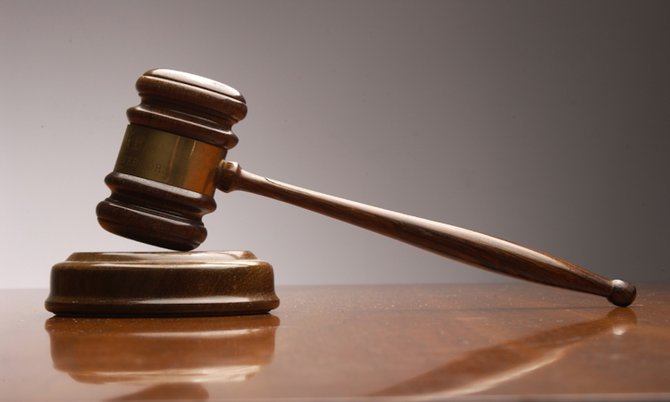 By NICO SCAVELLA
Tribune Staff Reporter
nscavella@tribunemedia.net
THE MAN accused of setting fire to a dormitory at the Bahamas Agriculture and Marine Science Institute (BAMSI) yesterday claimed he only worked at the North Andros site under specific conditions to mitigate against his fear of working among disgruntled and "violent" workers at the site.
Dave Dion Moxey, taking the witness stand before Justice Bernard Turner, claimed he told his employer Whtiney Bastian he would only work at the site on the condition he reports solely to Mr Bastian, that Mr Bastian pays him directly and that Mr Bastian drops him to and from work, a proposal that was agreed to.
And Moxey claimed his tenure of employment with Mr Bastian occurred in one week in August of 2014, some four months prior to the date of the fire.
Scepticism
Moxey claimed prior to being engaged for employment by Mr Bastian, he heard negative reports about the disgruntled unpaid workers at the site and consequent displays of aggression by the same, leading to his scepticism over working there. He claimed while working there, he witnessed and was directly involved in several displays of aggression towards the project's contractors.
In two separate incidences, he claimed both a man named Paul and another man named Kenneth Johnson threatened Mr Bastian for the monies owed to them, and with regards to Paul, Moxey suggested the threat was so severe Mr Bastian had to in turn threaten to notify the authorities.
In a separate incident, which he said he regretted in hindsight, he claimed he travelled to Nicholl's Town, Andros in the company truck to retrieve some lumber. When he got there, however, he was met by a mob of angry workers, who were all ready to jump him thinking he was either Mr Bastian or Audley Hanna, the main contractor.
However, he said upon realizing he was not Mr Bastian, they backed off, although they cryptically warned him that his luck would have been very bad otherwise.
Despite his own and the other reports of workers being unpaid, however, Moxey claimed he was paid in full for the work he did during that one week: a total of $1,400 cash minus $100 for lunch credit. He said his main duties involved sawing out the roof's damaged rafters and installing some 750 hurricane clamps.
And after completing his work, Moxey said he never had a need to go to the site again.
It was on this basis, coupled with the contents of a record of interview and subsequent voluntary statement given by Moxey in 2015 that he and his attorney Calvin Seymour sought yesterday to prove to jury members he had neither a motive nor opportunity to commit the crime in question.
Crown prosecutor Darell Taylor, assisted by Donard Brown, had just closed its case against Moxey just moments before, and rather than exercising his right to stay silent, as explained by the judge, Moxey elected to take the witness stand and face extensive cross-examination from both his attorney and Ms Taylor, and the jury if need be.
Carpentry
While on the witness stand, Moxey went on to explain how on January 15, 2015, he had spent the entire day in Fresh Creek doing carpentry work. He said he later went to Adderley's Liquor Store to honour an appointment he had with the store's owner, Dale Adderley, to collect some money and discuss other potential job ventures with him.
At around 6pm, Moxey said he was still at the store having a Guinness beer when an Officer Mackey and Officer Gator, the latter of whom he said he grew up with in Fresh Creek, approached him and subsequently arrested him in connection with the BAMSI fire.
He said he was eventually taken to the Nicholl's Town police station. However, he claimed Darlene Adderley, Mr Adderley's daughter, as well as his own brother, Donny Moxey and another relative, saw him in Fresh Creek on the day in question, and could vouch for his appearance in that town.
Further, he claimed that Adderley's Liquor Store gives receipts to its customers that displays the time and date of the purchase, as well as security cameras, which he said could be used to verify his claims. He claimed the same was expressed to police officers, though accepting the same was not reflected in either the record of interview nor his statement.
Additionally, he claimed he first found out about the fire by Officer Gator, who was standing next to him, and due to the phones of various persons sounding off due to the sharing of images of the blaze.
However, Ms Taylor questioned the consistency of Moxey's testimony as compared with the contents of both the record of interview and his subsequent statement to police.
In particular, and referring to both the record of interview and his official statement, Ms Taylor questioned why Moxey did not tell police something as crucial as the names of the various people he claimed saw him in Fresh Creek on the day in question.
She especially questioned why Moxey would not have included the bit about him only being made aware of the fire because of Officer Gator in his record or interview and/or statement, given that Officer Gator would have allegedly been one of the arresting officers and that it would've been those two officers who took him to the Nicholl's Town police station.
Moxey's response was he was "traumatized" and "stunned" at the time, suggesting it slipped his mind as a result. However, Ms Taylor asserted he was lying.
The trial continues.
Moxey was initially arraigned and charged with arson over allegations that he set fire to the male dormitory at the North Andros site in January of 2015.
Preliminary reports from police said the fire was the result of arson and the blaze began in the roof around 7pm on January 15, 2015. Officials battled the blaze and managed to extinguish it shortly after 11pm; however, it left one of the male dormitories at the site severely damaged.