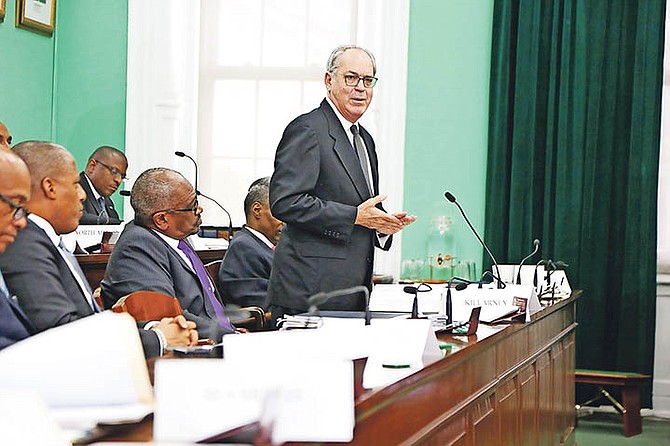 By AVA TURNQUEST
and KHRISNA RUSSELL
Tribune Staff Reporters
aturnquest@tribunemedia.net
IMMIGRATION Minister Brent Symonette yesterday insisted that the deadline threat for all irregular migrants to leave the country by year-end only sounded "draconian" but will be carried out as "humanely and caring" as possible.
Mr Symonette did not provide many details on the foreshadowed new immigration policy when he spoke to news crews from Our News and ZNS yesterday.
However, the Immigration minister did clarify that Dr Hubert Minnis' deadline did not represent an amnesty for persons seeking to enter the country illegally – a point raised by Opposition senator Fred Mitchell yesterday.
Mr Symonette said officials were still in talks over how they would tackle the resulting influx of applications given the immense backlog faced by the department.
He noted that application renewals "may suffer" as the department prioritizes the processing of new applications ahead of the December 31 deadline.
"If someone is on the street on the second of January, but whose application is in, we're going to talk about it," Mr Symonette said. "Someone who is caught on the streets on the second of January who has never made an attempt to come into Immigration, does not have a receipt for filing a document, have never had any piece of paper, I think the PM has made it very clear what's going to happen." 
Mr Symonette continued: "So it's not as draconian as it sounds because what we're really trying to say is if you're here you should have made an effort to make yourself legal."
Mr Mitchell, former Immigration minister, insisted that Dr Minnis' deadline gave the impression that Immigration officers were to sit on their hands until December 31.
In a Senate contribution, he stressed that language was important, and statements concerning Immigration matters should be measured.
Mr Mitchell said: "(Wednesday) there was a statement made in that other place. The statement said inter alia that illegal immigrants have until the 31st of December to leave town or they will be deported (these are) my words. Now that's fine and good, but I thought the law was already being enforced. I didn't know you needed a policy to do that.
"When you plan public policy you ought to think about the implications of what you're saying. Are the immigration officers supposed to sit on their hands until the 31st of December?
Mr Mitchell continued: "And if they catch someone is that person going to able to say, 'Sorry boss, I got until the 31st of December to clear up my affairs?' Is that what is going to happen?"
On Wednesday, Dr Minnis told Parliament the fate of anyone who does not comply with the deadline would be aggressively pursued and deported.
Dr Minnis said emphasis would be placed on the process of granting and renewing work permits and visas.
"The new policy will be implemented within the law and constitution," Mr Symonette told reporters yesterday, "as humanely and as caring as possible.
"Both sides (government and migrants) are not right there are some problems we have with regard to processing, and maybe the way we treat people, and on the other side of the coin there are persons who are (abusing the process). We seem unduly harsh but there are numerous cases of irregularities that happen."
"Clearly persons born here to non-Bahamian parents, who have a right to apply at 18, they have a process they can go through. We are talking about people who have come here to avoid, or avoiding applying for a work permit or status to be here. Those are the people this is addressed at.
"So if you're working here whether it be a gardener or a banker, a live-in carer or a nurse at the hospital, if you do not have a work permit you must be regularized before the end of the year. If you are a permanent resident Bahamian living here who is hiring one of those people the appropriate action will start to happen on the 2nd of January.
Mr Symonette noted that under the existing policy, first time work permit applicants will have to apply from their home country.
The roll-out of the November 2014 policy by the former Christie administration drew fierce pushback from activists as well as negative attention from the international community, and was accompanied by high-profile round-ups in which people, including children, were picked up by immigration officers.
When asked yesterday whether similar scenes will play out in the new year, Mr Symonette said: "I hope not, but it's up to the individuals. Just so to be very clear," he added, "apprehension exercises in the event that a boat rocks up will still continue and deportation will still continue.
"So this isn't an avenue where you can jump on a boat and attempt to come."