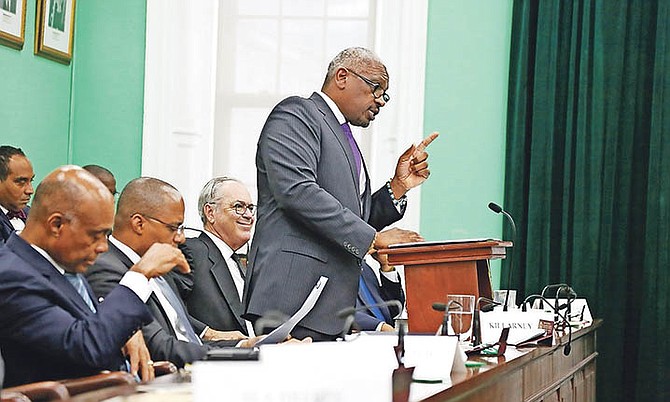 By Malcolm J. Strachan
LAST week the country was thrown into a frenzy by another distraction from this Minnis administration; the announcement of an immigration crackdown to take place at the end of this year. Prime Minister Dr Hubert Minnis said those persons living in the Bahamas illegally have until December 31 to leave the country before immigration raids commence.
The words barely left his mouth before we began to laugh.
This, like so many other pronouncements of late, is one of the most tired and well-worn distractions used by politicians over the decades to raise the blood of Bahamians.
Nothing will come of it, save for a few weeks of headlines and grandstanding that we have become accustomed to.
To truly fix our immigration problem, the Government could do two things: first by clearing out our bloated backlog of immigration applications and expedite those cases currently in the system. Then they could move into properly securing our borders with new and innovative technologies including oversight of Immigration officers who have gladly turned a blind eye to this problem for decades. These "fixes" aren't rocket science, and we know the various Immigration Ministers over the years have heard the same advice before, which tells us the issue of corruption is far bigger than we could possibly imagine.
Sadly, when the conversation around illegal immigration in the Bahamas begins, it is often times only focused on one group of persons – Haitian migrants. Granted, they do make up the largest number of illegal migrants every year for our Immigration Department.
For the past few decades the number of Haitian migrants that have entered the country has been of stupefying proportions. Some believe the unofficial numbers of Haitian migrants living in The Bahamas has crept into the hundreds of thousands right under our noses, and in most cases, with the help and under the protection of Bahamians who are profiting from this illicit trade.
However, despite the bluster and bravado displayed by Prime Minister Minnis, we're not buying that he and the government are going to be as staunch on immigration as he attempted to make us believe last week. There's a few reasons why, but most importantly, the timing is too tight of a window to ensure such a mammoth task can be undertaken in any realistic, or strategic way.
We must also consider this from a diplomatic standpoint, as our bilateral agreement with Haiti dictates our countries share the cost of deportations of any undocumented Haitian citizen. This is surely an operation that should be planned out and not just sprang on the Haitian government. Have they or their diplomatic mission in The Bahamas been advised of these policies prior to what seems as Prime Minister Minnis shooting from the hip?
Undoubtedly, a major concern for the Haitian government would be the fact that many of these individuals who would theoretically be deported would have never lived in, nor even visited Haiti before in their lives. Where will they live, or work? Has a dialogue even begun to this end? And if so, why are we, the Bahamian people, just being made aware?
Further, how is this effort carried out on the ground? Immigration Minister Symonette, alluded to the possibility of immigration round-ups being undertaken by January 2, 2018, but again, the questions still remain.
Currently, Bahamians aren't required to keep identification on their person at all times so unless the government is relying on the expertise of physical anthropologists leading this exercise, we're afraid that its execution will meet the same fate as previous ones. And we can only imagine the lawsuits that will be forthcoming when Bahamian citizens are mistakenly rounded up and housed at the Detention Centre in this new exercise. How much cost, and political capital will this hurt the Government before the entire operation is shelved and another distraction found?
It seems as if the government is not even six months into their term and is already reaching into their bag of tricks to pull out this poorly planned smoke and mirrors exercise to deflect from what has been their ineffectiveness thus far.
The government has not even slightly moved the needle on issues they campaigned on and have the ability to fix. Aside from their management of Hurricane Irma, which mother nature greatly aided in, the only thing they have been able to do well has been the continued exposure of malfeasance under the former administration - at least up until last week.
Minister of Finance Peter Turnquest revealed the government cannot find $42 million of the $150 million borrowed for Hurricane Matthew expenses. We all know how that worked out for him.
While we knew that governance under Minnis' leadership would be an uphill battle, there is still much left to be desired. They seem as if they have no clue on how to truly affect the issues they exploited as they sailed into government on May 10.
Despite their election victory being largely recognized as a referendum on Perry Christie's inept leadership, many people in the country had high hopes for Prime Minister Minnis. Needless to say, thus far, it has been disappointing – especially with this latest show of desperation.
As noted, there are many questions on the table for this government.
Where are the plans to truly pull us out of the economic canyon that we're in? What is the plan to stem crime and make our communities safer? How do they intend to protect our borders and curtail illegal immigration, as opposed to only addressing symptoms of the broader issue?
Where is this Government's promise to curtail our over-dependency on China and their advances on our sovereignty?
We've already seen this administration cowardly walk back their pledges on Baha Mar, and now rumour has it the same CCA company they hounded in the lead up to the last general election is poised to get even more work in the Bahamas with the redevelopment of Bay Street.
Surely, this is a job that Bahamian contractors can do! Just like the completion of Baha Mar, Bahamians should be given first preference in their country –that is what the FNM campaigned on and were voted into office on.
Likewise, the public's outrage over the PLP's 'Spy Bill'. Without an ounce of shame, we see our "new" Attorney General parading this bill before the people as something we should be pleased about when we just voted an entire Government out of office for this very same reason! The disrespect and tone deafness of this administration is astounding.
As we unpack these issues, we should first look at the economy. Our economy has never rebounded from the recession. With many of our hopes hinged to the success of Baha Mar, which has gone through its fair-share of well-documented drama, we are some ways away from hitting any sort of stride in this regard.
Our economic prospects are hitched to a wagon that has effectively left us depending on the Chinese for survival. Their ownership of hotel inventory in the country and known interests in other facets of our economic offering has left us in an unfavourable bargaining position.
We will remind the public it was Prime Minister Minnis who stood on the campaign trail and linked the Chinese with the PLP and former Prime Minister Perry Christie. He said the Chinese were taking advantage of a "weak Christie" and his soft tone with China was jeopardizing the sovereignty of our nation.
Well, a few short months later, and you look from Christie to Minnis and from Minnis to Christie and you cannot see a difference in their leadership when it comes to this issue.
Grand Bahama is another area where our Prime Minister expressed a special interest. He pledged his government would lead the charge in reviving the nation's second city. This, like so many other promises turned out to be nothing more than empty rhetoric. We are nearly six months in and the people of Grand Bahama have had not even the promise of better days ahead.
Additionally, this Government's handling of crime is yet another area that has left a sour taste in the mouths of the electorate. Expectations for the Minnis-led government were especially high with Minister of National Security Marvin Dames having such a decorated history on the Royal Bahamas Police Force. Many were looking forward to Dames and former COP Ellison Greenslade putting their past issues aside and working together to eradicate the crime wave.
Unfortunately, instead this became a bizarre game of "where's Greenslade?" while the murder count continued to rise. Now we see that Greenslade is being jetted off to London as our new High Commissioner while Dames is left here in Nassau to carry on with a police force that appears incapable of getting our crime problem under control.
Most certainly, the government may try to lean on its reintroduction of the Interception of Communications Bill, as a necessary evil to fight this crime. However, widespread scepticism remains over the purpose of this bill and the lack of controls therein which leaves it open to rank abuse by politicians.
Be mindful this is the same government, previously in opposition, that took the PLP administration to task for trying to pass their version of what they called the "spy bill" during election season. Oddly, a very similar bill that was vehemently railed against by members of the FNM was tabled in the House of Assembly just weeks ago.
Attorney General Carl Bethel has since tried to clean up this fumbling on the government's part, but still is missing the mark. Citizens of this country are not comfortable with any political powers having the ability to snoop into their private affairs. Whether or not they are being suspected of committing "serious offences", or if the National Security Minister no longer has the power to wiretap their phones is of little consequence to an electorate that have their own suspicions of the government after this bill has resurfaced.
Surely a Government that campaigned on transparency and accountability should have come forward with a Freedom of Information Act first before introducing a Spy Bill. But, to the victor goes the spoils, and public support we imagine, is not as important any longer to the FNM.
But this Government will learn, as the PLP did, that five years is a short, short time.
No one may have more to lose with regards to political capital than the prime minister himself. He represented change. He promised change. He said it was our time – the people's time.
Prime Minister Minnis and his government need to put an end to the pandering and begin the people's work. His legacy, though in its infancy stages, depends greatly on the results his government can produce.
The clock is ticking.
More like this story