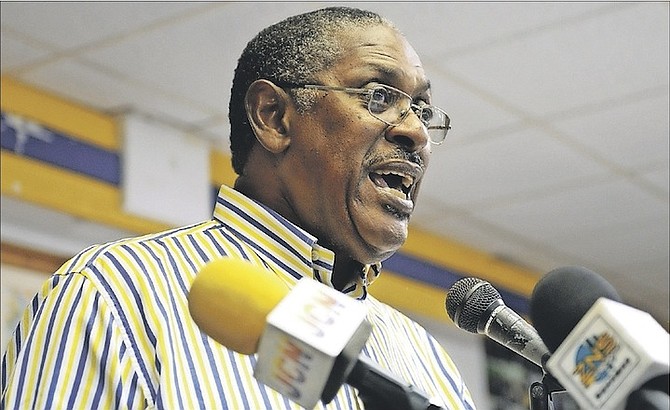 By RASHAD ROLLE
Tribune Staff Reporter
rrolle@tribunemedia.net
DESPITE his Cabinet post, Health Minister Dr Duane Sands has been voluntarily performing surgeries at the RAND Memorial hospital in Grand Bahama to assist medical professionals there amid staff vacancies.
He confirmed this to The Tribune yesterday after Progressive Liberal Party Chairman Bradley Roberts released a press statement suggesting impropriety on Dr Sands' part. Mr Roberts said Prime Minister Dr Hubert Minnis, who came to power on a promise to punish ministers who have conflict-of-interest issues, has been looking "the other way" as Dr Sands performs surgical procedures "at the Princess Margaret Hospital after his appointment as a Cabinet minister."
"If these reports are true," Mr Roberts said, "Dr Sands in the capacity of Health Minister is in direct violation of established and longstanding cabinet code of ethics and procedures for its ministers as the Health Minister would have placed himself in a fundamental conflict between his private business interests and his public duty. Certainly the Health Minister as regulator cannot self-regulate; it is called self-dealing, an unacceptable and corrupt practice that Dr Minnis vowed to stamp out of government."
In fact, Dr Sands has not been performing surgical procedures at PMH since he became a minister. He has been performing vascular access surgery at the Rand Memorial Hospital for patients awaiting emergency dialysis treatment.
For one day per month he has performed the procedure free of charge.
The consequences of not performing the procedures are fatal, he said, and the volume of work threatens to overwhelm the two physicians involved if they aren't helped.
Dr Sands said Dr Minnis and his cabinet colleagues gave him permission to do the work and he has received written authorization from the PHA to do the work as well.
The Tribune saw a letter yesterday from the PHA confirming he has been authorized to maintain "unpaid admitting privileges to assist in the care of patients requiring cardiovascular care," as stated in his resignation letter.
"Roberts needs to understand not everyone is as mercenary as he is," Dr Sands said yesterday. "He doesn't understand that someone might do this and not want something in return."
During his contribution to the budget debate in June, Dr Sands disclosed he would provide medical help where voids exist in the public health system.
"I understand the concerns of patients, colleagues, students and staff as I leave the practice of medicine," he said.
"I have trained several competent surgeons to replace me. Where there is a void, we will recruit it to fill that space until one of our own is ready to step into that spot. To fill the void, for a brief period I will provide emergency and back-up coverage."