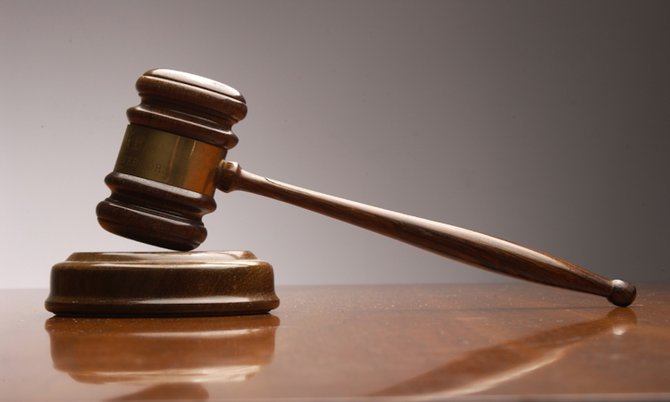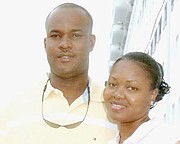 By DENISE MAYCOCK
Tribune Freeport Reporter
dmaycock@tribunemedia.net
HERMAN Johnson broke down after seeing the bodies of his murdered brother and sister-in-law at the couple's residence in Deadman's Reef on the morning of September 13, 2015, the Supreme Court heard yesterday.
Mr Johnson had received the tragic news from his neighbour shortly after 9am and went over to the residence, where he saw Barry and Sheena Johnson dead, lying in a pool of blood.
Barry Johnson, a supervisor at the Freeport Container Port, and his wife, Sheena, a school teacher, were robbed and shot in the head. The couple was described as quiet, hardworking people by their tenant, Gail Zamor, who rented a unit in their triplex apartment.
Zamor, a witness for the prosecution, heard what sounded like gunshots or firecrackers and a woman scream on the evening before on September 12, between 9pm and 10pm. The next morning while taking out her trash, she discovered the couple's bodies.
Three of five accused men arrested for the couple's murder are on trial. Paul Belizaire, Devaughn Hall, and Kevin Dames are facing double murder charges and armed robbery. It is also alleged the men stole the husband's truck.
The two other accused men – Allan Alcime and Virgil Hall –- accepted a plea deal with the Office of the Attorney General, which dropped the murder charge against them. They were, however, convicted on the armed robbery charge and are serving time in prison. Both men have turned witnesses for the prosecution.


Herman Johnson, an ultrasound technician, last saw his brother alive at the harbour three days before the murders.
He told the court sometime after 9am on Sunday, September 13, he had received information that something had happened to his brother and proceeded to his residence.
When Johnson arrived at the triplex, the front door to the apartment was open, and his brother's GMC Sierra Truck was not there.
As he came closer to the building, he saw Barry's body.
"He was lying face down in a pool of blood. He was lifeless, and I fell to the ground and cried, he recalled. I later saw his wife, Sheena. She too appeared to be lifeless."
Mr Johnson said when he arrived, the police were not yet at the scene.
During cross-examination Defense counsel Geoffrey Farquharson question Johnson about whether he knew that his brother had owned some businesses.
Johnson said that he learned his brother had owned only one business and was not aware of multiple companies as counsel had suggested.
Businesses
"You only found out about one?" Mr Farquharson asked. "I put it to you that the deceased man to his great credit purchased a number of businesses before he died.
"I am not aware of it," replied Mr Johnson.
Farquharson asked the witness if he was aware that the deceased took about a dozen of his family members on a cruise and asked whether he too had been invited.

Johnson said he was not aware of that and that he was not invited to go on a cruise with them.
Counsel also suggested Johnson had told his brother to stop going around in his container port orange jumpsuit because it would make him a target, but Johnson denied the assertion.

Mr Farquharson claimed Barry was worried about his safety and had installed surveillance cameras around his home, but Johnson denied the claim and said many people put cameras on their homes.
Counsel then accused Johnson of trying to mislead the court.
Referring to a police statement Mr Johnson had given police on September 13, Farquharson asked again if he hadn't told police he warned Barry to stop wearing his uniform because it made him look like a target?
Johnson denied it again, even after he was shown the police statement.
Cameras
Mr Johnson explained his brother had installed surveillance cameras at his home because of robberies in the community. He said his brother's friend Bruno Parker had been the victim of an attempted robbery.
"An incident happened to Bruno except Bruno survived?
"I put it to you that Barry's best friend Bruno Parker, who also worked at the container port, was also robbed by three masked men during a home invasion who beat him up. However, he managed to escape with his wife and son?" asked Farquharson
"Yes," Johnson replied.
"That is Barry's close friend?" counsel asked. "You told police in your statement that you believed the same person who targeted Bruno, also targeted Johnson, your brother?"
Johnson said he could not say that. But counsel again referred to the signed police statement Johnson gave to police about his being targeted.
Farquharson then asked Johnson whether he had spoken to his nephew Greg Johnson who gave evidence. Johnson said he had not.
"You told us (in court) that your brother had a GMC Sierra truck, but in your police statement, you said your brother had a champagne 2005 Chevy Silverado?" asked Farquharson.
Mr Farquharson questioned Johnson about who had told him about his brother's murder. Johnson said that William McKenzie and his neighbour Alexander Rolle had told him the news.

"You asked them how they know that?" "No," replied Johnson.
"Did you go inside the house?" asked counsel. Johnson said he did not, but that he could see inside the house because the door was open.
"Did you know that a cellular phone was next to your sister-in-law?" "No, I did not see one," he said.
The defence counsel asked Johnson if he and his brother had received a government contract with the Ministry of Education. "You and your brother did not buy a school bus together?" "No, sir," Johnson replied.
Johnson said his brother had purchased a school bus and he was supposed to be working for his brother driving the vehicle.
Police Officer 3246 Shantel Newbold Williams of Criminal Records Office, said on September 18, 2015, she and several officers, along with one of the five accused men, Allan Alcime, went to a bushy area off Queens Highway where a set of keys and a handheld radio were found.
Officer Williams said Alcime had pointed out the keys and a Motorola handheld radio. She took photographs of the items with a digital camera and swabbed the items for DNA testing to be performed at the Police Forensic Lab.
She then said the images were downloaded to a desktop computer at CRO and then burned onto a CD. The CD was then taken to a photos shop and photographs were produced.
The woman officer said she made an album with the photographs.
When Farquharson asked Officer Williams if she had scratched her name or signature on to the handheld radio, she said that she had not.
"If you were provided the handheld radio again how would you identify it?" he asked. Officer Williams said the items were collected, sealed in an evidence bag and turned over to another officer.
"When you swabbed the items for DNA, you could have removed fingerprints that were on it?" he asked.
"Yes," she replied.
Farquharson asked the witness if she had tried starting the truck with the keys they found, but Williams said that she did not.
"Did you turn on the handset to check the records in it?" Farquharson asked. Williams replied, "No."

"As a police officer, are you aware that there is a log that is on the handset? "Yes," she replied.

"Do know how it got there?" he asked. "No I don't know how it got there," she said
The court also heard that before the couple were murdered, the container port supervisor had some $10,000 cash in his possession.

Greg Johnson, the nephew of the deceased, said he knew his uncle had the money because he saw the cash.
He testified he believed the money was a part of a $30,000 loan his uncle had obtained from the Commonwealth Bank.
During his testimony, Greg Johnson said his uncle got a loan to purchase a school bus and that he was not aware of any other businesses he had owned.
Johnson, who was also employed at the container port, said his uncle Barry was a supervisor at the container port and also drove a taxi.
He said his uncle never kept large sums of money on him, or at his residence.
"Money would not be the motive for the crime?" asked Farquharson. "Yes, sir," Mr Johnson replied.
The nephew said his uncle Barry had a Chevy Truck. He said the white hat that was found inside a truck that was recovered by police was that of his uncle.
He said that all supervisors at the container port wear white hats.
Farquharson asked the witness if his uncle drove a Chevy Silverado.
Johnson said that his uncle drove a Chevy truck and that he had been in the truck many times.

But Farquharson insisted his uncle's truck was not a Chevy Silverado, but rather a GMC Sierra truck.
Farquharson also asked how he knew the white hat which he saw in the truck was his uncle's. Johnson said that only supervisors wear white hats at the container port.
Counsel asked, "How many supervisors are at the port?" Johnson said there were many.
Farquharson suggested he was not sure that the hat was his uncle's, but Johnson insisted it was. "That's my uncle's hat, he always keep it in his truck," he said.
Farquharson asked Johnson who had told him the news about his uncle. He said his cousin Bruno Parker had called him up and told him that something had happened to Barry.

"The first person who called you was Bruno Parker who had also been subject of home invasion?" asked counsel.
The trial continues.