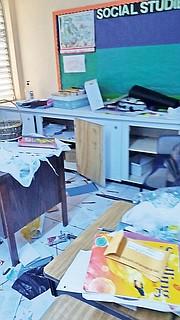 By RASHAD ROLLE
Tribune Staff Reporter
rrolle@tribunemedia.net
THE effectiveness of campus security at public schools has come under heavy scrutiny after thieves stole laptops, computers and microwaves at Claridge Primary School yesterday morning.
Thieves broke in sometime after midnight, according to Education Minister Jeffrey Lloyd, who said the extent of the loss had not yet been determined. 
"Sometime after 12 midnight last evening and before daybreak this morning, these premises were assaulted and victimized by some unknown assailants who broke into the tuck shop, took all the supplies, broke into several classrooms in one of the blocks and removed items of value, including laptops, computers, microwaves and so on," he said.
"Police are doing its investigation to determine the extent of the loss as well as the potential perpetrators. It appears as if a least a dozen classrooms covering two blocks, upstairs and downstairs, (were broken into)," Mr Lloyd added.
Long after school had ended yesterday, senior administrators were meeting to determine the costs of the ransacking and to consider how to upgrade security.
"They are tired of these situations," Mr Lloyd said. "They've been victims too many times."
"It's a reflection of the state of our society," he added. "These campuses that should be places of sanctuary, safety, are in fact places that are targeted by marauders and miscreants who obviously are hell-bent on continuing to create chaos and assault the peace of our beloved society."
Bahamas Union of Teachers (BUT) President Belinda Wilson yesterday questioned where security guards were at the time of the break-in.
"That's a concern of mine," she said. "We must beef up the security at our various schools, especially during the night and early morning. Large items were taken so there had to have been noise coming from the area. Obviously security officers were not there and someone has to give an account as to where they were because it's my understanding that the officer was scheduled to be at work. Them not being on the premises, that's a cause for concern."
Mr Lloyd said whether security was on campus during the robbery is under investigation. "
"Security protocols at all of our campuses have been and will continue to be under intense review because there is naturally some compromise in the integrity of our security protocols for this to happen," he said. "It seems to be repeating itself during certain times in the day or night. It's obvious that other times it is not vulnerable to the attention of the perpetrators. That review is crucial and has already commenced. Police is assisting us with its report. They also will be making recommendations."