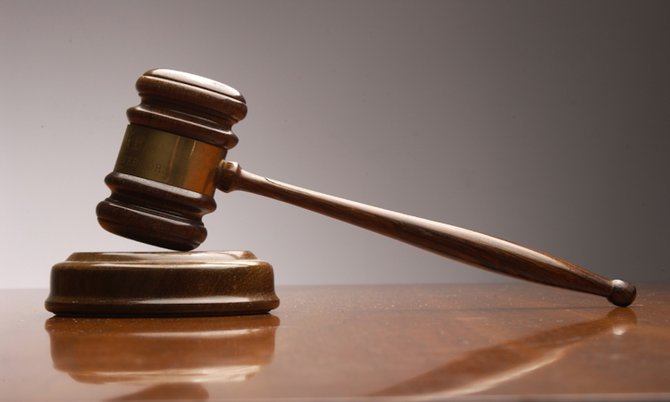 By DENISE MAYCOCK
Tribune Freeport Reporter
dmaycock@tribunemedia.net
BRUNO Parker was the last person to see his best friend and co-worker Barry Johnson alive on the evening that the deceased and his wife were shot and killed during a home invasion at their residence in Deadman's Reef, the Supreme Court heard.
Mr Parker, who is employed at the container port, was also the victim of a similar home invasion three months earlier at his residences in Holmes Rock.
Tensions rose in the courtroom between Parker and defence counsel Geoffrey Farquharson during cross-examination, with both men raising their voices at each other about the home invasion incident at Mr Parker's residence.
Mr Parker and his girlfriend and their son survived the ordeal. The Johnsons, however, did not.
Mr Parker was called to testify in the murder trial of three men – Paul Belizaire, Devaughn Hall, and Kevin Dames – charged with the murder and armed robbery of Barry and Sheena Johnson.
It is alleged that the incident occurred between 9pm and 10pm on September 12, 2015, and 8am on September 13, 2015, when the couple's bodies were discovered. The Johnsons were robbed of their GMC truck.
Allan Alcime and Virgil Hall, also charged with the three men, were convicted of the armed robbery. They accepted a plea deal with the AG's Office to be witnesses for the Crown, and the murder charges against them were dropped.
Mr Parker had known Barry since they were at primary school. Both were employed at the Freeport Container Port – Parker was a warehouse assistant in the Warehouse & Engineering Department, while Barry worked in the Operations Department as a supervisor.
On the evening of September 12, 2015, Parker said he was at a party in the Port Lucaya area when he got a call from Barry around 9.37pm about three guys who were parked outside Parker's residence.
Mr Parker said that Barry said the guys told him that they had run out of gas.
"I told Barry I was on my way (home); it took me 15 minutes," Parker told the court.
When he arrived home, Parker said he met three young guys in a red-coloured Cavalier sedan along with Barry at his residence. He assisted the men by giving them some gas, and they left.
Mr Parker said that Barry then told him he would "check him" in the morning after his wife, Sheena, went to church, and went home.
That was the last time that Parker saw his friend alive.
"When you went home and met Barry what was he wearing? Asked Crown counsel Erica Kemp.
Parker said that Barry was wearing his orange coverall with FCP on the back, and was driving his gold-coloured GMC truck.
During cross-examination, Mr Farquharson suggested to Mr Parker that the time he said it took him to get from Port Lucaya to Holmes Rock was "impossible."
"You got a call at 9.37pm at a party in Port Lucaya, and you told the police you arrived in Holmes Rock in 10 or 15 minutes? What kind of helicopter were you in? You can not get from Port Lucaya to Holmes Rock in 10 or 15 minutes, I put it to you that it takes 30 minutes, and by the time you'd get there it would have been 10pm, said, counsel.
Parker insisted that he arrived home in 15 minutes.
"It's a lie; it's impossible," asserted Mr Farquharson.
Mr Farquharson suggested that Parker knew the men parked outside his house. "You know who those fellas were; you know they had Barry, that's why you fly down there, he suggested.
"No, sir," replied Parker.
Mr Farquharson then picked up a photo album and showed Parker a photograph of a deceased Barry and said: "That could have been you. Barry take that for you," counsel suggested in a raised voice.
"What you talking about?" asked Parker during a very heated exchange. Justice Estelle Gray Evans intervened to calm tensions between the two men.
Mr Farquharson then questioned Parker about him being the victim of a similar home invasion earlier, to which Parker admitted that it had happened three months before the Johnsons' murder.
"Those people came and held you, your wife, and son at gunpoint" suggested counsel, hitting a nerve in Parker.

Parker, who was visibly upset, told counsel that it was a lie. He said his girlfriend and son were not in the house at the time and had sneaked out a side door and went to the neighbours.
When asked about surveillance cameras at his house, Parker said he had removed a camera installed at his residence in 2010.
Driveway
"You said Barry called you about these people in your driveway and you could see it on your phone, and you fly down from Port Lucaya, and it so happen that these men in a red car run out of gas in your driveway?" asked Farquharson.
Johnson said he assisted the three young guys by giving them some gas he had at home for his lawn mower, and they left.
Also testifying were police officers Sgt Donovan Gibson and Inspector Martin Roberts.
Gibson told the court that the police recovered a GMC Truck, registration number 8688, owned by Barry and Sheena Johnson. He said police also went to Pinedale, Eight Mile Rock, where officers recovered a chrome Winchester 12 gauge shotgun, with serial numbers erased, in a bushy area behind a peach and white house.
He took photographs of the truck, and the firearm, which was presented as evidence in court. He also said that he removed four 12-gauge shotgun shells from the firearm, and took some pieces of the truck's interior for DNA testing. He said the shotgun and the shells were sent off for forensic testing. However, the shells were not returned with the firearm for the trial.
Inspector Roberts testified that he processed the murder scene in Deadman's Reef, dusting for fingerprints on two cellphones that were found inside Johnsons' apartment, and an Infiniti vehicle that belonged to the Johnsons.
He said fingerprints were found on the vehicle and on one of the two cellular phones.
Inspector Roberts also took photos of a projectile he retrieved from the ceiling of Apartment 7 where the Johnsons' resided.



The trial resumes on Wednesday.