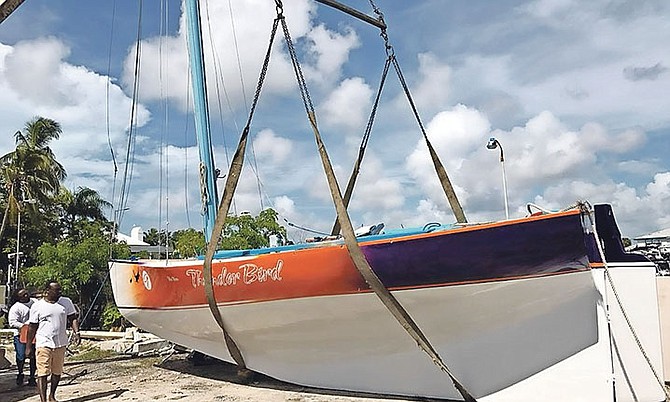 By BRENT STUBBS
Senior Sports Reporter
bstubbs@tribunemedia.net
After making all of the necessary adjustments to the banned Tanqueray boat, the Rev Dr Philip McPhee still doesn't understand why his PM Thunderbird is not being allowed to sail.
Dr McPhee, who has remodelled the boat, which was banned more than 30 years ago because it was deemed illegal, said he's hoping that he can set sail in the Sir Durward Knowles 100 Regatta next weekend in Montagu Bay.
"In December, I brought the boat and after we rebuilt it, we asked the various boat owners to come and look at it," he said. "Sheldon Gibson, Kevin Moxey, Tommy Thompson and others came to look at it.
"They all came by and advised me that I had to take the fin kell off and run a straight kell. Vivian Lockhart, who built the original boat, came by and we went over everything that needed to be changed."
Dr McPhee said he again invited the boat owners to come back and view the A class boat and they all felt that it was now in line with all of the boats currently sailing, including the Whitty K, Ruff Justice, Tida Wave and Good News.
However, McPhee said after they sent out an invitation to the National Family Island Regatta Committee, none of the principals took up the offer, but they have made it clear that the boat is still not worthy to sail in their regatta.
"Since we haven't had a chance to sail yet, I want to do it for Sir Durward Knowles. He has been like a father to me and to the McPhee family, having been a great friend of his father, the late Rev Dr WG McPhee," Dr McPhee said.
"We have learnt that the Sir Durward Knowles Regatta is not a prize-giving regatta so we decided that we will sail so that we can prove that the boat is legitimate and should be allowed to sail in any regatta."
But Dr McPhee said that he was advised that a group of sailing executives, including Danny Strachan, Clyde Rolle, Stafford Armbrister and James Wallace said that they will not allow the boat to sail.
"Sir Durward has been a man in the Ministry of Youth, Sports and Culture when I was there under the Minister Algernon Allen to work on regattas," he said.
"At that time, there was only three regattas going and so we formed the Regatta Desk and was provided with a budget for regattas. We then formed a steering committee that eventually became the National Sailing Association and I recommended Sir Durward Knowles as our first chairman."
During his time in office, Sir Durward coined the 'One Bahamas' committee that brought all Bahamians under one umbrella and he publicly apologized to all Bahamians for the stigma that existed.
Now with the regatta set to honor Sir Durward on his 100th birthday that will fall on November 2, Dr McPhee said he felt it would be an appropriate time for the PM Thunderbird to set sail.
"I couldn't understand why they don't want the boat to sail because it meets all of the requirements as a boat that was built by a Bahamian, owned by a Bahamian and sailed by Bahamians.
"Those were the criteria for any boat to sail in the Bahamas. There were all kinds of rumors that the boat was built in the United States and transported into Nassau and put together on Shirley Street. That is foolishness."
Dr McPhee revealed that the originally boat was built in 1997. But it has not sailed since it competed in the National Family Island Regatta in Georgetown, Exuma.
"We have transformed, refurbished and made the boat what it ought to be," he stressed. "We have at least 8-9 A class boat owners who say they have no problem sailing against the boat because it makes the requirement.
"Danny Strachan, Clyde Rolle, Stafford Armbrister and James Wallace all have a problem with a Bahamian boat sailing. This boat has attracted people from all over the world waiting to see it sail."
Dr McPhee said he has advised the Ministry of Agriculture with responsibility for regattas, of what has happened and he said he has also informed Sir Durward and they are hoping that the boat will get a chance to sail during the regatta next weekend.