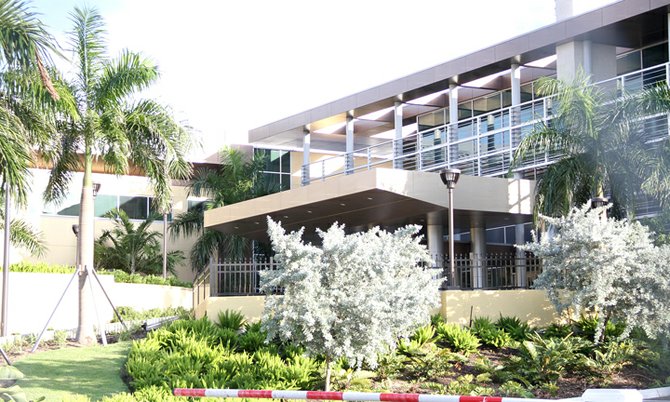 By KHRISNA RUSSELL
Deputy Chief Reporter
krussell@tribunemedia.net
A STAGGERING picture of the true state of the crumbling public healthcare system has been revealed by former Public Hospitals Authority boss Herbert Brown.
Shortly before he left office Mr Brown wrote a detailed report to Health Minister Dr Duane Sands in which he itemised areas of massive underfunding and inefficiencies which he warned were having a direct affect on patients.
The crisis goes back years and, while not naming them, Mr Brown appears to point the finger of blame at the ousted PLP.
"Government", he wrote, had approved a whole list of projects to improve the health care system but without giving the tens of millions of dollars needed to actually carry out the work.
In this "unacceptable" state of public health services, Mr Brown said access to service is compromised on a daily basis, physical infrastructure is deteriorating, and there is a more worrying unnecessary patient risk factor, blamed on poorly functioning medical equipment.
His eight-page letter sent to Dr Sands was sent roughly two weeks before he went into retirement, Mr Brown further highlighted a catalogue of capital works projects, just a few of which have started, but generally no funding has ever been provided.
To complete these projects, said Mr Brown, the PHA would need $43,181,178.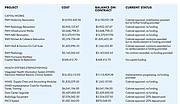 Health systems strengthening also carries a hefty price tag of $27,050,616.63, Mr Brown said in his letter dated September 25, 2017.
"Collapsing infrastructure, broken equipment, inadequate provision of staff; particularly nurses, doctors and allied health personnel has led to a situation in which access to healthcare services and patient dignity – particularly in Accident and Emergency (A&E) and the Maternity ward, are compromised on a daily basis," wrote Mr Brown.
"Indeed our inability to properly budget and allocate sufficient finances for medicine, medical and surgical supplies, equipment, staff and infrastructure upgrades and maintenance has directly impacted the delivery and quality of our services and the ongoing deterioration of our physical infrastructure."
On maintenance of equipment he warned Dr Sands: "Without these essential equipment and instruments, patient care can and will be compromised.
"Further, failure to maintain existing or purchase new equipment, has meant that healthcare professionals are hampered in their ability to correctly diagnose and treat patients."
The PHA, he said, had not had an equipment budget for "many years".
"This unfortunate situation is and will continue to have significant implications on the delivery of care," he wrote.
"For example, a lack of sufficient working radiology devices (which is currently a major problem at PMH in particular) prevents diagnosis of many diseases. In addition delays in patient diagnosis can often impact timely treatment of diseases, leading to poor health outcomes.
"... Poor functioning anaesthetic equipment failure, places patients at unnecessary risks.
Equipment and manpower challenges
One of the key system failures is the purchasing and maintenance of essential equipment, Mr Brown wrote. Referring to a wide range of equipment from surgical scissors to more complex equipment like MRI and X-ray machines, the former managing director said without these "patient care can and will be compromised."
"Further failure to maintain existing or purchase new equipment has meant that healthcare professionals are hampered in their ability to correctly diagnose and treat patients."
"It would be helpful to note that the PHA has not had an equipment budget for many years. This unfortunate situation is and will continue to have significant implications on the delivery of care. In fact, presently two rooms in the radiology at PMH (three and five) have been out of service for some time now, due to the need to replace equipment that cannot be repaired," he said.
"Regrettably for many years now due to the lack of funding we were unable to fund the cost of preventative maintenance contracts. Indeed in 2017/2018 the overall estimate to fund the cost of preventative maintenance contracts for our Public Hospitals was estimated at over $3m and of that amount the Critical Care Block alone needed $460,000 to fund the maintenance of equipment."
Mr Brown said there were serious shortages at hospitals, which were having a rippling effect. Of note is the shortfall in A&E nurses and trained A&E doctors. Overall 440 nurses are needed. This, he said, is impacting the quality of care provided to patients suffering from serious traumas and other life threatening illnesses.
"While the number of graduates vary on an annual basis, we are not producing the numbers required to meet the needs of our public service. This is compounded as we must now compete with North America, where salaries and benefits are substantially higher than what we can offer in the Bahamas and as a result we are experiencing an exodus of many of our highly trained nurses."
Mr Brown said the healthcare budget has not changed in line with changing costs of healthcare.
As an example, he said the expansion of service at PMH coupled with the construction of the Critical Care Block carries with it a cost to operate in excess of $10m or 18 per cent of PHA's total budget. However, he said, it should be noted that 75 per cent of the total PHA budget is allocated to personal emoluments.
He said it is therefore obvious the Critical care Block is absorbing four per cent of the budget, having significant impact on the overall level of service provided.
"The situation is further compounded by the fact that while we now spend in excess of $200m every year on the services provided by the PHA alone, we collect less than $10m every year. Regrettably the gazette fees are not in line with the cost of the services provided and there is the widely held belief that healthcare is free."
He went on: "The result has been that on a yearly basis, the public healthcare system has been accruing debt by exhausting the other charges budget for goods and services fund prior to the financial year-end and paying invoices out of the budget for the following year. This in effect means that pressure is placed on the following year's budget, which is spent prior to the year end."
Last night Dr Sands confirmed he was in receipt of the letter and insisted the grim state of the system was at the feet of the former Christie administration whom he said made "unacceptable, inappropriate and uncharitable" decisions.
He said the government is working on responses to the health service's crisis.
Dr Sands said the government now has to prioritise the ills of healthcare. He said much of the problems were created because money was spent carelessly on things of less importance by the former Progressive Liberal Party government.
"We took our eyes off the ball and made some dumb decisions. We awarded contracts to the party faithful in an attempt to win an election as opposed to investing in our healthcare infrastructure," Dr Sands said.
"Some of the decisions were unconscionable and the Bahamian people have been paying for it. Their loved ones have been paying for it. It's an unacceptable experience when they interact with the healthcare system the medical staff have to endure unbelievable scorn and anger and at the same time you're waving this pie in the sky, unachievable dream called NHI in front of people.
"What these guys have done in the last five years is nothing short of unacceptable, inappropriate (and) uncharitable.
"We are in the process of completing a nurses attention plan that we are going to implement. We acknowledge the problem. The first part of solving the problem is to acknowledge that it exists.
"Imagine if you took the money that you spent on carnival and invested it on nursing attention. Think about it. Imagine if you took some of the money that you spent on some of your contract awardees for so-called hurricane clean up and you fixed the roof on PMH and sorted out the land. That you fixed up some of these clinics and you paid for vaccines and medication as opposed to causing some of the vendors to almost go into bankruptcy.
"There were some unchristian things that went on." 
In his letter Mr Brown said to fix these chronic challenges there must be a maximisation of scarce resources and a better integration of services
"Our position on this matter is longstanding. We must find the resources to ensure that our four poly clinics in New Providence can extend their operating hours beyond what exists today so that persons in need of routine care can be seen in a timely manner and as a result significantly reducing the load on an already crowded A&E Department at the Princess Margaret Hospital.
"Indeed we have proven that by extending clinic hours in Grand Bahama, visits to the A&E Department at Rand Memorial dropped by 8.7 per cent in 2015 and an additional 1.5 per cent in 2016 and as a result waiting time and patient satisfaction were all positively impacted.
"It is essential if we are to improve the quality of care, accountability and improved outcomes, managers and department heads at all levels must be held accountable, but be empowered to take the initiatives in revamping operations, reallocating resources and steering their department in new directions to ensure that those who will use public health services will not just see but feel the difference.
"I have admonished employees of PHA to stop the blame game and work together in the best interest of the people we are privileged to serve. However,. without enhanced accountability and improved management, our service and ultimately our patients will not see any difference."
All this will require buy-in and unconditional support from leaders across the board, innovation, financial discipline and communication with employees on important initiatives and actions on recommendations from them, Mr Brown said.