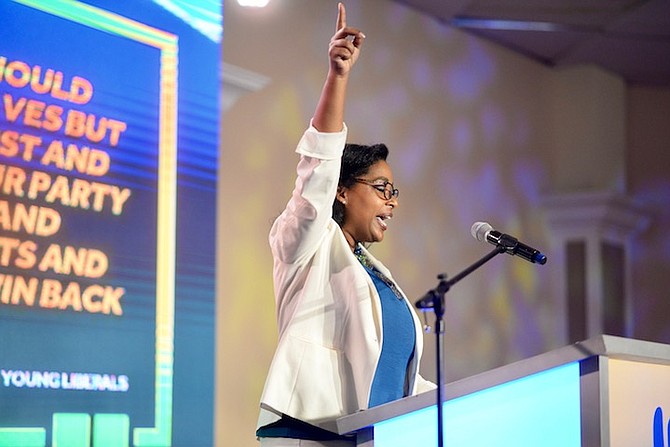 10.00pm: That brings our online coverage of day one of the PLP convention to a close. Don't miss Tuesday's Tribune for reaction to tonight's events. And there will be more live coverage from the convention on tribune242.com.
9.55pm: She says: "I love this country and love this party. Let's put an end to the cynicism."
9.50pm: Monique Pindling adds that the PLP became weak, dishonest and lost touch with too many people. She says that the party will move forward with a new, fresh, vibrant leadership. "The new generation of Bahamian voter is a different character," she says. "We have to earn their vote and treat them right."
9.45pm: Sir Lynden Pindling's daughter Monique Pindling is now on the stage. She says some in the party - not all - strayed away from core principles. She adds that some in the party became overcome with greed and envy.
9.35pm: Robyn Lynes says they are "coming back" to get those who registered but didn't vote.
9.30pm: The former Senator certainly seems to have livened up the convention floor. She calls for more connectivity between party branches - including the Family Islands.
9.25pm: "You are the strength of this organisation," Robyn Lynes tells the delegates. "It's you!"
She gets a big laugh when she says: "I'm trying to stay calm because I've got my makeup fixed."
9.20pm: She says: "On the FNM's best day, they cannot beat us as a political organisation." Then, speaking of the party reconnecting, she adds that in "order for us to move forward, we have to take a step back".
9.15pm: Vice Chairman Obie Roberts delivers his speech and now we have former Senator Robyn Lynes.
9.05pm: Philip 'Brave' Davis and Glenys Hanna Martin - the two leadership candidates – are pictured arriving earlier for tonight's events:
9.00pm: Erecia Hepburn, National General Council Member for Garden Hills, is on the stage. She describes how the PLP has always been a "forward thinking" party.
8.55pm: Andre Kelly, former Chairman of PYL, is speaking from the podium. He asks "are we humble enough to accept the wisdom that is being passed to us young people?"
Speaking of the election defeat on May 10, he says: "Yes we lost, but we are not lost. This is not time to quit but to be eager to serve."
8.50pm: She ends her speech by saying: "This is my PLP, this is my mother's PLP, this is my grandmother's PLP. This is a millennials' PLP with a new perspective" to applause from the delegates.
8.45pm: Glenisha Albury says: "PLPs, our core values and beliefs are still relevant." She adds that "substance, sincerity and a realistic vision must be the order of the day". Her speech is drawing applause from Englerston MP and leadership candidate Glenys Hanna Martin.
8.30pm: Tonight's events are underway, Vice Chairman Keenan Johnson giving a lively speech to the delegates. Next up is Glenisha Albury, Executive Member of PYL at the University of The Bahamas.
4.50pm: Englerston MP and PLP leadership candidate is pictured at the party's convention today. She will contest the leadership race with Philip 'Brave' Davis Wednesday.
12.00: PLP chairmanship candidate Obie Wilchcombe said this morning he wants to modernise the party:
11.45am: Supporters of the two leadership candidates had their say this morning on who should lead the PLP:
11.30am: THE PLP convention gets underway today at the Melia hotel in Cable Beach and we'll bring you live updates over the next three days on tribune242.com. All eyes will be on the leadership contest between Philip 'Brave' Davis and Glenys Hanna Martin. Over the weekend, Mr Davis urged party members to unite at the convention but said he is "confident" he'll retain the party's top post when the three-day event comes to a close - full story HERE