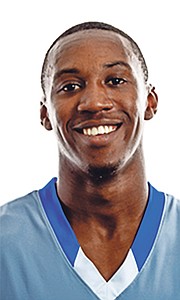 By RENALDO DORSETT
Tribune Sports Reporter
rdorsett@tribunemedia.net
The America East Conference recently released its preseason projections for the upcoming campaign and Jaron Cornish's Stony Brook Seawolves are expected to contend for a league title.
The Seawolves were projected to finish fourth in the conference behind Vermont – the unanimous number one overall selection, Albany and UMBC.
Last season, head coach Jeff Boals led Stony Brook to a second place finish in the America East and they eventually advanced to the conference tournament semifinals.
Boals said Cornish and the other newcomers look to fill the void of the six departing players from last season.
"We have six new guys this year, we have five freshmen and one JuCo player. These guys have really done a good job. I think being here in the summertime has really helped acclimate them to what we are trying to do offensively and defensively and those guys have fit in very well," he said, "I think the biggest thing is we have to really get our guys to compete, play with heart, play with energy and play together. They have been doing a really good job of that so far. We have been implementing our offence, but we have been spending most of the summer and the fall on our defence. Our defence is ahead of our offence right now, which is kind of what we wanted to do and I'm happy with where we are at right now."
Stony Brook finished the 2017 season with an 18-14 record and in the post season, lost in the opening round of the CBI. In 2016, they reached the NCAA Tournament for the first time in school history.
"When we lost to Illinois-Chicago, one of the biggest things we talked about was investing. Guys have been investing their time on the court, in films and just doing a lot of the extra stuff they need to get better. I think we just have to continue to improve. We obviously have to work on our transition defence and rebounding, those are going to be two staples to us winning games," he said.
Cornish, the Abaco native, transferred to Stony Brook after completing two NJCAA seasons with the Broward College Seahawks in Fort Lauderdale, Florida.
As a sophomore, he averaged 18.7 points and 4.5 assists per game on 42 percent from three point range. While leading his team in nearly every offensive category, Cornish was also one of the top players in the NJCAA and ranked in the top 50 Division I JUCO players in the nation in free throws made, made free throws per game, total points, steals and points per game. Cornish tallied 11 20-plus point games last season.
Cornish rose to national prominence with head coach Wayne Adderley's Agape teams which reached a Hugh Campbell Final Four for the first time in school history in 2013.
From there, he spent his final two years of high school at Champagnat Catholic High School in Hialeah, Florida. Alongside fellow Bahamians Nashad Mackey and Oswald Parker, he helped lead the Lions to statewide recognition.
Cornish averaged 17.5 points, six assists and five rebounds per game as a senior as the Lions finished the season at 26-2 and lost in the Regional Semi-finals of the Florida High School Boys FHSAA basketball tournament.
He was also named to the Miami Herald's All-Dade first-team.
The Seawolves are set to begin the 2017-18 season on Friday, November 10, as they take on Maryland at Nassau Coliseum at 7 pm.
More like this story