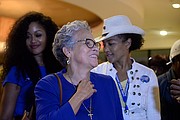 By RASHAD ROLLE
Tribune Staff Reporter
rrolle@tribunemedia.net
ENGLERSTON MP Glenys Hanna Martin said she will continue to "agitate for change within" the Progressive Liberal Party despite her loss in the leadership race to Philip "Brave" Davis at the party's convention last night.
Mrs Hanna Martin received 300 votes, according to party sources, while Mr Davis received 1,004.
In a short press statement released Wednesday night, she thanked her campaign team and Englerston voters who have elected her in four consecutive general elections.
"I commit tonight to dedicating all of my energies to your interest," she told her supporters. "I thank you for your patience during this campaign period which took me away from you. I am grateful that I had this opportunity to travel through the country; to hear the concerns of Bahamians everywhere. I am grateful that this has deepened my understanding of my country and enhanced my love and appreciation of The Bahamas.
"Throughout this process I have been able to refine my philosophical commitments. I am more convinced than ever that the vision of 1967 has yet to be realised. We have yet to wipe every tear from every eye. That is our continuing mandate, to empower the Bahamian people. It is necessary and long overdue. Our people, our country deserves nothing else. This has been my mission during my life in public service. And so I will not settle for the status quo. I will therefore continue my efforts to agitate for change within the party. I congratulate the new leader of the PLP, Mr Philip Davis as he takes the helm."
Insiders always viewed Mrs Hanna Martin as the underdog in her run for leader. Her effort was marked by concerns about the process, including that about the influence of money in the race.
Well before the convention was hosted, she sent a letter to outgoing PLP Chairman Bradley Roberts with concerns about the influence of money. Mr Davis responded with a letter of his own, although the contents of both letters have never been publicly disclosed.
This week, Mrs Hanna Martin found common cause with former leadership contender Alfred Sears, as she complained about the process just as he had done ten months ago.
"Alfred Sears who ran for the leadership the last time has put together a number of amendments," she told reporters earlier this week.
"The two I am most concerned of is the use of money in our internal election campaign. Because there are certain practices that are currently in play that would not be allowed, I don't think, in a general election.
"Unfortunately, our constitution does not deal with those issues. And so, we want to see amendments to our constitution because we want to be sure that when people go to the polls they are not influenced by anything other than who is the best candidate pound for pound in the best interest of our party."
Mrs Hanna Martin also expressed anger about not being allowed to speak at the convention before delegates voted.