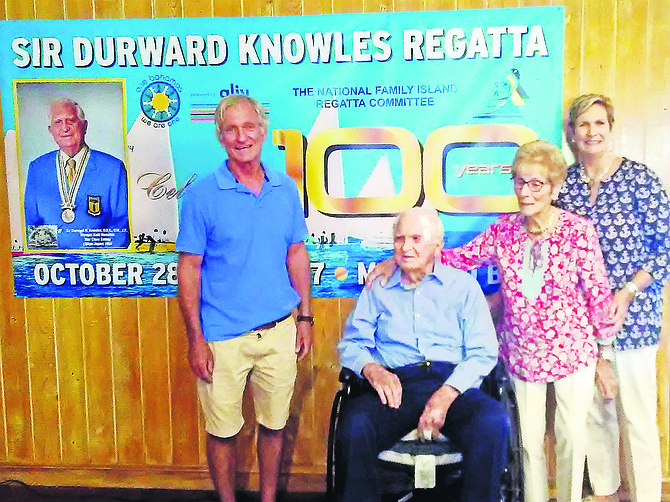 THE Montagu foreshore will be transformed into a sporting and entertainment spectacle this weekend with 100 boats in competition to honour one of the country's greatest sporting icons.
A joint effort by the National Family Island Regatta, the Bahamas Sailing Association and the Ministry of Agriculture and Marine Resources with responsibility for regattas, will host the Sir Durward Knowles 100 Regatta, October 26-27 at Montagu Bay.
Racing begins 8am Saturday in the sloop sailing segment with Class C and Class E, followed by Class B at noon and Class A at 3:30pm.
Following the races on Saturday, there will be an awards presentation at 4pm.
Sunday's race schedule will begin at 9am, with a two-hour window between the start times of the following division.
There will also be sailing featuring international Olympic-style boats in the regatta with participation from all of the clubs across the country. This field will feature Optimist sailing for children aged 8-15, Sunfish, Laser, International 420s and Snipes.
Following each day of sailing there will be a concert series featuring an all-Bahamian lineup. Saturday will feature VISAGE, Geno D, Veronica Bishop, Scorch Conch and the Royal Bahamas Defence Force Marching Band.
Sunday's lineup will feature the Spank Band, Lady E, Nat Bailey, Qpid, Lassie Doh Boys and the Royal Bahamas Police Force Marching Band
The legendary Olympic sailor will celebrate his 100th birthday on November 2 and competition in the free-for-all regatta serves as a means of "giving back and saying thank you" to Knowles, the oldest living Olympic champion in the world.
At the time the event was originally announced, Danny Strachan, commodore of the National Family Island Regatta Committee, said that while they will be honouring Knowles for his exploits at winning the Bahamas' first Olympic gold medal with the late Cecil Cooke in Tokyo, Japan in 1964, they will also recognise him for his generosity as a philanthropist to just about every cause in the country.
"When the history of this country is written, he will not only be recognised as one of the greatest Bahamians, but also as one of the greatest philanthropists," he said. "I don't know of any other Bahamian who has taken a personal interest and has done so much to improve the lives of his fellow men. "His promotion of One Bahamas is evident of his pride, love and endurance towards his country and its people."
He offered suggestions on other means of improving the national recognition of Knowles and his lifelong exploits, including naming sailing as the national sport of the Bahamas, place Sir Durward's image on the $100 bill and name that span of water east of Montagu Bay the Sir Durward Knowles Harbour.
Strachan said they will also honour his wife Lady Holly for the tremendous support she has given to her husband, not just locally, but globally as he competed for the country.
"We cannot honour Sir Durward by paying prize money," Strachan said. "These guys are grateful for what he has done, so they are prepared to sail. Prize money in this regatta is a thing of the past. I think Sir Durward would have my head if I attempted to pay prize money for sloop sailing or any other class to honour him."