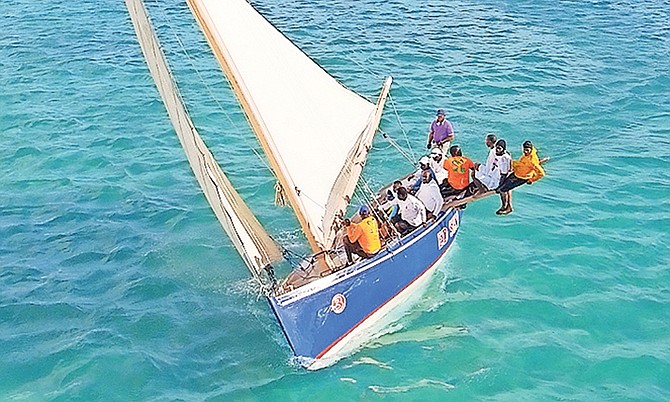 A RECORD-setting number of boats took to Montagu Bay this weekend to celebrate the life and work of Sir Durward Knowles, one of the Bahamas' most iconic sporting figures and the world's oldest Olympian.
The Sir Durward 100 Regatta - a joint effort by the National Family Island Regatta, the Bahamas Sailing Association and the Ministry of Agriculture and Marine Resources with responsibility for regattas - featured the top talents in sloop sailing and international sailing in the country.
Prime Minister Dr Hubert Minnis was on hand at the event's closing awards ceremony and said the celebration of Sir Durward's legacy is a celebration of all things truly Bahamian.
"He represents the very best of the Bahamian spirit. He is a patriot whose love of country has expressed itself and he has brought passion and generosity to every field of endeavours. To borrow the title of his bio he has been 'Driven by The Stars.'
"He reminds us all that life is not only about making a living but more importantly about making a life worth living," Dr Minnis said.
"He has helped athletes, students, the disabled and countless others to be driven by their own stars and to pursue lives of passion and excellence. He has demonstrated the values and virtues of sportsmanship. His love of country and patriotism has been demonstrated for many years in his involvement with the One Bahamas Foundation. Thank you for all you have done for the country you have loved. The country returns this love to you with great gratitude and hearts full of emotion."
Winners in the sloop sailing segment of the regatta included A Class - Red Stripe; B Class - Ants Nest; C Class - It Ain't Right and E Class - Judgement Day.
The regatta also featured international Olympic-style boats in the regatta with participation from all of the clubs across the country. This field will feature Optimist sailing for children aged 8-15, Sunfish, Laser, International 420s and Snipes.
This segment featured 81 boats making it the largest event including international sailing the Bahamas has ever hosted.
Winners included Optimist (Green Fleet) - Anton Gotberg; Optimist (Championship Fleet) - Jackson Parker; International 420 - Joshua Reach, Jackson Parker; Sunfish - George Damianos, Laser - Keir Clarke; Snipe - Cochise Burrows and Lori Lowe.
National Family Island Regatta Executive Danny Strachan said h hoped further honours will be bestowed upon Knowles.
"Let's thank the Knowles family for giving us the pleasure of hosting this regatta in Sir Durward's honor. While he could not be present for the finale, when we come here next year for the Sir Durward 101 Regatta I hope we are sailing in 'Sir Durward Harbour' and I hope I have a $100 bill with his image on it," he said, "We had a very short window to our this on and it goes to show what can happen when we put our heads together."
Lori Lowe of the Bahamas Sailing Association said Sir Durward's story and spirit continue to serve as an inspiration.
"It's an honor to be apart of this event to honor a man who is not only a sports legend but one in the annals in aiding Bahamians. His tenaciousness got him Olympic medals and drove him to aid his people with a smile and a kind word, he sometimes did it with an insult and a smile," she said, "He talked about how he got his gold medals and I think we all can learn a lesson from people who stick to it and continue to try. One lesson we can learn from his story is that you can come from nowhere and get to the top and we have plenty of examples of that in our country."
Minister of Agriculture and Marine Resources Renward Wells, whose portfolio includes responsibilities for regattas, outlined the impact that he expects the regatta will have.
"Too often we are not given our due while we are alive and it is so wonderful to see a man who has lived for nearly 100 years, the world's oldest Olympian, made the Bahamas proud through his life had an impact on my life as a track and field athletes and contributed to many others who have gone on to Olympic and world championships fame. You never know how far your contribution can go or boost the person you are assisting, but I say with certainty that it is because of individuals like Sir Durward and their contribution I can stand here as the Minister of Agriculture and Marine Resources.
The legendary Olympic sailor will celebrate his 100th birthday on November 2 and competition in the free-for-all regatta serves as a means of "giving back and saying thank you" to Knowles, the oldest living Olympic champion in the world.
Sir Durward was present at the regatta for much of Saturday evening to award the winners of the essay competition so was not present for the finale, but his daughter Charlotte accepted the honour of the regatta on behalf of the family.
"He is thrilled to bits with all this attention. He is in his glory," she said, "I want to thank the committee that worked behind the scenes. He is so excited with the 100th birthday celebrations. I want to say thank you to the sailors. I can't tell you how much this means to our family and we really appreciate you coming out to do what you do in honor of him."