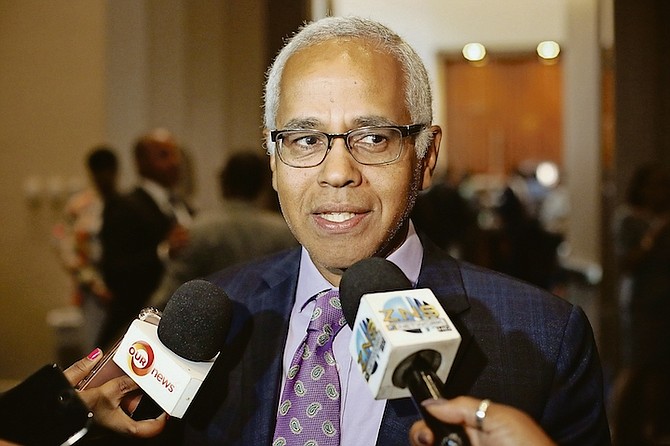 By NEIL HARTNELL
Tribune Business Editor
nhartnell@tribunemedia.net
The Minister of Tourism has slammed as "reprehensible" the threat by a major cruise line to terminate Bahamian tour operators' contracts if they direct-sell to passengers without its permission.
Dionisio D'Aguilar hit out after Tribune Business obtained a copy of Norwegian Cruise Line's (NCL) August 30 warning letter demanding that Bahamian shore excursion providers "discontinue this practice immediately".
Pledging to confront the cruise lines on the issue, Mr D'Aguilar said he "completely agrees" that NCL's letter amounts to 'restraint of trade' and anti-competitive practices that have left Bahamian companies earning mere "crumbs" for years.
NCL's August 30 letter, signed by Steve Moeller, its vice-president of commercial development, warns the cruise line's 'partner' Bahamian tour operators that selling their product direct to its passengers violates their 'Shore Excursion Agreement'.
"It has come to our attention that some of our tour operators are selling ours directly to our independent guests," Mr Moeller wrote.
"As a reminder, NCL shore excursion operators are not permitted to sell directly to NCL guests without the prior consent of Norwegian Cruise Line Holdings. This is considered a breach of the Shore Excursion Agreement, and can result in the termination of the Agreement as per Section 5 (b)."
Mr Moeller then warned: "If you have taken part in unauthorised direct tour sales, we ask that you discontinue this practice immediately. Otherwise, we will be required to terminate our agreement.
"In any instance, where a direct tour sale is made to a Norwegian, Oceania or Regent passenger by a shore excursion operator, the operator needs to advise the vessel's shore excursion destination manager of all direct sales."
The NCL letter then reproduces Section 5 (b) of the standard Shore Excursion Agreement, which reveals that operators not only have to obtain the cruise line's permission to direct sell, but its approval of the price they will charge passengers.
"In the instance that the operator is authorised to to directly market any tours to Norwegian passengers," Section 5 (b) reads, "operator shall sell those tours at the price agreed upon in writing with Norwegian, and will report all Norwegian passenger direct tour sales to Norwegian."
This clause allows NCL to dictate the margins, mark-ups and profits a Bahamian tour operator will make from 'direct selling' to its passengers, effectively controlling their ability to survive.
NCL's letter thus provides the first written evidence of the 'trade restrictive' practices employed by the cruise lines, and which Bahamian tour and shore excursion providers have constantly complained about - under the cover of anonymity - for years.
"My position as Minister of Tourism is I find these practices by the cruise companies to be reprehensible," Mr D'Aguilar told Tribune Business, when informed by this newspaper of NCL's letter and its contents. "They should cease and desist from saying that right now.
"They have every opportunity to sell these excursions on the boat, and if a passenger comes off and seeks out a Bahamian company to provide them with services, this is free enterprise.
"This is what I have been talking about," Mr D'Aguilar added. "The cruise companies are not permitting enough of the tourism spend to fall into the hands of Bahamians.
"It's very important that when cruise passengers come to the Bahamas, more of the spend filters down into the hands of Bahamians and communities where it is not going. Too much of the spend is being retained by the cruise companies to the detriment of the Bahamas."
With the cruise lines supplying the customer base that ensures their existence, no provider has been willing to speak out publicly for fear they will automatically lose their contracts with the industry.
Many operators feel they have little choice but to sign restrictive agreements such as the one outlined in NCL's letter otherwise their tours will not be sold 'on ship' by the cruise lines to their passengers, thus costing them their livelihood.
Mr D'Aguilar said senior Ministry of Tourism officials had informed him that top cruise line executives always denied the existence of such practices when the issue was raised.
"The problem is that when you talk to senior cruise line executives they say this does not go on," he told Tribune Business, "but people on the front lines say this goes on all the time.
"The people on Bay Street, the vendors, the operators say that the cruise ships only let us get the crumbs. We've got to get some of the fat. We've got to survive, too."
The Florida-Caribbean Cruise Association's (FCCA) last tri-annual survey of the sector's impact revealed that per capita passenger spending in the Bahamas had actually increased, from $64.81 in 2012 to $82.83 in 2015. But combined passenger expenditure in Nassau and Freeport remained stubbornly flat.
While acknowledging that the cruise lines had a right to maximise their profits, Mr D'Aguilar argued that this objective should not be achieved at the expense of the Bahamas and its private sector - which acted as a major passenger draw in the first place.
"They must understand that this government wants more of the tourism spend to fall into the hands of the average Bahamian," Mr D'Aguilar added of the cruise lines. "They make a lot of money; it's time to share it.
"Let the Bahamas enjoy in these passengers coming here. It's very important that we get cruise ship passengers to spend more money in this destination.
"When the cruise companies involve themselves in these restrictive, anti-trade practices, we're not happy. They'll be hearing from us."
NCL, in a response to Tribune Business, defended the Shore Excursion Agreement as a standard document that all its worldwide tour operators were required to sign.
"All tour operators who offer excursions to our guests around the world, in the more than 500 ports we call on each year, are required to sign and abide by our agreement," the cruise line said.
"Any operator who has questions about the terms included in the agreement can certainly reach out to our Destination Services team for further clarification."
One tour operator, speaking on condition of anonymity, said his firm had taken down its website to avoid "any hassle" from the cruise lines over passengers using it to book directly with them.
"This is a practice that's been going on for a while, but it's the first time I've ever seen it in writing," they added of the NCL letter and 'direct selling'. "Most of the cruise lines have that in their agreements."
Agreeing that it represented 'trade restrictive' practices, the tour operator said it seemed as if the cruise lines had more rights in the Bahamas than Bahamians.
He added that all contracts between the cruise companies and Bahamian tour operators were governed by Florida law, "so if anything goes down you have to go to a Florida court".
"How can you operate a business in the Bahamas under Florida law?" they asked. "They make you sign your rights away. If you don't sign it, they won't do business with you. We just want more protection."
When it came to pricing, the tour operator added: "The cruise lines tell you it's fair play, but they control the pricing. They dictate to you what you can charge and cannot charge.
"If your costs go up, you either eat the loss or beg for an increase. You sell to them [the cruise lines] net for $20, and they're charging their passengers $40-$45 for the same tour. They make more money than you, but you're the one covering all the overhead and expenses.
"The Florida-Caribbean Cruise Association (FCCA) dictate to you what you can and cannot do. It's become a dog eat dog world, really. They've got more rights than we as Bahamians," the operator continued.
"It's sad. Here we are as Bahamians, investing in our country, and foreigners come here and get more rights and incentives than we do. The cruise lines have taken advantage of the Bahamas for so long."
The tour operator pointed, in particular, to the cruise lines' private islands scattered across the Bahamas. They said tours there were priced lower than similar products in Nassau or Grand Bahama, thereby ensuring the cruise lines retained more passenger spend.
"The cruise lines say they want us to provide new tours, but every tour we provide for them in Nassau and Grand Bahama they do on their private islands," the operator said, either themselves or through local contractors.
A former tour operator executive, also speaking on condition of anonymity, said the threats and practices detailed in the NCL letter had been an issue for years.
They added that the sector formed BASE, the Bahamas Association of Shore Excursion Providers, to present a united front to counter the issue. But with companies ceasing business, and the cruise lines picking off members' one by one, the Association has ceased to exist. Jacharic Holdings, which operated numerous tours, was among the more notable casualties.
The former operator added that the situation had created "a vicious circle", with the cruise companies complaining about the appearance of downtown Nassau and demanding new on-shore activities, yet effectively denying Bahamian companies the revenues and profitability needed to upgrade their products.
"It's unfair practices. They'd never do that kind of thing in the US," the former operator said of the cruise lines, "but these are small countries that don't have access to legal advice. It's kind of a shake down.
"It's almost as if they own someone on their ship. But it's a free market. Dionisio should take it on. We need him to speak out against things like that, and allow operators to operate in a free market."