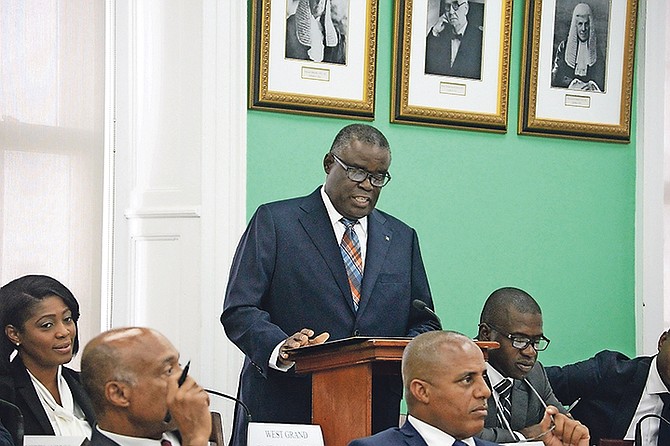 By AVA TURNQUEST
Tribune Chief Reporter
aturnquest@tribunemedia.net
BRENSIL Rolle, state minister for Public Service and National Insurance, has assured public servants that there will be no "mass firings" by the Free National Movement administration as officials prepare to move into the second phase of the public service verification exercise.
Just over 15,000 persons have participated in the Public Treasury's count in New Providence and Grand Bahama, according to Deputy Treasurer Donna Delancy yesterday.
"There will not be a mass firing," Mr Rolle recently told The Tribune, "you have to take it from the perspective that hundreds of persons were engaged by the previous government.
"Some of these persons did not have a letter to authorise them to work, they didn't have any documentation, and that's just the first group. There's another group whose contracts have expired or are about to expire," he continued, "there are persons that have had contracts for two years and also those without contracts who were working for two years.
"So we're trying to regularise and we've been very reasonable and sensitive to these issues."
He added: "We are focusing primarily on how we can deal with persons who are receiving a salary and a pension having regards for many persons unemployed who need jobs."
Mrs Delancy told The Tribune yesterday that the department is still waiting on verification forms from overseas and Family Island centres to conclude the official count.
She said that an editing team has been assembled, and will be responsible for verifying the official verification numbers and extracting those employees that will be interrupted for the September 2017 payroll.
Verification ended on Thursday, August 31.
"In terms of the data on persons," Mrs Delancy said, "we're legitimising it, also making sure that the data we put for persons are correct. We've had verifications in the past, no matter who the government is the Public Treasury usually tries to get this done at least once per term."
She continued: "We try to ensure the National Insurance number, date of birth and their names are correct. Some persons get married, get divorced, drop the name, and the adjustments may be missed. It manifests itself at our pension section, when they die as an employee or when people come to get their benefits or go to NIB to claim."
The total unofficial count of persons verified at the five New Providence centres, and the staff at the Ministry of Grand Bahama, is 15,044. Of that number 14,431 persons are paid monthly, and 613 persons are paid weekly.
The government's employee count as of July 31 was: 21,593. The figure represents 20,916 monthly and 677 weekly employees.
The July payroll represents the count of persons who should have participated in the verification exercise throughout The Bahamas and overseas.
Verification centres were established at public schools in New Providence and at government offices in Grand Bahama and the Family Islands since the process began on Tuesday, August 8.
The five verification centres in New Providence, now closed, were H O Nash High School, T A Thompson Junior High School, C C Sweeting High School, C R Walker High School and Doris Johnson High School.
Public officers who are assigned to the Ministry of Foreign Affairs and the Ministry of Tourism overseas offices, were expected to verify at their respective locations.
Persons who fail to present themselves to be verified will have their salaries interrupted – not ceased – beginning this month until they comply with the verification and reinstatement process.
According to officials, allowances have been made for public service employees on vacation within and outside of the Bahamas. Those travelling outside of the country were allowed to verify at any Bahamas Tourist Office (BTO) or foreign affairs mission abroad, while those within the Bahamas were able to verify at the administrator's office in any Family Island, along with the Public Treasury in Central Abaco and Freeport, Grand Bahama.