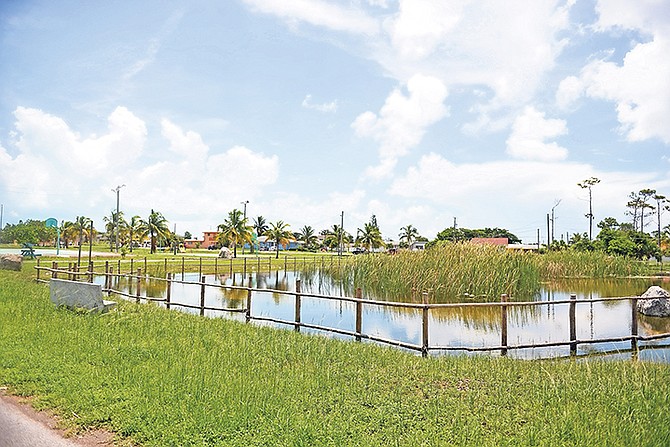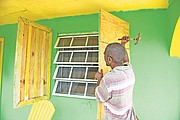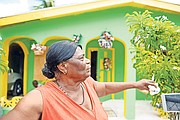 By RICARDO WELLS
Tribune Staff Reporter
rwells@tribunemedia.net
AS the Bahamas braces for Hurricane Irma, residents of the Pinewood Gardens community yesterday raised concerns about the preparedness of roadside drainage in the flood prone neighbourhood.
With sandbags, hammers and sheets of plywood already being procured, several of the residents interviewed by The Tribune during a tour of the community on Monday, expressed varying levels of concern with the current condition of the more than 80 drainage wells in the area.
Many of the residents, scarred by years of challenges and catastrophes, blasted the area member of Parliament Ruben Rahming for what they see as inaction in the face of yet another potentially, life altering circumstance.
Rosemary Curtis, a retiree who has called Pinewood Gardens home since 1991, said she was operating with faith in the lead up to a possible direct hit by Irma later this week.
"I'm scared of the possibilities," she said as she watched her neighbour, Alvin Flowers fasten hurricane shutters to the front-facing windows of her home on the corner of Bay Geranium Avenue and Sapodilla Boulevard.
"Well, just a little, because I know God will provide a way. He's the only one you can depend on in these times. He will get us through this," she added.
Pointing out the weathered state of her roof, Ms Curtis added: "After (Hurricane) Matthew, the government people said they were going to come back here to help me with this, as soon as things got settled, they were nowhere to be found. Now, I'm here trying to put my roof and life back together, one piece of wood at a time."
Damage
Ms Curtis was one of dozens of Pinewood Garden residents preparing for Irma on Monday, by patching up damage left by Hurricane Matthew last year.
"Go ahead, look all around my house, look at my roof, all you'd see is the patch work. Hopefully they hold up if this storm come here, because I don't know what else to do," Ms Curtis said.
"We have to pray and ask God to protect our country. I'm preparing now because once the storm gets here, there is no time to get things in order. I'm listening to the news for the latest and as I do, I have my shutters going up and I'm checking on my roof; when the storm reach, I can't come out and check on these things then.
"The last hurricane (Matthew) I didn't get any help. Now, anyone I can find to help me, I ask them to come over and check this thing or the other. I'm scared.
"Well, just a little, because I know God will provide a way. He will get us through this."
Plea for help
With respect to the drainage issue in the neighbourhood, Ms Curtis, whose home is bordered by two major drains, pleaded for government officials to visit the area and ensure that all the drains are working.
Yesterday her home was surrounded by large puddles of water despite the presence of two large drains on either side.
Both Ms Curtis and Mr Flowers blamed the current state of the drainage in the area at the feet of Mr Rahming, claiming that no maintenance has been carried out on the drains since the general election.
"Government after government made promises, at least Khaalis (Rolle, former Pinewood MP) did something to help, this other fella has been absent on arrival," Mr Flowers said.
"We helping ourselves around here because it's clear he isn't checking. The easiest part of the job, picking up the phone and telling the environment people to come clean the drains, he can't get it right.
"We got to survive the best we can," Mr Flowers added.
Across the street, another longtime resident who asked not to be named, called the Free National Movement's treatment of Pinewood Gardens since being elected, a "complete failure."
Speaking of Mr Rahming she added: "I guess he hasn't heard the big secret. Pinewood Gardens floods.
"It always has and it always will; the only thing we have are the drains and now they're clogged up."
The Sapodilla Boulevard resident claimed that during his term, Mr Rolle organised a "smart system" that guaranteed drains were regularly "checked, clean and tested."
She added: "This new (MP) ain't been here since May 10 and they say the storm coming this week.
"All we can hope for is the best, but we know the best still means big problems for us in the back here."
Two houses up the street, a disabled homeowner being looked after by her adult daughter, watched from her porch as cars driving the often-flooded thoroughfare pushed waves of standing water into her yard.
Asking to be identified only by her last name, Ms Burrows stated: "We had a bit of rain yesterday (Sunday) and some this morning, this is what we get when you see that drain there is not working properly."
She told The Tribune: "It makes no sense complaining to you because the persons that could fix this already know the problem and still haven't done anything."
She, in agreement with her neighbours, condemned Mr Rahming for his inaction since being elected to office on May 10.
Pointing to the five blocks assembled at her gate to prevent it from being pushed open by the constant flow of water and the sand bags stacked at her front door; Ms Burrows said: "All of this is to stop the water that is building up out there.
"The drain is clogged and the water gathers there for days at a time."
She added: "I'm not saying the drain fixes everything, but when it is working properly, the water doesn't sit there.
"We don't have the major floods. Like this, any little spit of rain, the roads are filled with water."
Drainage
In 2013, Mr Rolle suggested a new drainage system could set the government back around $10 million to $13 million.
He started plans for the new drainage system, however, the initiative was never carried out under the Christie administration.
Attempts to reach Mr Rahming, the area's current MP, by telephone yesterday were unsuccessful.
On the campaign trail in May, Mr Rahming likened residential options in the community to "death traps," promising to address not only roof damage sustained during Hurricane Matthew, but the concrete make-up of the majority of homes in Pinewood, which he claimed were collapsing on inhabitants.
According to Accuweather, Hurricane Irma poses the greatest threat to the southern Bahamas, but the entire country will likely experience at least tropical storm conditions.
The Bahamas is expected to feel effects of the category four hurricane late Thursday, early Friday.
Local meteorologists have said Bahamians should prepare for the worst.