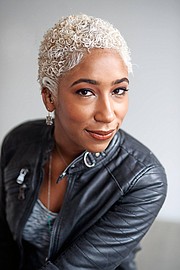 By ALICIA WALLACE
EVERY year around this time, the entire country is frustrated by the BJC and BGCSE results. The "national average" becomes a measure of our worth and indicator of success, both present and future.
For the past decade, this "national average" based on national examination results has been a D, and we have come to casually define ourselves as "D-average". It is the first thing that comes to mind when someone runs a red light, an MP makes a nonsensical statement, a neighbour fails to sufficiently prepare for a hurricane, or people lose money in looms. We're quick to say, "There's the D-average again."
We don't consider lack of respect for law and order, or the quickness of a lie as opposed to time and energy it takes to tell the whole truth. We don't think about the scarcity of resources necessary to complete tasks, or the desperation of people who need a way out of poverty. The D-average is the national scapegoat, and every summer we are reminded everything can be blamed on it.
Resist the urge to make sweeping generalisations about lazy students, poor parenting, and underpaid, overworked teachers. We know we will not be able to solve a problem until we define it. Is the underperformance of students in national examinations the problem? Could the problem be the exams themselves? Should we be thinking about the way we prepare students for these exams? With over fifty per cent of students sitting the national exams getting under a C, the problem cannot be the students. The existing system is not working.
For emphasis, our students are not the problem. They are not, year after year, failing us. We are failing to properly serve them.
Missing the Basics
Social promotion is still practised in our schools. Students who do not meet the minimum standard for one grade are pushed through to the next. They fall further and further behind, unable to catch up because a level of knowledge and understanding is assumed, and the students are often too embarrassed to admit they have not acquired them. This can manifest in a number ways, from the appearance of disinterest to poor behaviour. Teachers can often identify these issues, but are limited in what they can do in a class of dozens of students with limited resources, minimal involvement of parents/guardians, and an unchanging educational system.
Home Life
In pre-school and primary school, learning cannot stop in the classroom. Homework and grade level-appropriate project help to bring context to new knowledge, and give students the opportunity to practice what they've learned and test their understanding of material.
This, more often than not, requires parent/guarding participation. Someone in the home needs pay attention to what is being taught and how the student is progressing by assisting with homework, reviewing tests, and meeting regularly with the teacher. Some parents/guardians are willing and able to do these things, but others are either ill-equipped or unavailable for this level of involvement. Multiple jobs, shift work, and low literacy are among the barriers to greater involvement in their children's education.
Beyond help at home, nutrition and rest are critical to student performance. In 2014, it was reported that 19.3% of five to 14-year-olds were living in poverty. We often hear stories about students going to school hungry, and not having money or anything packed for lunch. How can we expect them to learn under these conditions?
Some students work after school and on weekends to help ends meet, and some have to help in other ways like taking care of elderly relatives or children younger than themselves. With these responsibilities, and concerns about their homes and families, it is not hard to understand why students are struggling in school. Add to this the lasting effects of hurricanes like Hurricane Matthew, from missing school to untreated PTSD.
Learning and Teaching Styles
In many ways, we have not built schools and educational programmes that accommodate our students. One style of teaching does not work for every student. Learning styles are typically broken down into four categories: visual, auditory, reading and writing, and kinesthetic.
Do teachers cater to all of these learning styles? Are they trained to identify students' learning styles and adapt lesson plans to suit their needs? Do we need to start using learning styles to compose classes similar to the way we rank them by grade?
Even the best lesson plan will not produce results if it seems like it is in a foreign language. As director of education Lionel Sands said on a radio talk show this week, we need to prepare school for our students, not students for schools.
How can we make the shift from teaching (and learning) toward the goal of succeeding in an exam to encouraging curiosity, creativity, and critical thinking, practising new skills, and exploring ideas with new-found knowledge?
Students learn in environments of dread because they anticipate exams to come. This helps to feed anxiety and forces memorisation and regurgitation rather than real engagement with and understanding of the material. Classrooms need to be student-centred, not test-centred.
Testing and Evaluation
Every student is not good at taking tests. Test-taking is a specific skill. Some students perform well on multiple choice questions while others excel in short answer and essay questions.
In many cases, results speak to a student's ability to strategise and navigate a specific type of test rather than knowledge.
How can we evaluate students and test their understanding of material in ways that yield real results? How can we prepare students for test-taking, outside of teaching the material? These are the things we need to consider when we expect to use exam results as the ultimate measurement tool.
The national average should not be used as a collective insult. It is not a reason for us to feel bad about ourselves, or fear for the future of this nation.
The D-average is a call to action. The results are abysmal, and that a reflection of the system, not the students.
As citizens of this country, it is on us to call on the Ministry of Education, educators at all levels, parents, and students to address this national issue.
We cannot afford to forget about this until it's a handy weapon in an argument. We need a national action plan for the improvement of our educational system, and we must be prepared to do our part — churches offering student breakfasts, civic organisations operating homework help centres, education experts providing ongoing training to teachers, and communities supporting parents.
The D-average is our problem to solve, and whether or not we get rid of BJCs and BGCSEs, our work is cut out for us.
What are you prepared to do? How can you contribute to the effort? Email me, and let's get to work.
• Alicia Wallace is a women's rights activist and public educator. She produces The Culture RUSH - a monthly newsletter fusing pop culture, social justice and personal reflection - and tweets as @_AliciaAudrey. Contact her at culturerush@aliciaawalace.com. She writes every week in The Tribune.