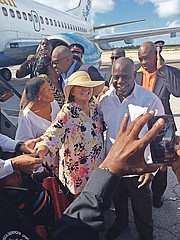 By KHRISNA RUSSELL
Deputy Chief Reporter
krussell@tribunemedia.net
IVA Nixon, 79, breathed a sigh of relief as she stepped off a Bahamasair jet and onto the tarmac at the Lynden Pindling International Airport yesterday, telling reporters no one should be thinking about material things amid evacuations from Mayaguana, Inagua, Crooked Island, Acklins, Long Cay and Ragged Island ahead of monster storm Hurricane Irma's arrival to the country.
Trailing behind Ms Nixon was Sydney Delancy, a father who was cradling his four-month-old son. Accompanying him were eight relatives, including his two toddler children.
Mr Delancy told The Tribune the mere thought of his experiences with both Hurricanes Joaquin and Matthew were enough motivation for him and his family to flee their home for safer ground. He said they were in transit to Grand Bahama.
Ms Nixon and Mr Delancy were among 120 Bahamians aboard the first flight of evacuees from Inagua yesterday. Many of them said this would be their first time evacuating because of a hurricane.
"Most of Inagua is in the low-lying area and sometimes it gets flooding," Ms Nixon, a resident of the island for the last 56 years, said.
"At first I didn't want to leave, but after everybody keep on calling and say come I decided to leave. I don't think about material things, but I still have someone in Inagua to think about, my son Michael Nixon. His reason for staying is he is the general manager of Morton (Salt). I am worried about him and will be praying for him."
"It wasn't a good experience with Matthew and Joaquin," Mr Delancy added, "It was the aftermath of both storms that made us not want to stay. (So leaving) is the only right thing to do. A category five (with) babies? Gotta go."
There to greet them was a familiar face, Prime Minister Dr Hubert Minnis accompanied by Opposition Leader Philip "Brave" Davis and other government officials.
Dr Minnis could be seen assisting many of the elderly and physically challenged down the plane's steps and on to the concrete where some of them shouted "thank you Jesus" and "thank you prime minister" for assisting them in reaching the capital.
National Emergency Management Agency (NEMA) Director Captain Stephen Russell said the evacuation exercise could possibly see around 1,500 people on about 15 flights evacuated from their homes, which are in the direct path of Hurricane Irma.
As the islanders arrived, buses were lined up on the outside to shuttle those without their own accommodations in New Providence to three shelters, including New Providence Community Centre, Loyola Hall and the Kendal G L Isaacs Gymnasium.
Capt Russell said: "We are working towards 1,500 persons from the islands mentioned earlier and I am quite sure as the day winds down and last flights you are going to still find the numbers changing and we have a team at NEMA's office crunching the numbers in contact with the island administrators to see how the figures are changing. Another team at NEMA is in contact with various airline operators to see if they can put out additional flights for us because you know the numbers are going to change.
"I wouldn't be surprised if we push close to the 1,800 mark and persons try to get out before sunset today. But we are going to have to end the evacuations definitely by sunset.
"I think as of Thursday definitely through Friday the southern Bahamas is going to start feeling the impacts of the outer edges, the tropical storm force winds of the storm."
He added: "So in terms of our flights we may try and get a flight into Ragged Island, that's further up the chain. (So) we can sneak a flight in there and get out before they start being impacted by tropical storm force winds."
The diameter of the tropical storm force winds extends almost 300 miles, Captain Russell said.
These are characteristics of hurricanes, which Pastor Kenrick Major said are unsettling for him. He and his nine family members were among those yesterday who evacuated the southern islands.
He said: "I experienced Matthew and I experienced Ike. It's the breeze, the wind, the noise. You feel like the roof is about to tear off and you pray that every lil' noise you hear that the roof don't come off over your head.
"I think it's a wise decision and a safe decision. At first I didn't really want to go and leave my home and leave my properties. Then the administrators gave me some advice and said how powerful the storm was and I saw the advertisement from NEMA," he added.
Arriving on an earlier flight from Ragged Island was Demison Nesbitt.
"I came down here because I don't think those houses on Ragged Island could withstand this," he said seated in his wheelchair.
Mr Nesbitt described his sentiments about having to leave home to weather the storm in the capital as a "funny feeling," adding that as soon as was possible, he would be returning to survey the damage brought by Hurricane Irma.
While each of these evacuees said they will not need to rely on any of the three shelters available to them, the government expects many others to utilise the various facilities.
Captain Russell has said there will be adequate accommodations for persons to ride out the storm in New Providence.
"We are watching in New Providence to see how we will be impacted by this hurricane when it makes its turn sometime during the remainder of the week and if Nassau is somewhere in the hurricane force zone of that hurricane that raises some other concerns in terms of additional sheltering.
"But Thursday or Friday we will activate the remaining number of our shelters and make sure the managers for those shelters are in position and standing by to receive persons."
He reiterated that no shelter is "a plush Holiday Inn" and everyone is expected to bring the basic essentials needed to make their stays comfortable along with important documentation they might need.