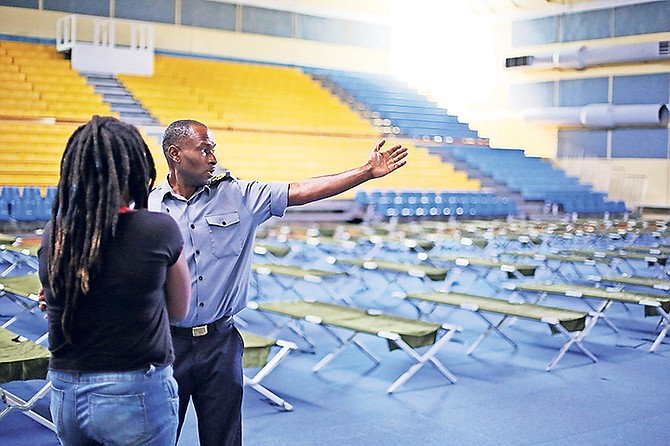 By AVA TURNQUEST
Tribune Chief Reporter
aturnquest@tribunemedia.net
SHELTER co-ordinators yesterday urged the public to prepare a shelter kit to bring food and essential items in the event they are displaced by Hurricane Irma.
The entire Bahamas is now under hurricane watch with some islands in the south braced to feel the effects of Hurricane Irma by 4pm Thursday.
Some 1,200 persons were evacuated from Mayaguana, Inagua, Crooked Island, Acklins, Long Cay and Ragged Island on Wednesday.
Of that number, less than 200 persons were housed at designated shelters on Thursday, according to officials, who reported that the majority of persons evacuated opted to stay with family members.
Evacuees were sent to New Providence Community Church, with any overflow to be directed to the Kendal G L Isaacs Gym.
NPCC Shelter coordinator Wendy Clarke told The Tribune that the shelter has reached capacity with around 155 evacuees and 50 spots reserved to shelter persons needing special medical care. There were 88 children at the shelter, however she said that number will likely increase after a final count.
The preliminary count was 101 persons from Acklins; 10 from Mayaguana; 15 from Inagua; two from Ragged Island; eight from Crooked Island; and three from Abaco.
At NPCC, Clementina Lightbourne, a 76-year-old matriarch from Salina Point, said the signs of climate change were impossible to ignore. Mrs Lightbourne has lived in the Acklins settlement her entire life.
"I left from my house from (Hurricane) Joaquin. I was in my house during Joaquin and had to go to the shelter in the middle of the storm. So for Matthew I just went to the shelter, now for this I'm here.
"It's not so bad because I trust God for everything. He's able and everything he do is all right because you can't judge him. He's the judge of all things. I ain't worried too much. We making the best of it, only the children make a lot of noise, but you expect that from children.
"It's looking serious with these storms, just all of the heat. We had a lot of heat this summer. You could feel it, the change. Time is getting out, these are the last days we have. It's all in God hands," she said.
On Thursday, the eye of Hurricane Irma was projected to pass directly over the northern tip of Andros Friday night. It was projected that the "most dangerous side" of the category five storm will pass over New Providence, Grand Bahama, Bimini and the Berry Islands.
On that track, forecasters predicted that Irma would cause "massive destruction" to the Bahamas similar to Hurricane Matthew's impact in 2016.
For their part, coordinators at the Kendal Isaacs Gym were waiting to receive evacuees from the southern islands, and urged persons to heed all advisories.
Shelter co-ordinator Cleomie Taylor said: "This shelter is basically open for the Family Island persons coming from the southern islands. They are the first priority and then we will accept other persons who are in need of shelter.
"Our mandate here is to ensure their comfort, to manage the shelter in a professional manner. We are working along with personnel from the RBDF. We haven't gotten the final count on that (evacuees) so we're still waiting, but the shelter will still be open for others."
Ms Taylor continued: "As the director of Social Services said, senior citizens are our first priority. The community and family members ought to play a significant role in assisting senior citizens and ensuring their protection. We would just like to echo that."
RBDF Chief Petty Officer Brain Miller told The Tribune that the gym was open and ready to shelter persons displaced by the effects of Hurricane Irma. He said his primary concern was getting access to at least one wheelchair to assist with disabled and elderly persons.
Reflecting on experiences during Hurricane Matthew, he underscored the importance of ensuring all designated shelters were equipped with generators.
"It was during the storm (Matthew) because of the surge the area became flooded, I think that was south of Yamacraw road as well as the back of Marshall road.
"So we started having persons being bused from those areas into Epiphany Church. Epiphany really in my view can hold about 30 maybe 40 persons comfortably. Epiphany ended up with well in excess of 100 persons to the point where persons decided to stay on the outside because of how packed the place was.
"There was no generator and that is something that definitely needs to change when we select shelters. They should have generators even if it's just a couple (of requirements) that should be one of the criteria. I also believe shelters should be stocked with things like wheelchairs available."
Mr Miller added: "This morning we've been asking around to different agencies if we can have at least access to one wheelchair. At Epiphany we had disabled persons, we had elderly persons there and we had to literally drag persons in chairs to the restroom because they were more or less bedridden and so we had somewhat of a struggle."