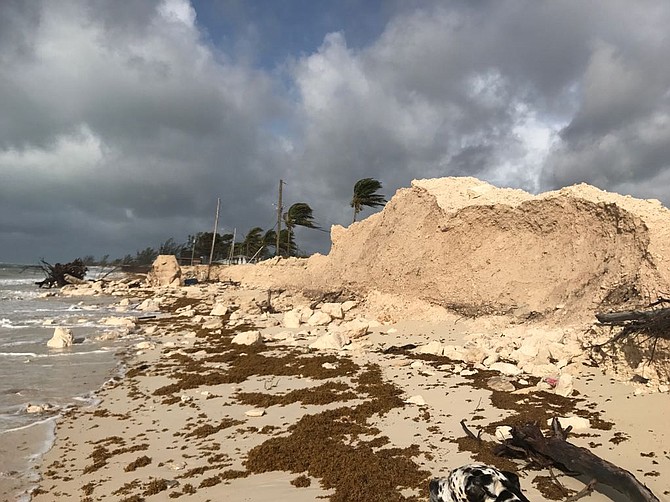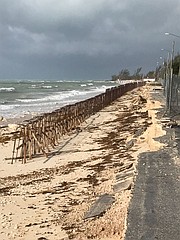 By DENISE MAYCOCK
Tribune Freeport Reporter
dmaycock@tribunemedia.net
AS Hurricane Irma barreled into Florida, the nearby island of Bimini experienced tropical storm conditions on Sunday with wind gusts of about 80mph, heavy flooding and reports of a tornado tearing roofs off homes.
The storm downed trees and uprooted vegetation, and left the island without power and telephone service up to press time.
Administrator Kate Williamson said at least two homes were damaged by a reported tornado on Sunday afternoon.
"At about 4.55pm, we were called regarding what is believed to be a tornado that touched down," Ms Williamson told The Tribune. "Our superintendent, Wendell Smith, along with the team went to investigate the matter in the Bailey Town area and the observation was severe damage in the Bunker's Hill area.
"They noticed there was roof damage, they checked and made sure there were no injuries but the initial call regarding a tornado, upon arrival the roof was blown off and three persons who occupied that house had already taken shelter to the neighbour and they were found shaken up, but there were no injuries.
"Then east of that structure, in Bailey Town about 200 feet away, the roof of an elderly gentleman was compromised and he was taken to (a shelter)."
Ms Williamson said weather conditions began to deteriorate on the island around 8.40am Sunday.
"We are experiencing sustained winds of 40 mph to 60 mph with gusts of 80 mph, and we are seeing 20ft waves," Ms Williamson told The Tribune.
"We have lots of flooding, especially on the lower level which is the King's Highway, large trees that's blown down. All the small vegetation has been disturbed, the road in Alice Town area, some part is carpeted with seaweed, so we experienced some severe damage, power lines, BPL as well as BTC down. We do not have any light or phone lines."
Despite the poor conditions, while out doing assessments of the island on Sunday morning, she said officials saw a man walking on the road with a bicycle and the water had already reached his calf .
According to reports, some 1,500 residents are on the island, and about 100 persons are in a shelter. A number of Bimini residents were evacuated to New Providence last week ahead of the storm.
Ten individuals, who had remained on Cat Cay to ride out the storm, were well and accounted for up to 1pm on Sunday.
Chief Superintendent of Police Wendell Smith said that King's Highway was inundated with water as a result of spring tides being pushed onto the road by strong winds.
"That's not associated with the surge, it is a spring tide, and the winds are pushing the water on the road," he explained.
He stated that trees had been blown down, as well as power and telephone lines.
"We have no reports of any injuries, and when I last spoke to the manager on Cat Cay, they were all well and accounted for."
Mr Smith said that the manager and a small skeleton crew had remained on the cay to ride out the storm.
Administrator Williamson stated that residents are faring well despite the deteriorating conditions.
"People are safe and quite content in the shelter," she said. "But, there are some elderly residents who have called us to say that they are afraid of the sound of winds and we are trying to encourage them and keep them calm by telling them that God is in the storm with us.
Bimini and Grand Bahama were both under a tropical storm warning Sunday, as Irma lashed parts of Florida.